Operation Brookdale - Selectamark DNA Spray
MERSEYSIDE Police have demonstrated its latest tool to track down offenders involved in the illegal and nuisance use of off road bikes, called:- 'Selectamark DNA spray.'

The handheld devices can be sprayed by Officers at suspected illegal and anti social off road bikes, marking the bikes, clothing and skin of any riders and passengers with a uniquely coded, but invisible dye. If suspects are arrested or bikes recovered, the DNA code will link offenders to bikes and any associated criminal offences.

The spray is similar to door mounted DNA sprays used by shopkeepers across Merseyside, which have led to reductions in business robberies under force Operation Aquila.

The demonstration took place at Mather Avenue Training Centre and involved members of the Force's Roads Policing Unit and the Dogs and Mounted section. Roads Policing Officers on bikes circled Mounted Officers, who sprayed the riders as they rode past. As a result, the bike and rider's clothing was marked with DNA, invisible to the naked eye, but easily detected with torches and ultraviolet light in Police Custody Suites.

In February 2016, 4 Liverpool men were arrested and a quad bike was recovered following an incident in Mill Lane, Dingle, where the bike was ridden dangerously towards Mounted Officers.

Inspector Tony Byrne of the Dogs and Mounted section said:- "Acts of anti social behaviour, dangerous driving and intimidation against members of our communities and our officers will not be tolerated, and this is another great tool in finding and prosecuting offenders. Our Police Horses are trained to be comfortable around vehicles, including off road bikes, but we have a duty to protect the community, our Officers, and our horses from all forms of reckless driving. The spray means that if you attempt to drive dangerously near to our Officers, you are not untouchable. Even a drop of DNA spray will mark riders and their bikes for a long time, and this tactic will undoubtedly lead to more seizures and prosecutions throughout the summer. 1 spray will put you away."

Superintendent Jenny Sims, leading Operation Brookdale, said:- "Already during this year's operation, we have recovered in excess of 90 bikes from our streets and made more than 40 arrests using a variety of tactics, and we will continue to act when communities provide information. As we have shown with Operation Aquila, DNA spray is another way to deter and catch those who continue to cause problems in our communities. So tell us who is storing these bikes and where, and we can keep getting results."

Merseyside's Police Commissioner Jane Kennedy said:- "This is another great example of Merseyside Police using modern technology to prevent crime, catch the perpetrators and keep our communities safe. These sprays have helped to reduce business robberies and I am sure they can now be beneficial in targeting the anti social and criminal use of scrambler bikes. The Force is continually looking for more effective and efficient ways to crack down on the crimes that cause most harm to people living, working and visiting Merseyside."

Anyone with information on the illegal and nuisance use of off road bikes is asked to call Police on:- 999 if a crime is in action, call:- 101 or Crimestoppers anonymously on:- 0800 555 111.
Mr World contestants have arrive in Southport!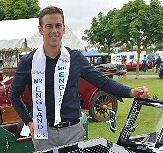 ON 10 July 2016 competitors from more than 40 countries arrived in Southport to take part in the Mr World competition, at the Southport Theatre and Convention Centre on 19 July 2016. The event will see the competitors taking part in 5 heats including an extreme and sports challenge, style and fashion, as well as talent round. The Current Mr England, Chris Bramell, from Liverpool, is taking part. We wish him the very best of luck and will we keep you posted as things progress... More information see MrWorld.TV for more information.

Mark Thomas' 'The Red Shed' will be at the Liverpool Everyman later this year!
Photograph by Tracey Moberley.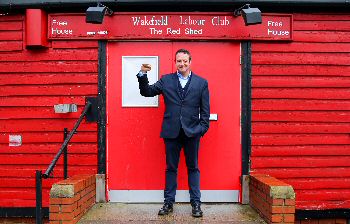 OUR favourite campaigning comic Mark Thomas returns to Liverpool this Autumn with The Red Shed, the 3rd part of his theatrical trilogy which began with the multi award winning, critically acclaimed Bravo Figaro and Cuckod. Mark returns to the place where it all began:- 'the Red Shed', a labour club in Wakefield; to celebrate the club's 50th Birthday.
The Shed, home to Mark's 1st public performances, is also a home to dissent, to organising and to progressive politics, and so it was here that Mark's true political prowess began. An iconic and vital place for its patrons, this is where the true meaning of solidarity is found and where you can be part of history and part of the struggle. A South London lad, born to a Thatcherite world of self employed builders, labourers and tradesman like his father where the individual is key, Wakefield's alien traditional labour community awoke a new determination in Mark and changed his life forever.
Interviewing old friends and comrades, Mark pieces together the club's history and works alongside it to campaign with some of the poorest workers in the country. It is the story of the battle for hope and the survival of a community. It is a tale of strikes, fights, dinner ladies, crap beer, good beer, burger slingers, pickets, placards, commies, friendship, love, history, dreams and, above all, remembering. Part theatre, part stand up, part journalism, part activism, Mark realises his obsession with community and struggle. Mark Thomas' 'The Red Shed' will be at the Liverpool Everyman, over 16 Steptember to 17 September 2016. For tickets please call:- 0151 709 4776 or visit:- MarkThomasInfo.Com.
What is the IMPRESS logo on our publication?

WE keep being asked what the IMPRESS logo is and what we have to do with it. IMPRESS is the first truly independent press regulator in the UK and we are now 1 of the first regulated news publishers to be able to use the "IMPRESS kitemark." known as the "Trust in Journalism mark." Why is this so important? This shows we check information to the best of our ability and you can rely on us for news, as we are regulated!

For years the media system in the UK has been lacking proper regulation, and that came to a head with Lord Justice Leveson's recommendations for independent regulation. After the report came out, the then failed Press Complaints Commission re-branded as IPSO, but that group, according to many has continued to do what it did as the PCC, in the very same way.... As a result, this year, IMPRESS applied to the PRP (Press Recognition Panel) to become the first and only, recognized regulator and it intends to implement Lord Justice Leveson's recommendations.

IMPRESS is now well on track to become the only body recognized as the UK's Press regulator. IMPRESS is determined to support the freedom of the press and believes very strongly that we must rebuild the image up of the UK's media. Not via PR, but via good journalistic practices, that British journalism was once World renowned for.

It is worth noting that Britain's newly announced Prime Minister, Theresa May MP, moved the final vote on the Crime and Courts Act in her previous job as Home Secretary, and welcomed the cross party agreement supporting Section 40. That Act, supporters of IMPRESS believe, will help publishers to publish real public interest stories whilst adhering to a strong and relevant code of practice. It will also help stop rogue news groups in the UK publishing world, and protect small or independent publishers, as well as giving normal people having the ability to act, should things go wrong. This is very different to the rival IPSO model, which is just the former regulator, the Press Complaints Commission (PCC) that was slammed by Lord Justice Leveson, and subsequently to its re-branding.