Barclaycard presents British Summer Time Hyde Park!
Report and photographs by Jo Forrest.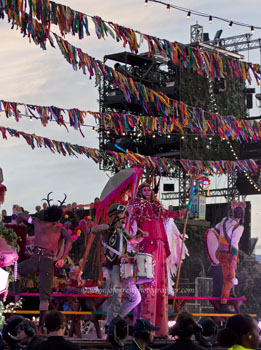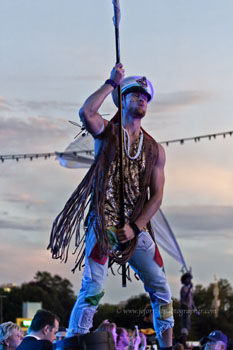 OUR photographer, Jo Forrest, on Saturday, 9 July 2016, attended the amazing:- 'Barclaycard presents British Summer Time Hyde Park.' This event might not have been in Liverpool, but we could not help, but go, when we had the opportunity to attend. This event, each year, gets bigger and bigger and sets a fantastically high benchmark for all the other UK music events. Jo told us that the Thatters (Take That fans) were so excited and had been queuing through the early hours of Friday morning to secure a spot on the barrier for this fabulous day of pop!

Mancunian golden boys, 'Take That', took to the Great Oak Stage to headline the 2nd Saturday, of the festival. The spectacular show began simply, with a grand pianist and an opera singer performing Puccini's epic 'Nessun Dorma'¯. As the final notes faded, Gary Barlow, Mark Owen and Howard Donald burst onto the stage and launched into their Number 1 hit 'Shine'¯, with the amazing production coming to life with confetti, pyrotechnics and carnival dancers.

Midway through the set, 'the boys', broke into a medley of their 90's hits:- 'Everything Changes'¯, 'It Only Takes A Minute'¯ and 'Could It Be Magic'¯. For the ultimate surprise, the band brought the legendary Lulu for:- Relight My Fire'¯ to mark the 10th Anniversary of the song, with all 4 of them galloping around the extended stage. Sigma also joined the boys for a performance of 'Cry,' embellished with dancers dressed in white.

The Great Oak Stage featured standout performances from Ella Eyre and Olly Murs. Ella Eyre's powerful vocals absolutely filled the park, as she switched between numbers with a full band to stripped back tracks such as 'Even If'¯. Olly Murs was next on the line up, emerging onto the stage to a Quentin Tarantino style instrumental. His infectious energy instantly had the crowd up on their feet, as he payed tribute to fellow BST headliner, Stevie Wonder, with 'Stevie Knows'¯ and last year's headliner Chic. Ella Eyre reappeared during this set to take the role of Demi Lovato for their rousing duet 'Up'¯.

The day was full of fantastic covers' as Ella Eyre played her version of Jermaine Stewart's 'We Don't Have To Take Our Clothes Off'¯ (featured on her album Feline), while Olly Murs pulled off a cracking 70's funk and soul medley including Wild Cherry and Chic. The Wanted's star turned soloist, Nathan Sykes, delivered a stunning arrangement of Shawn Mendes' 'Stevie Knows'¯ ; Jamie Lawson blew fans away with his rendition of 'Brown Eyed Girl'¯ and over on the Barclaycard Stage KStewart smashed Rihanna's twerkalicious 'Work.'

The Barclaycard Stage also saw tremendous performances from Bright Light Bright Light and Ekkah, while Casa Bacardi hosted DJ collective Horse Meat Disco and the colourful quintet, The Cuban Brothers. Once again, The Summer Stage attracted crowds for performances from Girl Friend, Jerry Williams and the enigmatic Allie X who headlined the bandstand.
Ella Eyre and Olly Murs were both spotted in the crowd during the Take That performance, while Adya Field (Robbie Williams' wife) was posting pictures of the festival on social media. Keith Lemon (Leigh Francis), Chris Moyles and Jason Donovan were also in attendance we later found out!
Did you go to this event? Please let us know via emailing us to:- News24@SouthportReporter.com.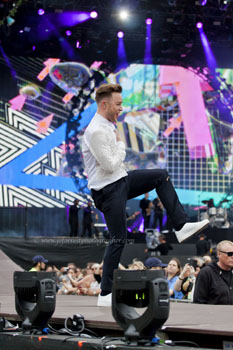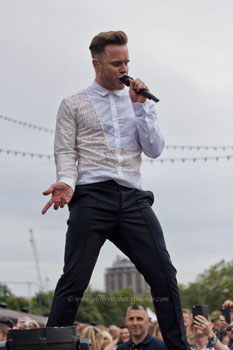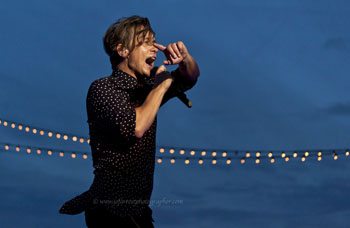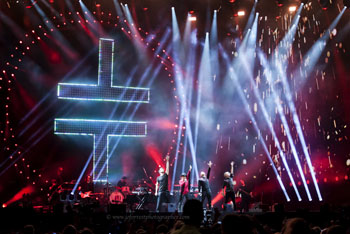 Remember you can order photographic prints from us. Help us keep this site online. Please don't brake our copyright by copying any of the text or images in this website, even if its only for 'personal use.'