Edge Hill announces partnership with Colombian University
EDGE Hill University will undertake a £149,000, 2 year research partnership, with Colombia's University of Antioquia, focused on addressing the growing world wide issue of insecticide resistance in mosquitoes. The grant for the project was awarded by the British Council on behalf of the Newton Fund, part of the UK's Official Development Assistance programme which sees the UK use its strength in research and innovation to promote the economic development and social welfare of partner countries. The study will span 8 regions of Colombia and will focus on the Aedes aegypti mosquito, the same species of mosquito implicated in the spread of Zika virus in South America.

Dr Clare Strode from Edge Hill University's Biology Department is a recognised expert in the field of insecticide resistance and said that mosquitoes are becoming increasingly resistant to insecticides due to genetic mutations. Dr Clare Strode commented:- "Traditionally, mosquito populations have been controlled through the use of four approved classes of insecticides. However, mosquito populations are becoming increasingly genetically resistant to insecticides and once they become ineffective, there are no other insecticides to replace them with. The aim of this study is to collect mosquitoes to test their reaction to insecticides and where resistance is present, understand the genetic profile of these mutated mosquitoes. We can then use this information to make recommendations for controlling the mosquito population in the 8 at risk focus regions of the study." she said.

Dr Strode's Colombian research partner, Dr Omar Triana Chavez from the University of Antioquia is a recognised specialist in epidemiology and vector biology across South America and said that dengue is having a crippling effect on poor communities. Dr Strode said that:- "There are approximately 100,000 cases of dengue reported across Colombia each year. With such a high morbidity and mortality rate, the disease imposes severe economic hardships on families in poor communities. With no vaccine available, we have to reduce the mosquito population by protecting people from being bitten and detect dengue cases early. Unfortunately the growing issue of insecticide resistant mosquitoes is making it more difficult to control the disease. The agreement between Universidad de Antioquia and Edge Hill University will be an opportunity and a challenge to hopefully decrease the effects of dengue in Colombia."

The Aedes aegypti mosquito is traditionally a City dwelling insect that can breed in a mere cap full of water. It is responsible for the spread of Zika virus, dengue fever and chikungunya; none of which can be prevented or treated with a vaccine.
Summer Youth Festival at Revitalise Sandpipers
REVITALISE Sandpipers in Southport held its very own festival, on Wednesday, 27 July 2016. The Summer Youth Festival was the highlight of Youth Week at the popular respite Holiday Centre, on Southport's Marine Lake and recreated the authentic festival experience on a small scale, complete with a main stage, beer tent, chill out zone and even a campsite! The Centre's guests and volunteers were entertained by acts including singer Dan Morrison and the Jibba Jabbaz under 10's dance crew, together with surprise turns from among the Centre's staff and volunteers. The event also featured a colour blast zone, a beer tent that was sponsored by Southport Brewery, a food and drink area and a chill out zone with yoga sessions.

Liverpool Metropolitan Cathedral wins Getty Foundation grant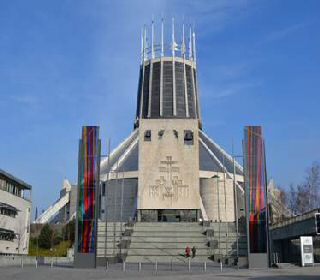 LIVERPOOL Metropolitan Cathedral has been awarded a £138,000 grant from the Getty Foundation to fund conservation and repair works to the Grade II* listed cathedral. Architects Purcell are leading the project, which will include a programme of research and conservation to the 'crown of glass', the cathedral's distinctive lantern. The lantern is a highly significant piece of pioneering 20th Century design which utilised an innovative mix of stained glass fragments supported by epoxy resin, known as 'dalle de verre'. It was designed and made by artists John Piper and Patrick Reyntiens, who also collaborated on the new Coventry Cathedral. For the restoration work, it is vital to preserve as much existing material as is technically possible. The project team has already undertaken extensive analysis and testing to understand the condition and stability of the glass and resin. The next steps are to introduce environmental and water monitoring systems, upgrade all of the maintenance access locations to facilitate internal inspections and to prepare sample panels for laboratory testing. Purcell's heritage experts have also produced a conservation statement for the funding application and are planning to produce a conservation management plan for the whole site.

Lead architect at Purcell, Matt Dyer, commented:- "The Getty Foundation is such a renowned organisation and to be awarded this grant as part of their 'Keeping it Modern' scheme is an honour. Liverpool Metropolitan Cathedral is an exemplar building demonstrating innovative and unique 20th Century architecture, and the preservation of the building and the lantern is of the highest importance. I look forward to implementing the money from the grant to ensure that future generations will be able to enjoy and appreciate the building as we do."

Canon Anthony O'Brien commented:- "On behalf of the Metropolitan Cathedral we are very grateful and honoured to receive this grant from the Getty Foundation. Not only will this provide valuable financial assistance for research into the best methods of conserving dalle de verre glass that forms such an important part of the architectural design of our Cathedral but our research and trials will also be of assistance to other buildings with similar problems as ours. This award gives international recognition to the architectural significance of our Cathedral as 1 of the exemplary buildings of the 20th century."

The programme of investigation and testing will commence shortly, with trial repairs to be undertaken in the next 12 months.