84% of Liverpool's School Leavers not pursuing their passion as a career
AS GCSE and A-Level results come out and thousands of young people across Liverpool make decisions on their futures, the UK's leading independent training provider releases statistics which show a huge mismatch in career dreams and career choices, with many risking missing their true calling after leaving school. Research released from Liverpool based Pitman Training and Censuswide, reveals Liverpool as a City of sport lovers, with 25% of respondents admitting this is a passion they would love to connect to their career. However, with results showing that 84% of 16 to 24 year olds don't know how to turn their passions into a career, and 49% feel lack of qualifications halts them exploring as pirational career opportunities, it's apparent that the next generation of employees are at risk of career dissatisfaction soon after they enter the job market.

A gap in support for young people exploring career options was revealed nationally as 4 in 5 (80%) young Brits wish they knew more about options available to them on leaving school.

On a positive note, the research found that Liverpool bucked the trend of young people rebelling against 'traditional' jobs that could be door openers to their dream careers. 3 in 5 (58%) young Brits (aged 16 to 24) believe that working in admin or accounts is 'boring' and 'old fashioned', however Liverpool sees opportunities in these roles, with just 34% across all ages agreeing with these stereotypes.
Retail is considered an easy way of entering employment, with almost 4 in 5 (79%) of young Brits (aged 16 to 24) agreeing on this and in Liverpool 62% of respondents agreed with this view.

84% of 16 to 24 year olds did not feel able to pursue a career in interests they are passionate about, with interests broken down as follows:-

► Tech:- A ¼ (25%) of 16 to 24 year olds and nearly a third (27%) of 25 to 24 year olds had a passion for tech.
► Celebrities:- 14% of 16 to 24 year olds identified working with celebrities, with Liverpool scoring just 3%.
► Fashion:- Over a ⅓ (35%) 16 to 24 year olds identified fashion.
► Music:- Nearly ½16 to 24 year olds (49%) identified music.
► Drama:- A ¼ (25%) of 16 to 24 year olds identified Drama.
► Sport:- A 5th (20.8%) of 16 to 24 year olds identified Sport with Liverpool scoring 8th highest across all age ranges.

This week, in response to these findings Pitman Training is running open days in their Liverpool centre (Cotton Exchange, Bixteth Street, L3 9JR) for school leavers with free CV clinics and the opportunity to meet advisors and create a career progression plan, along with a free skills analysis to help people establish their current competency in things like typing and MS Office are available all week.

Alongside these events Pitmans are also launching to help school leavers discover how personality and passions can be channelled into careers. It also shares tips from PAs who are ex-Pitman students and now work for the BBC and ITV alongside the PA to Ann Summers CEO, who come together to challenge the myth that being a PA is old fashioned and 'boring' sharing insight into their roles.

Dominic Charters, Pitman Training Liverpool Centre Manager said:- "We're really excited about meeting school leavers not going to University to help them structure their next steps because if at school age young people fall into jobs, or further training that is a 'filler' rather than a vocation, they really risk not achieving their true potential. Many of our training courses can open doors to help people work in the industries they really want, if they are focused on progression. PA, web design and accountancy courses in particular can open up a huge variety of doors into interesting careers."

Hattie Wrixon, co-founder of UnisNotForMe.com, which she set up when she was 17 said of the research findings:- "When it comes to leaving school, it's important that young people see no stigma in exploring alternatives to university, and are fully supported on their journey. To work in an area you love should not be so out of reach; in fact that should be the starting point when exploring career paths. I found it terrifying to read of such high statistics of people who don't feel they can follow their dreams."

Further findings from the research undertaken by Pitman Training and Censuswide found that that:-

► 37% of 16 to 24 year olds stated they don't have the confidence to turn their passions into careers
► Fear of failure halts 35% of 16 to 24 year olds following their dreams, compared to 20% of 35 to 44 year olds
► Only 7% of 16 to 24 year olds cited their parents wishes and approval as a barrier
► Only 65% of 16 to 24 year olds felt University wasn't the only way to a dream career, compared to 51% of 45 to 54 year olds who felt it was
► 35% of 16 to 24 year olds feel like they've outgrown education

Pitman Training Pitman Training has been synonymous with office based training since Sir Isaac Pitman invented shorthand in 1837, and the company now helps thousands of students each year progress their careers through tailor made study programmes and Diplomas with 1 to 1 support at over 100 local centres, as well as via online courses, and short seminars to help top up skills.

* The research was carried out by Censuswide across the UK, with 1200 respondents.

Motorcyclist taken to Hospital in Air Ambulance
Photographs by P Knight.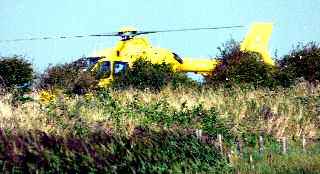 MERSEYSIDE Police are investigating a serious road traffic collision that took place on Tuesday, 16 August 2016, on Marine Drive, Southport. Emergency services were called to location shortly before 1.45pm, following reports that a silver Vauxhall Corsa had been in collision with an orange Kawasaki motorcycle, ridden by a man in his 30's. We are told that the motorcyclist was treated at the scene by paramedics after sustaining 2 broken legs before being taken to Hospital by North West Air Ambulance for further treatment. His condition is not believed to be life threatening. The driver of the car stopped at the scene and the driver is helping the Police with enquiries. Phil Knight was out with his camera at the time and took these photographs for us of the Air Ambulance taking off from the location, next to the Marshside RSPB reserve. Anyone has information about the collision, please contact MSOC Roads Policing on:- 0151 777 5747 or call Crimestoppers, anonymously, on:- 0800 5551 11.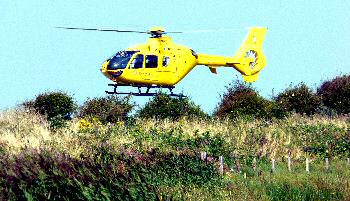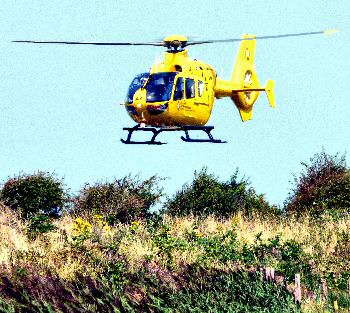 Southport Crown Bowling Federation going for the final win!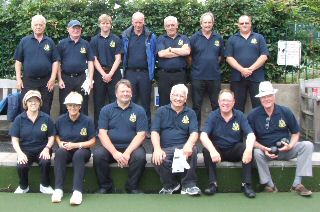 SOUTHPORT Crown Bowling Federation have got their eyes on the prize, determined to win their final game after an excellent 1st season. It's been an exceptional first season for the team and if they are able to win their last game against their opponents, Menai, by a large enough margin they will remain in the National Division 5.
The team are waiting for their final game with great anticipation. They will be playing their last game of the season at Banks St Stephens BC, on Sunday 21 August 2016, with a 2pm start. The excelling team was only formed this year with the assistance of a sponsorship from The County Group. One the UK's Top 50 Insurance Broker with 17 branches across the country, with 2 main offices situated in Southport and Liverpool.