New service focuses on crucial dialysis stage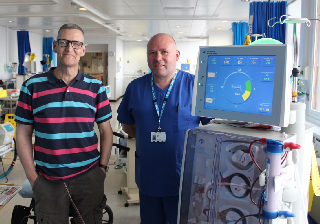 FIRST time dialysis patients on Merseyside will be the 1st in the country to be given crucial 1 to 1 support in an innovative improvement project to help them through the difficult 1st stages of treatment.
The Royal Liverpool University Hospital's 'First Time Dialysis Project' will provide patient tailored education during the 1st 6 dialysis sessions to equip them with information to make decisions about their own treatment.
Dialysis is used for patients who suffer from chronic kidney disease and is normally carried out 3 times a week lasting for around 4 hours each time.
The 1st 90 days of dialysis are often the most critical, with patients' bodies and minds adapting to new circumstances.

The 'First Time Dialysis Project', which will benefit the 150 patients who start dialysis at the Royal each year, is supported by the Health Foundation, an independent charity committed to bringing about better health and health care for people in the UK. The project was selected following a highly competitive national selection process.

As a regional specialist dialysis unit, the Royal treats around 100 patients every day. Dr Asheesh Sharma, consultant nephrologist and project lead, said:- "We've worked with our patients to create a service that supports them through an extremely difficult time. Chronic kidney disease is a life limiting condition with outcomes that can be worse than some cancers. It has a huge impact upon quality of life and patients are often under prepared to make decisions about their treatment options. With this project, we want to make dialysis as stress free as possible for our patients and their loved ones."

Dave Reid, 58, from Kirkby, underwent dialysis after suffering kidney failure when he was 23. "When I found out I had kidney failure, I didn't know what that meant, what my kidneys did or how it would affect my life. It's really important to have a nurse with the time to talk you through what is happening around you and catering the treatment specifically for you. Dialysis doesn't just affect you, it affects your family, too, they see what you're going through hooking up to the dialysis machine so often; they live it with you. This service is incredibly important for them as well."
People with Sight Loss in Southport Invited to Attend Free Online Skills Session
BLIND and partially sighted people in Southport are invited to attend a free online basic skills session to help them get online and benefit from technology. The event is part of RNIB's Online Today scheme to support 125,000 people with sensory loss to get online.

The workshop is being delivered by partner organisation Action for Blind People, at 65 Shakespeare Street, Southport, PR8 5AJ on Monday, 5 September 2016, at 1.45pm to 2.45pm. Anyone with sight and/or hearing loss is welcome to attend the session. The session will include how to get the most from products such as tablets, smartphones and eReaders. There will also be the chance to be hands on and try out these gadgets and ask questions.

Internet use in the UK has significantly increased over recent years with 76% of adults accessing the internet every day in 2014, compared to just 38% in 2006. Millions of us rely on the internet for everyday tasks, such as shopping, banking and staying in touch with friends and family. However, getting online and using technology can present many challenges for someone who is blind, partially sighted or has hearing loss.

Andrew Coleman, Assistive Technology Coordinator at Action for Blind People, said:- "Being online can make a huge difference to someone's life. We hope people with sight or hearing loss in Southport will come along and find out how technology can open up a whole new world of discovery and independence."

To find out more and to book your place, please call Beryl Farrar on:- 01704 201 770. Alternatively, Beryl can be reached via email at:- berylfarrar@hotmail.com.
'Cash in a bag' money launderer jailed
A lorry driver caught smuggling more than £205,000 in cash out of the UK in a plastic bin bag has been jailed for 3 years, after an HM Revenue and Customs (HMRC) investigation.

Milos Dukic (46) of Ljubljana, Slovenia, was stopped by Border Force Officers, at the Port of Dover, England, as he attempted to board a ferry to Calais, France, in February 2016. A search of the cab of the lorry he was driving uncovered £205,645 in bank notes, hidden in a black plastic bag. The £20, £10 and £5 notes weighed more than 14 kilos in total.

Dukic was arrested on suspicion of money laundering and the matter was referred to HMRC for investigation.

HMRC investigators found that the cash smuggled by Dukic was from an illegal tobacco scam orchestrated by Warrington man, John Parker (57). Forensic evidence linked Parker to the plastic bag, found in the cab, containing the cash.

Alan Tully, Assistant Director, Fraud Investigation Service, HMRC, said:- "Forensic investigation allowed us to link the cash found in the lorry's cab back to the wider tobacco smuggling operation, and put these men behind bars. Working with our partner agencies, HMRC will not hesitate to investigate those committing tax related fraud, and recover any proceeds from the crime, to ensure that no one is beyond our reach. Anyone with information about alleged financial crime or tobacco smuggling can contact the Customs Hotline on:- 0800 59 5000."

Dukic was charged on 16 February, 2016 with 2 Proceeds of Crime offences; concealing and removing criminal property. He pleaded guilty at Canterbury Crown Court, on 30 June, 2016 to one count of money laundering by concealing criminal property. He was jailed for 3 years, on 23 August 2016.

John Parker and lorry driver, Dragisa Jovanovic (63) were jailed, on 19 July 2016, for excise duty evasion, after a tobacco smuggling investigation by HMRC. The 2 men were arrested at an industrial estate in Biggleswade, Bedfordshire in April 2016, as they unloaded 300 boxes of tobacco from a lorry, which also contained furniture.

1.8 tonnes of illicit tobacco, worth more than £350,000 in evaded excise duty, was seized.
A bin liner found in Parker's car contained £125,000 cash intended as payment for the tobacco; another bag contained £16,000 in cash as payment for the lorry driver - Jovanovic.

John Parker was jailed for 4 years and Dragisa Jovanovic was jailed for 2½ years, at Luton Crown Court.

HMRC has already seized the cash and confiscation proceedings are now under way.

Ultra Great Britain 200 Mile Ultramarathon has been run from Southport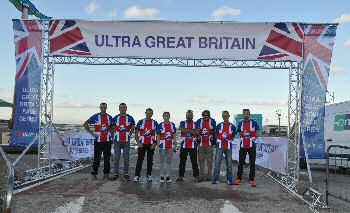 THE Ultra Great Britain 200 Mile Ultra-Marathon set off from Southport, at 6am, on Saturday 20 August 2016. Well forget the Olympic Marathon, this is a Unique 200+ mile Ultra-Marathon that follows the Trans-Pennine Trail. It covers a variety of terrain over the Pennines and combines a mixture of natural trail and urban trail. The event uses Live Online GPS Tracking of all taking part, to ensure no cheating takes place; plus check points along the way. In the past between 100 to 249 runners took part in the race. This year the number of participants was capped at 200. The event attracted huge attention in the running world, with participants, both male and female, some coming from as far as Singapore to take part! Sadly, many locals, despite the press publication, did not realise this event was being started from Southport, but the early start probably did not help either. These are a few photographs taken of them setting up on Friday Night. To find out more about these international Ultramarathons visit:- UltraMarathonRunning.Com and for this race go to:- RunUltra.Co.UK or follow them on both:- Facebook and Twitter. Congratulations to all who took part in this years event!