Faster, easier Tax Repayments are at the heart of the Personal Tax Account
TAXPAYERS can now opt to get their money back direct from HM Revenue and Customs; via their digital Personal Tax Account; without the need for a cheque or trip to the bank, HMRC have confirmed.

The online Tax Refund Service is available to customers who use their Personal Tax Account. Tax that they have overpaid will be returned directly to their bank account within 3 to 5 days.

Ruth Owen, Director General of Customer service, HMRC said:- "This new service puts customers in control of their Tax affairs allowing them to claim any money owing to them immediately. They can claim at a time that suits them, from a device of their choice, securely, and without needing to wait for a cheque in the post.

Now customers will have access to funds cleared in their account within 3 to 5 days, rather than the 2 weeks it would typically take for a cheque to be issued, banked and cleared."

The online refund is just 1 of many services customers can access through their Personal Tax Account. With over 34 quick and easy services which would have previously meant a letter or phone call to HMRC, the Personal Tax Account makes Tax less formal and time consuming.

With the Personal Tax Account customers can:-

► View and update personal details.
► See how their Tax is calculated.
► See the progress of forms they've sent us.
► Check the expected level of their state pension.
► Find out about Marriage Allowance entitlement, and make a claim online.
► See Tax Credits payments and report changes in circumstances.

Webchat is available to support customers who need help while accessing their Online Tax account.
Pin prick meningitis test could be available within 5 years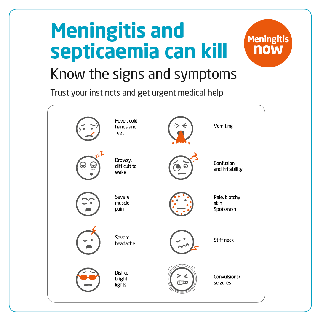 A test has been developed that could help to diagnose bacterial infections, including meningitis in minutes. If made available through the NHS, this test would significantly reduce the time taken to diagnose the disease and minimise the risk of misdiagnosis.

The new test, developed by a team at Imperial College London, is a major breakthrough in the rapid diagnosis of meningitis and sepsis in children. If made available through the NHS, it could allow treatment to begin much earlier, saving hundreds of lives and reducing the risk of life changing after effects.

The signs and symptoms of meningitis are notoriously difficult to diagnose, and can be dismissed as a cold or flu. Many young children presenting the early symptoms of the disease are initially sent home, before being rushed back to hospital a few hours later as their condition rapidly deteriorates. Currently, doctors grow bacteria in a sample of blood, in a process which can take up to 48 hours.

Responding to the news, Liz Brown, CEO at Meningitis Now said:- "A delay in life saving treatment for bacterial meningitis can be a matter of life or death. We welcome this significant progress in the development of a rapid test for meningitis and sepsis. We would however, continue to advise people to know the signs and symptoms of meningitis and to seek immediate medical attention if they have any concerns."

The study led by Professor Michael Levin has shown that a bacterial infection can be distinguished from other causes of fever, such as a viral infection, using a pattern of genes that are switched on or off in response to an infection.

A larger project will now begin to develop these findings into a pin prick diagnostic test, which Professor Levin believes could be available through the NHS within 5 years.
For support and advice on meningitis call the Meningitis Now Helpline on:- 0808 80 10 388. For more information or to donate visit the website.

Grants to make the City 'greener'
LIVERPOOL will be cleaner and greener thanks to a new fund to help community groups make improvements in their neighbourhoods.

The Environmental Initiatives Fund was set up by the Mayor of Liverpool, Joe Anderson, following a recommendation in the Interim Report for the Strategic Green and Open Spaces Review.

This called for community groups, schools and small businesses to be helped to play more active roles in improving their local environment.

A funding pot of £20,000 was set up and groups were invited to bid for grants of up to £500.

23 groups have been awarded a total of £10,430 in the first round of applications. Among the successful were those to improve community gardens, to engage children in gardening projects and community clean-ups

A 2nd round of applications will be considered in late 2016.

Councillor Steve Munby, cabinet member for neighbourhoods, said:- "While the grant to each group may not be a large amount of money they will still have an impact on making neighbourhoods greener and cleaner.

But, just as importantly, they will help to get communities working together to improve their neighbourhoods.

I have been encouraged that we had a wide range of organisations from across the City coming forward with ideas on how they can improve their local environment and we were able to support several bids."

The successful applications are:-

► Bronte Youth and Community Centre – to improve Bronte Garden (£500)

► Norris Green Youth Centre – to create a safe green space for young people (£500)

► Grandison Road Allotments Society - to provide compost bins (£500)

► Afro Caribbean and Lunch Club – to provide tools for the Green Growers Club (£400)

► River Oaks Residents' Association – to repair and maintain furniture around community pond (£500)

► Amadudu Women and Children's Refuge – to support gardening for health project (£500)

► Active Community Enterprise A.C.E. – to provide a disabled toilet at community garden (£500)

► Rotary Club of Liverpool, St Vincent's - to purchase a poly tunnel to nurture tree saplings which will be gifted to schools (£500)

► Lee Valley Pensioners Club – to support the Incredible Edible Valley project (£500)

► The Sound Agents – to support the Growing Up in Chinatown project with hanging baskets and planters (£500)

► Fazakerley Health and Wellebing Forum - to fund a community clean-up of Hawksmoor Park ecology park (£500)

► Anfield Neighbourhood Forum - to fund tools and equipment for the Green Shoots project (£450)

► Netherley Youth and Community Initiative – to fund equipment for a project to grow fruit and vegetables for families accessing a foodbank (£500)

► Deysbrook Village Centre - to supply furniture and equipment for the Growing Deysbrook Project (£500)

► Triple C (Liverpool) - to provide gardening resources and equipment for the Norris Green Harvest! Scheme (£200)

► Childwall in Bloom - for plants and other material to enhance Childwall Triangle (£250)

► Green Harmony Garden Project – to support a plant propagation project (£480)

► Florence Institute Trust – to support the maintenance of the Florrie Pocket Park (£500)

► St Cyril's Children and Youth Project – to help provide a safe garden area for children and young people (£150)

► Tree House Liverpool CIC – to provide equipment, plants and seeds for the Veg Bed in the Rose Garden at Newsham Park. (£500)

► Alt Valley Community Trust - to support the Ellergreen Community Centre Garden Project (£500)

► ARCH Under the Bridge Ltd – to provide equipment for the Little Dibbers environmental growing scheme. (£500)

► Merseyside Police – to provide litter pickers for Operation Clean Sweep (£500)