Partying in the park? Litter louts costs local councils thousands
WITH summer drawing to a close, people are taking advantage of the last of the sun to have a barbecue in their local park, but leave it looking like a rubbish tip when they go home. That's the opinion of a national waste and recycling company which says that local authorities are having to shell out thousands to clear up after lazy families and groups of friends who leave food waste and rubbish behind. Yorkshire based BusinessWaste.co.uk says that Council workers and waste operators are at their wits' end as warm weather brings another rash of filth left in public open spaces.

"My local park is full of litter and burnt out disposable barbecues on any given evening. We've been told that clearing this mess up costs hundreds every day, which comes out of your Council Tax." says Business Waste spokesperson Mark Hall.

According to BusinessWaste.co.uk, rubbish encountered by their waste operators in local parks includes:-
Portable and disposable barbecues.

Empty drinks cans and bottles.

Uneaten food, chicken bones and spare ribs.

Garden furniture.

Dirty nappies.
Mark said:- "This is the kind of mess we face every day in parks the length of the country. Would you act like that in your own garden? 1 colleague told us they had to clear up an entire set of garden furniture, including food still on the camp table, just lacking the people, like the Marie Celeste."

Not only does food waste attract vermin, but dumped children's nappies make litter picking and waste disposal that much more hazardous for council workers and waste disposal operators.

Mark said:- "It's infuriating. The people who do this are ignorant and lazy. It's time local authorities banned this kind of event in public places, because some members of the public are completely unable to do the right thing."

BusinessWaste.co.uk 's Mark Hall says that we should be following the French example where eating and drinking is largely banned.

"Parks there are pristine with signs prohibiting barbecues. There have separate areas with tables and bins that are segregated, so everything is kept under control." said Mark.

It's similar in Australia, where parks have fixed barbecues with bins nearby. "Parks and beaches are pristine because people just can't eat food elsewhere," says Mark.

Encouraging the UK's local authorities to come up with similar controlled areas for people to bring and cook their own food, Business Waste says that a small local investment could save thousands in the long run.
"Plenty of bins, and fixed-place barbecues in a fenced off area means that users know their responsibilities. The huge problem we have to face up to is that people are essentially lazy, and will act in an anti social matter if they think they can get away with it. People need to be nudged in the right direction to get them to clear up after themselves. It's either that, or ban barbecues in the park for once and for all." says Hall.

Local partnership restores Woodchurch Memorial Garden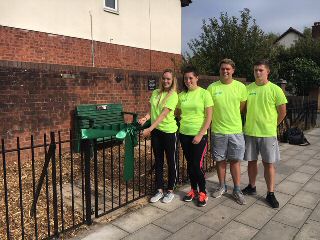 A memorial garden in Woodchurch has been restored to its former glory – thanks to a local partnership. Youth charity HYPE (Helping Young People Everywhere), the Wirral West Constituency Committee and other local groups have worked to bring the Memorial Garden on Hoole Road back into use after it fell into disrepair.

The garden was established to provide a place of reflection for people who have lost loved ones on the estate. Local school children will now work with Merseyside Police Community Support Officers to keep the garden tidy.

The project has seen the site cleared of weeds and overgrowth with new benches and planters, whilst retaining the original features of the garden, including memorial plaques supplied by local funeral director Sue Porter.

HYPE Project Manager Matt Houghton said:- "We are really pleased to have been able to restore the garden. We hope that a couple of days of hard work from the young people involved will result in a lasting positive impact for residents and those who want to remember loved ones in the area. We believe that by engaging more young people in positive activities such as this, they will become empowered to increase their self esteem and confidence and raise their aspirations for themselves, their families and communities. Thank you to everyone who helped us with the project, including the Hoole Road community hub which opened up its facilities for us whilst we were working on site. Many local residents have already said how pleased they are to see the garden looking so fantastic."

Cllr Jeff Green, Chairman of the Wirral West Constituency Committee, said:- "The Committee has consistently supported local initiatives across the constituency, by providing funding for projects or helping groups to access the support they need from the Council and others. The memorial garden project is a great example of the type of community initiative we have encouraged and supported."

Cllr Matthew Patrick, the Council's Cabinet Member for Community Engagement and Communications said:- "Our 2020 council plan champions neighbourhoods and community organisations coming together to improve local areas. I am delighted that the memorial garden at Hoole Road has been restored for the benefit of local people. Thanks to all those involved."

Visit Wirral.Gov.UK/WirralWest or follow the Wirral West team on Twitter @teamwirralwest.
Deceased estates notice - Lilian May Jackam
Pursuant to the Trustee Act 1925, any persons having a claim against or an interest in the Estate of Lilian May Jackam (also known as Lillian May) Jackam (Deceased), late of Birch Abbey Rest Home, 55 Alexandra Road, Southport, Merseyside, PR9 9HD, UK, who died on 04/10/2018, are required to send particulars thereof in writing, to the undersigned Solicitors, on or before 24/05/2019, after which date the Estate will be distributed having regard only to claims and interests of which they have had notice. Churches Solicitors, 12 High Street, Fareham, Hampshire, PO16 7BL, UK. Ref:- 'T553015.'
..Paid Advert..
Contact us:-
(+44) 08443 244 195
Calls will cost 7p per minute, plus your telephone company's access charge.
Calls to this number may be recorded for security, broadcast, training and record keeping.

News24@SouthportReporter.com
4a Post Office Ave, Southport, Merseyside, PR9 0US, UK


Our live Southport Webcam image above.
To see it live, please click on image.

Event Notices

More events that are taking place on Merseyside can be found on our Event Listings Calendar.

Click on here to see our event calendar.
Are you going to this event? If you are please let us know what you thought of it!

These are our other websites within the Southport & Mersey Reporter Network.

Mersey Reporter

Formby Reporter

Liverpool Reporter

Southport TV
| | |
| --- | --- |
| | © - Southport Reporter® is the Registered Trade Mark of Patrick Trollope |
..