Merseyside Police get new handheld devices
MERSEYSIDE Police is launching new handheld devices to frontline Police Officers and staff, delivering information direct to their fingertips and keeping them patrolling the streets for longer.
Following a successful pilot scheme, the Samsung devices are now being rolled out to almost 3,000 operational Officers and staff. The devices will provide Officers with an electronic mobile toolbox helping them to do more on the move, including access to IT systems including email, camera and an electronic pocket notebook. Assistant Chief Constable Ian Critchley said:- "As a force, this technology once again puts our communities 1st. Officers being able to access information and images at a scene enables a quick response, saves time and helps Officers and staff in different locations make informed decisions in what are often serious and complex investigations."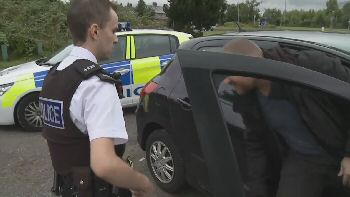 Superintendent Simon Irving, head of the project, said:- "Demands of modern policing are changing fast and the force must embrace developments in technology to give our staff on the front line accurate and timely information. This is only the start of Mobile Policing, and we will soon be testing and rolling out further applications to continuously improve the efficiency of our Officers. These devices will ensure that Officers will be on our streets for longer and share information with colleagues in real time. I want to reassure the public that if they notice Officers on the street using these devices, they are carrying out vital enquiries whilst patrolling our communities. By all means talk to our Officers if you have any concerns, and they will be able explain the benefits."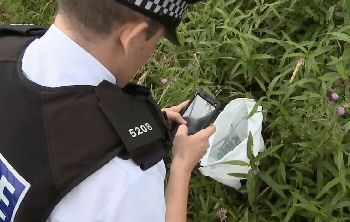 Officers who have been using the devices have commented:- "Updating systems directly from the handheld is fantastic, prevents photocopying, scanning and saves time. The ability to view a caller's location enables me to get to the address quicker and easier. When looking for someone missing from home, I have been able to search main force systems and obtain a photo immediately."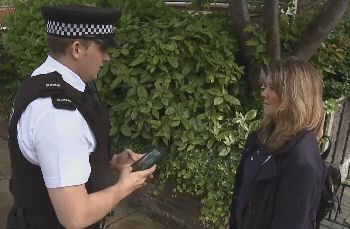 1 in 10 online shoppers abandon their shopping basket because they get cold feet
THE study into the shopping habits and preferences of UK online shoppers found that consumers are buying more frequently online than they did a year ago. The report also found a 14% increase in the number of times consumers in the UK purchased items online. 10% of online shoppers abandons their online shopping basket at checkout, when they see how much they could be spending, according to a study commissioned by Royal Mail. The findings suggest UK adults could be experiencing cold feet associated with spending more than they have or more than they set out to spend online, leading them to abandon their shopping baskets altogether.
The annual 'Delivery Matters' report found that 34% of UK online shoppers frequently abandon their online shopping basket after loading it up with items. The report also found that price savvy younger consumers (18 to 24 year olds) are the most difficult age group to convert from online browsers to buyers. 61% of them frequently abandon their online shopping baskets compared to only 39% of 35 to 44 year olds. Other reasons given by consumers for not sealing the deal on online orders include:- "I was just browsing" (19%), "I found a better deal somewhere else" (9%), "I got interrupted when placing my order" (7%) and "the item was out of stock" (7%).

Nick Landon, Managing Director of Royal Mail Parcels, said:- "The findings suggest that online shoppers often start off browsing online innocently, a term known as digital window shopping; get carried away by attractive offers and great product reviews, load up their baskets, proceed to check out and then have an 'oops moment' when they see their total spend. This then prompts them to seek a better deal elsewhere or abandon the purchase completely."

The study into the shopping habits and preferences of UK online shoppers also found that consumers are buying more frequently online than they did a year ago. The report found a 14% increase in the number of times consumers in the UK purchased items online. Nick Landon, added:- "As online shopping frequency increases, so does the consumer's expectations of their delivery experience. Fast delivery times, tracking, free returns and trust play an increasingly large role when online shoppers make their purchasing decision."
Know your (blood pressure) numbers
MORE than 50,000 people in Liverpool do not realise they have high blood pressure; and now a new campaign is urging local residents to get it checked. High blood pressure is second only to smoking as the highest risk factor in causing premature death and disability, and is the most common long term health condition. Around 15% of people in Liverpool have been diagnosed with high blood pressure, 68,214; but it is believed 25% of the population has the condition, meaning there are another 52,645 residents unaware they are at risk. Know Your Numbers is a national campaign which runs until 18 September 2016 and aims to encourage people to get their blood pressure checked.

Director of Public Health in Liverpool, Dr Sandra Davies, said:- "High blood pressure is a silent killer and many people just do not know that they are at risk. It can be a ticking time bomb and lead to conditions such as a stroke or heart disease, but the good news is that it can easily be treated by improving diet, losing weight or taking exercise. All we're asking people to do is pop into a number of selected Pharmacies across the City who will take their blood pressure free of charge and get some advice about how to stay healthy."

A list of local pharmacies can be found online. People wanting to improve their health can join the Fit for Me campaign being run by NHS Liverpool Clinical Commissioning Group and Liverpool City Council. It aims to inspire and get everyone more active in Liverpool by doing as little as 10 minutes more activity, getting off the bus a stop earlier or simply taking the stairs instead of the lift.
Join in with free local activities, special offers and motivational support at:- FitForMe.Info, like it on Facebook, follow on Twitter @FitforMeLpool or access the Fit for Me quiz online.
Request for information following assault on Mildmay Road, Bootle
MERSEYSIDE Police have confirmed that Officers on Thursday, 9 September 2016, Offices where sent to Mildmay Road, Bootle at around 5.10pm to reports of an assault in the roadway. It is thought 2 men, who were in possession of knives, assaulted a man in his 20's in the roadway. The man is believed to have suffered a number of knife wounds and has been taken to Hospital, where his condition is not thought to be life threatening. The area has been cordoned off while Officers examine the scene and witnesses are being sought. CCTV from the area will be examined and house to house enquiries carried out. Detectives would urge anyone with any information about this incident to contact Sefton CID on:- 0151 777 3046 or Crimestoppers anonymously on:- 0800 555 111.