£20m programme to improve health in the North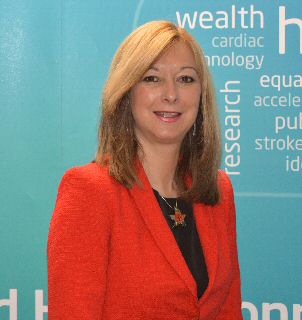 A ground breaking £20 million project has been launched which will see 4 Northern City regions using data and technology in a revolutionary new way to help improve patient care and ultimately save lives. The Health North 'Connected Health Cities' plan will see health experts from across the North of England collaborating to ensure local services work together to better tackle issues like unplanned hospital admissions for patients with chronic diseases. They will use existing healthcare data to generate new insights into how they can identify at risk patients earlier, provide better support for patients who care for themselves and make better, more targeted use of community based care.

In the North West Coast region of Cheshire, Merseyside, Lancashire and south Cumbria, the focus is on providing better coordinated health and social care to patients affected by alcohol misuse; chronic obstructive pulmonary disease (COPD) and epilepsy.

A 'Senate' of interested citizens and patients has been established to give their views on the work as it progresses, alongside a core group of lead organisations; the Innovation Agency; AIMES Grid Services, a community interest company providing a data centre; the University of Liverpool and Lancaster University; and clinical colleagues across the NHS.

Health and Innovation Minister Nicola Blackwood MP said:- "It is fantastic to see Health North bringing data from different City regions together to benefit the patients they serve. This project could set an exciting precedent of working collaboratively across regions, with the potential to be replicated right across the country."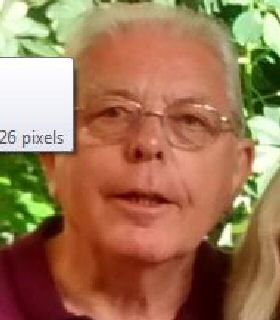 A member of the North West Coast public involvement Senate, Neil Fow from Leyland said:- "I am on various medications, but am not on oxygen. A couple of years ago the doctor changed my tablets for high blood pressure and this caused a real problem. I had a bad reaction to the new tablets which mimicked the symptoms of a heart attack. An Ambulance was called and while I was struggling to breathe, panicking a little as I thought I was having a heart attack, I was bombarded with questions about my condition by the paramedics. How much better it would have been if they had had access to my medical history and perhaps this would have got me treatment quicker, who knows?"

Local patients are being invited to get involved, to make sure actual health needs are being addressed by the project. Citizen juries will be set up so that programme leaders can understand more about public attitudes to the use of health data in research.

Innovation Agency Chief Executive Dr Liz Mear, who chairs the North West Coast Connected Health Cities Board, said:- "There is already some fantastic work going on in our region to enable organisations to share appropriately consented data, so that care can be improved. What Connected Health Cities will do is accelerate the pace and scope of this work, giving much benefit to residents."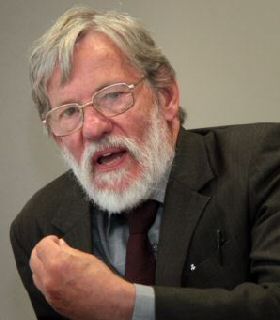 Professor Mike Pearson, Medical Director for North West Coast Connected Health Cities, said:- "This is about making the data within the health service work for patients. We have clinical and informatics expertise to turn data into information that can help front line staff as they treat patients and the technical expertise to ensure that confidentiality and security are maintained. Our target projects address 2 of the commonest reasons for needing hospital help and there is every prospect of making a difference both to significant numbers of people and to the services they use."

The project, called Health North, is being developed by the Northern Health Science Alliance (NHSA), a health partnership which spans the region and brings together the North's leading university medical schools, NHS teaching hospitals and Academic Health Science Networks including the Innovation Agency in the North West Coast. It is hoped that by working more closely together, the collaborations, which also include local authorities, will create a more complete picture of local health and social care. Existing and under used health data will be used for a number of projects including looking to reduce falls in elderly patients, helping to spot alcohol misuse at an earlier stage and cutting the inappropriate use of antibiotics. The project is also keen to reduce the amount of time it takes for new medical technology and clinical techniques to be used in local areas by exploring how quickly evidence of their effectiveness can be given to decision makers. The north has been picked for the pioneering project in a bid to reduce health inequalities, improve dialogue between health services and patients and to optimise health and social care services. Protecting the data used by the project is crucial and strict controls will be set to ensure patient confidentiality is maintained.
The Chair of the Northern Health Science Alliance Professor Ian Greer said:- "The NHSA is delighted to be able to deliver the Health North project, and these first Connected Health Cities pilots are just the start of ensuring that we improve the health as well as the wealth of the Northern Powerhouse."

MP raises awareness of avoiding alcohol in pregnancy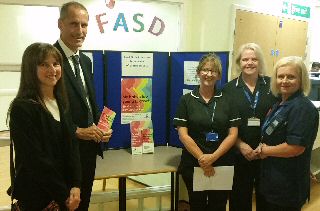 MP Bill Esterson is supporting a campaign urging women to protect their babies by not drinking alcohol during pregnancy. He was speaking during a visit to the maternity team at Ormskirk hospital to raise awareness of the issue on Foetal Alcohol Syndrome Disorder (FASD) Day.

Mr Esterson is the chair of the All Party Parliamentary Group on FASD. He sponsored a Private Members' Bill in Parliament last year calling for better labelling on containers carrying alcohol.

Although the Bill ran out of time, as is often the case with this type of proposed legislation, the Chief Medical Officer changed her advice to mums to be and women trying for a baby, in January, to abstain from drinking alcohol.

FASD is a condition caused when a child is exposed to alcohol in the womb, leaving a baby with a range of physical, behavioural and cognitive difficulties for the rest of their life.

The World Health Organisation estimates that FASD affects 1% of children or the equivalent of 7,000 babies born in England and Wales every year. In some areas the numbers could be significantly higher.

Mr Esterson, who is Labour MP for Sefton Central, said:- "Thank you to Ormskirk hospital for hosting the FASD Awareness Day. The all-party FASD group has heard from health staff about the damage done to children who are exposed to alcohol in the womb. The My Baby's Too Young to Drink campaign is a timely reminder of the dangers. Even small amounts of alcohol at the wrong time during pregnancy, including from very early on, can cause irreversible brain damage. FASD is a hidden problem and the scale of it is really unknown. That is why MPs have called on the Government to have a prevalence study so we can work out how many children are affected each year and just what the true level of risk is. Understanding the true nature of the problem is essential if we are to be able to reduce the damage done and support children who are affected and their families."

Diane Kashrabi, Southport based national link coordinator for the FASD Trust, said:- "It was wonderful to see the excellent work done by the Maternity team in support of the FASD Trust."
Grand finale concert for 'The Jam' exhibition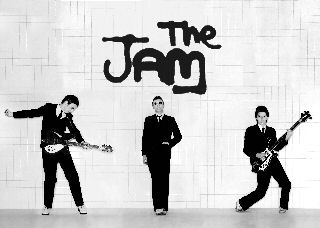 A SPECIAL concert is to take place in Liverpool to mark the end of the highly acclaimed retrospective of 1 of the most influential British bands of the last 40 years.

"About The Young Idea" is the popular Cunard Building exhibition dedicated to exploring the music, background, political and social impact of The Jam, and it's set to come to an end on Thursday, 6 October 2016.

As a grand finale to the showcase, Nicky Weller (frontman Paul's sister and co-curator of the exhibition) is organising a gig; "A Celebration of The Jam" - which will feature original band members, bassist Bruce Foxton and drummer Rick Buckler, who will perform alongside The Paul Weller Band and a host of very special guests.

Taking place on 5 October 2016, at the Echo Arena Liverpool, tickets have gone on sale, with a percentage of ticket proceeds going to local charities including Be one percent, and Impact England.

After beating cancer in 2014, Nicky Weller needed a new challenge. Inspired by her brother Paul and the legacy of the music he created with The Jam, Nicky has gone on to curate 2 critically acclaimed exhibitions.

Nicky said:- "I really wanted to give something back to the fantastic fans of the band, and what better way to do it than host this show. The gig at the Echo Arena will be a brilliant conclusion, with Bruce, Rick and Paul's band rattling through all the hits like 'Town Called Malice,' Going Underground,' Down in the Tubestation,' and That's Entertainment."

Assistant Mayor and Cabinet Member for culture, tourism and events, Councillor Wendy Simon, said:- "The success of the exhibition and this charity concert by original members of The Jam just emphasise the City's credentials as a UNESCO City of Music and UK's original music City. It will be a special night and a must see for music fans all over the UK."

Tickets for A Celebration of The Jam are £45 and available from the Liverpool Arena online Box Office.

About The Young Idea is the second exhibition Nicky and fellow curator's Den Davis and Russell Reader have developed dedicated to The Jam, after a smaller version took place at London's Somerset House last summer. Nicky was the founder of The Jam fan club which she set up when she was a teenager.
Police Officer Stabbed in Arrest
MERSEYSIDE Police Deputy Chief Constable Carl Foulkes has spoken out about the risks faced by officers on the street after an Officer was stabbed in Huyton, on Tuesday, 13 September 2016. At around 11.20am, 4 Officers, on foot patrol, spotted a man on Westmorland Road, who they recognised as being wanted on suspicion of rape. They immediately attempted to arrest the Offender who then stabbed 1 of the Officers, a 30 year old constable, several times before attempting to run away. The 2nd Officer chased and apprehended the 18 year old man, from Huyton, on suspicion of rape; following an incident on Slater Street, Liverpool City Centre, on 18 June 2016; and assault of a Police Constable. He was then taken to a Police Station, on Merseyside, where he was interviewed. The injured Officer, who sustained stab wounds to his back, was taken to Hospital for treatment. Deputy Chief Constable Carl Foulkes said:- "This incident highlights once again the dangers Officers face every single day, putting themselves in harm's way to deal with dangerous situations. The very nature of the job means Officers go into challenging situations and acknowledge the risks they face. Despite this, Officers put themselves on the front line protecting our communities every day and any assault on an Officer serves as a stark reminder of the very real dangers that Officers face to keep us all safe day in, day out. After seeing their colleague stabbed, 3 Officers continued to attempt to arrest the man and successfully detained him and I would like to commend their bravery and that of the officer who has been injured."

Anyone with any information on the incident is asked to contact Knowsley CID on:- 0151 777 6225. You can also call the 101 number or Crimestoppers, anonymously, on:- 0800 555 111.