Allerton Manor Golf Club opens new facilities and looks to attain PGA Championship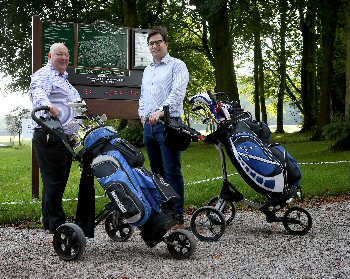 IN 2014, Liverpool City Council was subsidising every game of golf played at Allerton Manor Golf Club by a Fiver (£5) a round. Since then it has established a partnership with specialist golf course operator GreenCircle Estates Ltd and now, after a programme of improvements, the popular municipal South Liverpool course is making money for the local authority. "When Mayor Anderson invited us to work with him and the City Council to improve the golf and leisure options at Allerton Manor we knew the course had massive potential. The setting with mature trees lining the fairways only 5 miles from the City Centre provided a great opportunity. Allerton Manor is the only municipal course in the City, so our objective was to create a public access golf club with private club standards, both on and off the course. We want to make Allerton Manor attractive to beginners and recreational golfers but also sufficiently challenging for competitions and golf society events. We have invested in the course, improving the tees, fairways and greens through better course maintenance; and we now host about 50,000 rounds of golf here each year." said GreenCircle director Mike Hanlon.

And in addition to the on course improvements, a new clubhouse, bar and restaurant will open this weekend, extending a warm welcome to the public, whether they are golfers or not. The refurbishment of the Old Stables has now created a 68 cover restaurant, a casual bar and terrace, new golf shop and first class changing facilities and locker room. The refurbishment was completed by local building firm Camel Property Services and supported 40 construction jobs including 3 apprenticeships.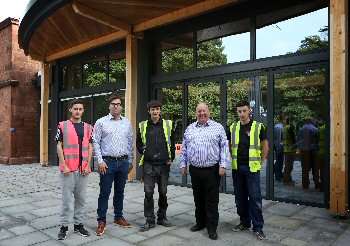 "Contrary to stereotypes, golf is a democratic game on Merseyside, increasingly popular with male and female players of all ages from all communities across the City. When we created this partnership at Allerton Manor Golf Club, it was to protect and enhance a green asset in South Liverpool, provide an improved facility for local golfers and return the course to a sustainable and profitable operation contributing to, rather than drawing on, the City's budget. The management team have had tremendous success so far, and have ambitious plans to further improve the offer; such as lengthening the course to a par 72 so it qualifies for PGA competition status. I was delighted to open the new clubhouse facilities which rival many of the more established private golf clubs in the region." said Mayor of Liverpool, Joe Anderson.

"We are grateful for the Mayor's ongoing support and are confident our partnership with the City Council will deliver significant improvements to the city's only public access golf course and continue to generate jobs and apprenticeships for local people." said Mike Hanlon.

Open Golf Tickets for 2017 on sale now!
Photographs by Patrick Trollope.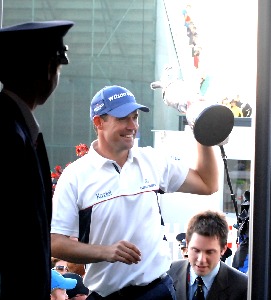 TICKETS have now gone on sale for the 146th Open, which is returning again to Royal Birkdale. Nestling amid spectacular sand dunes, this world famous links course is regarded as 1 of the finest in the UK and is now World famous. For golf fans, this is 1 of the most prized courses to have played on.

If you don't already know, the origin of the name 'Links Golf,' it comes from a Anglo-Saxon word 'hlinc', of about 931 AD, meaning a ridge, then over time the word became 'Links' referring to any rough grassy area between the land and the sea. In golf the word is used to refer to the type of soil and terrain on which the gold courses it is built on.
Interestingly, Royal Birkdale Golf Club was founded in 1889, but it wasn't until 1935 that they build the Clubhouse on Waterloo Rd. Birkdale, just outside Southport. It held it's 1st major event, the Curtis Cup, on the new sand dune course, in 1948. But it was not until 1951 that it was known as Royal Birkdale, up to then it was just Birkdale Golf Club. Shortly after

The 1st Open Championship was held at the club was in 1954, with 6 others then after, 2008 being the last. That included the 100th Open Championship, in 1971! That event was run over 7 July to 10 July 1971, leading to Lee Trevino winning the 1st of his 2 consecutive Open Championships. He was just 1 stroke ahead of Lu Liang-Huan! The course has also hosted the Women's British Golf Championship, with the last being the Ricoh Women's British Open in 2014. Other major events include the 2 PGA Championships and the Ryder Cup.

To get a place to watch this spectacular event, that is 1 of 8 Open Championships in 2017, you must obtain your tickets from the Open Golf website or from the ticket Booking Office number:- 01334460010. That is the only way you can obtain a legitimate ticket and they have just gone on sale now. Also on offer are priority access to tickets and official Hospitality packages for 146th Open at Royal Birkdale.
Please let our news room know if your planning to rent your house out...
If you spot any other websites or places offering tickets, please let us know via emailing us to:- News24@SouthportReporter.Com and also inform the event organisers, Royal and Ancient Golf Club of St Andrews (R&A) via calling:- 01334 460000.

We have more about the club's history and other fantastic facts on our Historical Listings Section on Mersey Reporter, that can be accessed via clicking on this link.