Liverpool's Iconic Light Ship has been removed from Liverpool!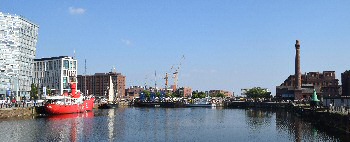 THE iconic Planet Light Ship, a floating light house, which was once sited off Formby Point, in the River Mersey Estuary has been removed from the Albert Dock site after arguments over unpaid bills of around £10,000 in unpaid mooring fees.

The "Planet" was the last manned Mersey Bar lightship until 1972 and is the only remaining 1 of its type in the world. This is a hugely historic vessel and many are now asking why Liverpool City Council has not stepped in. This vessel is/was 1 of the most iconic and recognisable parts of Liverpool and the region. Now the worry is that this would famous ship could be lost from Liverpool forever, or worse still scrapped and lost for good. We are told that after it was removed from Canning Dock East, via tugboat, it was taken to a port outside the City.

The Canal and River Trust took possession of the vessel, over the allegations that it did not have a license to trade and over the unpaid mooring fees, have stated that:-"If the owner, Mr Roberts, pays the Trust the monies he owes us, he can recover the ship." Also that:- "It is not being scrapped." Now there is also the worry that should Mr Roberts be unable to pay, it could be sold and then find its way to the scrap yards. Like other lightships around the world, for example the Irish Light ship, named:- 'Skua', which was scrapped in 2012. There are only a handful of these iconic craft left in the world, with most being broken up. So will this valuable bit of maritime heritage be consigned to history books? Let's hope not, but if sold, it could go to the breakers yard! That is why some are calling now on Liverpool Council to act. A fund was created on the Chuffed website, to help save the very last Bar Lightship, but it only raised £1,200 of its £20,000 target. The campaign page was closed on 24 August 2016, oddly marked as "Completed?" What are your views on this topic? Please email us at News24@SouthportReporter.com.

This video was shot by Dave Graham and added to YouTube. It shows the owner pleading with the bailiffs not to take it away…
Fact file:- The "Planet" was the last Mersey Bar manned Lightship and was anchored some 9 miles to seaward of the Mersey Bar, off Formby Point. It had a crew of 7 who worked on 2 week shifts. In 1972 it was moved and in 1979 began service in the English Channel off Guernsey. It was decommissioned in 1989, it was the last manned lightship in UK waters. Useful references links:- Wikipedia / Facebook / Twitter / MerseyPlanet.Co.UK / MMSW.

Appeal for information following an assault in Bootle
MERSEYSIDE Police are appealing for witnesses to an assault of a man in the Bootle area, on Monday, 5 September 2016. The alleged assault took place at around 6.30pm. We are told by Merseyside Police that the victim was inside The Ice Parlour shop, at the junction of Aintree Road and Worcester Road, in Bootle. As he walked towards the exit, the victim bumped into a man and following a verbal altercation, the man attempted to punch the victim and, following a struggle, bit him, causing the victim to lose part of his right ear. The man then left the location in a Ford Focus Estate. The suspect is described as white, in his 20's, 5ft 9in tall and of a stocky build. Detective Inspector Mike Dalton of Sefton CID said:- "This was an appalling attack which has left the victim with permanent injuries and understandably distressed. Any acts of violence will not be tolerated and we will make every effort to bring those people responsible to justice. We are keen to speak with a number of witnesses to the incident, including three men and one woman who gave the victim assistance in the immediate aftermath. Anyone who saw a man getting into a dark Ford Focus estate outside the shop at around 6.30pm may also have vital information." Anyone with information on this incident is asked to call Sefton CID on:- 0151 777 3835, call 101 or Crimestoppers anonymously on:- 0800 555 111.
Whiteness Appeal follows man being assaulted at a pub in Litherland
MERSEYSIDE Police are appealing for witnesses after a man was assaulted at a pub, in Litherland, on Saturday, 17 September 2016. We are told that at around 10.45pm, a call was received, by Merseyside Police, stating that a man in his 40's had been stabbed at the Jubilee Inn, on Hatton Hill Road. Both the Police and the North West Ambulance Service attended the location and found a man with a slash wound to his neck. He was taken to Hospital where his condition was assessed. The suspect is described as white, in his 30's, of medium build, with a tattoo on the inside of his forearm. He was wearing a dark t-shirt, grey Adidas bottoms, and dark Nike 110 trainers. Detective Inspector Robbie Moss from Sefton CID said:- "This was a serious assault which could so easily have resulted in life threatening injuries. We are particularly keen to speak to anyone in and around the pub last night who saw the incident or the men involved during the evening. This initially appears to have been a targeted attack, within a group of friends drinking at the Jubilee Inn. The Pub was busy around the time of the attack and I have no doubt that some of those customers may recognise the man responsible from the description or have information which will be vital in bringing him to justice." Anyone with information is asked to call Sefton CID on:- 0151 777 3834 or Crimestoppers anonymously on:- 0800 555 111.
Mass fight on West Street, Southport
ON Sunday 18 September 2016, at around 2.30am, a report from the public was sent to Merseyside Police about fighting nearby the bars Kahiki Bar and BarBaric and an investigation into the disorder has now been launched. We are told that several men, in the West Street area, are believed to have be involved. Both Police and the North West Ambulance Service attended the location and 5 people were found to have sustained minor injuries. It is thought that some of whom are initially believed to have been innocent bystanders. We are told that none of the people hurt required Hospital treatment. Extensive enquiries are underway to establish the full circumstances and identify the perpetrators. CCTV from West Street is being examined by detectives and any witnesses to this incident are urged to contact Police at the earliest opportunity by calling Sefton CID on:- 0151 777 3803. You can also call:- 101, or call Crimestoppers anonymously on:- 0800 555 111. We are told the both closed early, soon after the incident as the staff didn't feel safe to remain open that night.