LJLA to become fundraising partner with Alder Hey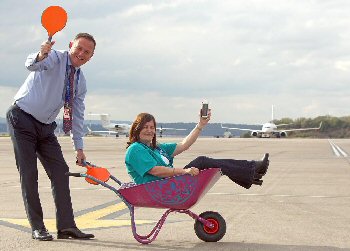 LIVERPOOL John Lennon Airport (LJLA) have announced that it is to become a fundraising partner with Alder Hey Children's Charity and aims to raise around £100,000 over the next 12 months for the Hospital.

At a launch event held in one of the Airport's hangars, LJLA Senior Management explained how plans to support the Charity were part of the Airport's strategic priorities to enhance community engagement through its Community Plan.

Joined by senior representatives from Alder Hey Children's Charity and in front of employees from a diverse cross section of businesses based at the Airport, the Airport launched its #LJLALoves charity branding that will be used to promote a host of fundraising activities over the coming months.

Employees at the Airport will be encouraged and given help to fundraise either individually or as part of a team, with the common goal of reaching the target figure for Alder Hey Children's Charity. Included in the planned activities is an invitation to participate in a world record wheel barrow pushing attempt. The 'Moonlight Barrow Bolt' is to be held on the Airport runway 1 evening in March 2017.

The funds raised will go towards supporting Alder Hey's latest initiative to create a world class 'digital hospital' that harnesses the latest in digital technology and applies it in the Children's Hospital environment to transform communication and engagement between care providers, young patients and their families.

However the Airport will also be working closely with Alder Hey to share their expertise in managing passenger flows and applying this to the movement of patients through the Hospital and to help improve their experience.

Carol Dutton, HR and Community Director at Liverpool John Lennon Airport commented:- "As part of our Community Plan, we wanted to support a local charity and for the many employees and their families here at the Airport, this is a charity that is close to our hearts. By being able to contribute towards both their plans for a digital Hospital and to give up time to share some of our expertise with them, we can hopefully help the Hospital improve the experience for their young patients and their families."

Iain Hennessey, Consultant Paediatric Surgeon and Clinical Lead for Innovation at Alder Hey, commented:- "By innovating and applying digital 'app' technology to our families' time in Hospital, we can vastly improve their experience and their outcomes. The 'journeys' that our patients and their families go on at Alder Hey are very different to the journeys embarked upon from LJLA, but many of the principles are the same. We're hugely grateful to LJLA for supporting our fundraising, and are looking forward to embarking upon this exciting journey with them."
Mersey Ferries thanks people for their patience during run of poor service
MERSEY Ferries are thanking commuters and tourists for their patience and understanding following a run of poor service. Following issues with 1 of the Royal Iris's engines on Thursday, 13 October 2016, it is likely that there will be no Mersey Ferry services until next week at the earliest. Commuters will be able to use their tickets on Merseyrail with replacement buses between Hamilton Square and Seacombe. Following an incident on a Manchester Ship Canal Cruise in July, the Royal Iris only came back into service this week. The 'Dazzle Ferry', The Snowdrop, is unavailable to takeover services as it is currently undergoing its regular maintenance service in dry dock so it is ready for use during the Wirral loop line track renewal works from January 2017.

Said Gary Evans, who has operational responsibility for the Mersey Ferries, said:- "The fact that our Mersey Ferries service hasn't been as reliable as we would like recently is frustrating not only for us, but understandably commuters and tourists. Other factors such as a restriction on the Manchester Ship Canal, so we couldn't run our cruises, have led to a disappointing season for Mersey Ferries. There have been a number of unforeseen circumstances in a short time period, including an incident back in July which took the Royal Iris out of service for 3 months, as well as a number of mechanical issues, compounded by a need to carry out regular servicing. We will be doing our upmost to get a service up and running again as soon as possible. We are particularly focussed on having both ferries ship shape for the forthcoming Wirral track renewal work as the Mersey Ferries, will be 1 of the transport alternatives cross river. We also want to get them ready for the 2017 season, so that we can start to repay our customers for their loyalty and restore the service they expect. The Mersey Ferries are nearly 60 years old, meaning that the maintenance demands are increasing with each year that passes. That is why new vessels are an intrinsic element of our 20 year Mersey Ferries strategy, which aims to keep the Mersey Ferries on the river for generations to come."

Level 42 stop off in Liverpool
Photographs below by Jo Forrest.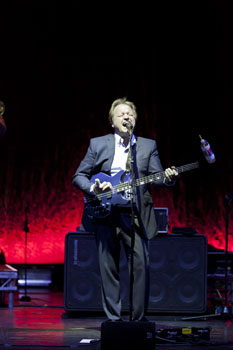 THE band Level 42 are an English band from the Isle of Wight, who came to fame in the 1980's and 1990's. The band got worldwide attention even reaching number 12 slot on the US Billboard Hot 100 chart, with "Lessons in Love." In the same year, 1986, they hit the number 3 slot on the UK Singles Chart with the same number. The band disbanding in 1994, but the band reformed in 2001, but the groups Jazz, funk, come pop rock, tunes are still going down well with audiences worldwide. In 2016, Level 42 have performed at a number of festivals across the UK and Europe, as well as in Curacao, Chile and Argentina. Now on a UK tour before heading off to finish the year in Holland and Scandinavian, in order to promote the 'Sirens II EP' they dropped into Liverpool. Jo Forrest popped over to Liverpool Philharmonic Hall, on Tuesday, 11 October 2016, to see the lads play. If you want to catch the lads in action, you only have to 29 October, for the 2016 UK Tour. To see the remaining dates, please click on the poster below... After the band's London Eventim Apollo, they are off to the Netherlands and then to Norway and Denmark! Its worth noting at all the groups Scandubavian tour dates are sold out! Did you go to this event? Please let us know what you thought of it, via emailing us to:- News24@SouthportReporter.Com...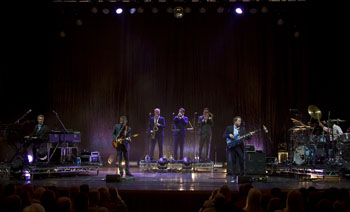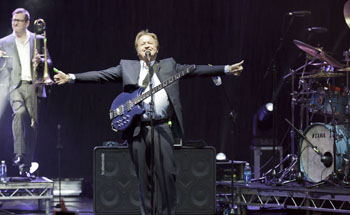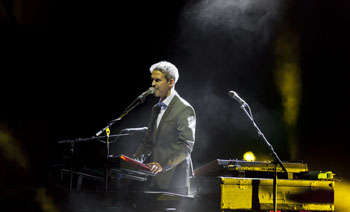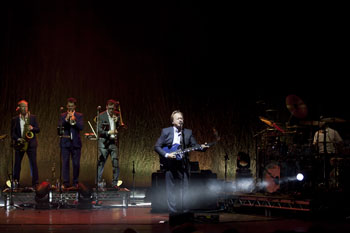 Remember you can order photographic prints from us. Help us keep this site online. Please don't brake our copyright by copying any of the text or images in this website, even if its only for 'personal use.'