The best views of the River of Light revealed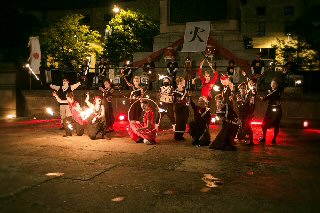 DETAILS have been released of the best places in Liverpool and Wirral to view the 2016 - 5 November fireworks display on the River Mersey. The build up to the River of Light will start from 4:00pm with street entertainment from drummers and fire performers 'Bring the Fire' a collective of fire dancers, circus skills teachers and flow arts promoters; at 4 locations:-
► Hamilton Square/Woodside Ferry Terminal, Wirral.

► Albert Dock Salthouse Quay, Liverpool.

► Mann Island, Liverpool.

► Princes Parade, Liverpool.
From 5:30pm, world renowned drummers:- 'Les Commandos Percu' and 'Deabru Beltzak' will set off from outside Liverpool Town Hall along a City Centre route, filled with music, lights and fireworks, ending at the City's Waterfront.

On the Liverpool side, people will have a great view from the Waterfront, running from Alexandra Tower on Princes Parade right the way along past the Arena and Convention Centre.

In Wirral, people can view the show along the promenade right the way from New Brighton through to Seacombe and on to Woodside.

The fireworks display itself, which is taking place from 3 barges placed in the middle of the River Mersey, is scheduled to start at 6:30pm and will last for around 20 minutes.

This year's event is a collaboration between Liverpool City Council and Wirral Council and aims to be 1 of the most ambitious fireworks events in the country, with funding from partners helping make it a spectacular event.

Assistant Mayor and cabinet member for culture, tourism and events, Councillor Wendy Simon, said:- "This year we are trying something very different, uniting both sides of the River Mersey with an event that we believe will be hugely popular. We're encouraging the whole family to come along beforehand, spend some time enjoying the top quality street entertainment, watch the amazing fireworks display and then spend time perhaps having a meal afterwards. It's great that we've managed to secure sponsorship funding from a number of partners which is helping us deliver a fantastic event and a real economic boost for Liverpool and Wirral."

Wirral Council leader, Cllr Phil Davies, said:- "We're delighted to be involved in this amazing event and are keen to make sure as many people as possible head down to the Wirral waterfront to enjoy it. Wirral's Mersey shoreline will offer some of the best viewing points and attractions for families of all ages and we look forward to welcoming the thousands of spectators from across the region for what will be 1 of the most spectacular bonfire night events anywhere in the country."

River of Light is being supported by Albert Dock Liverpool, Liverpool BID Company, Liverpool ONE, Radio City, Hotel Indigo, Merseyrail, Birkenhead 1st (a Wirral Chamber of Commerce initiative), Its Liverpool and DONG Energy.

Paula Basnett, CEO for Wirral Chamber of Commerce said:- "Birkenhead 1st is delighted to support River of Light, which will provide an amazing evening of free family entertainment for visitors to Liverpool and Wirral. Our programme of street theatre activity at Woodside and Hamilton Square means visitors to Birkenhead can enjoy an evening of jaw-dropping entertainment with the added advantage of having Liverpool's world heritage waterfront as the perfect backdrop to a spectacular firework show."

Clare Rawlinson, marketing manager at Albert Dock Liverpool, said:- "It's so good to see the Bonfire Night fireworks celebration return to Liverpool's stunning waterfront this year, and here at Albert Dock, we will be at the heart of all the action! Liverpool City Council have put together a great programme of music, animation and fireworks for River of Light, and as a partner we will work closely with them to ensure visitors have a 5 November, to remember!"

Please note, there will be no official fireworks displays taking place in Sefton Park or Newsham Park this year!

Merseyrail is the easiest way to get to the event on both sides of the Mersey, with stations at New Brighton and Hamilton Square for the Wirral waterfront and Liverpool Central or James Street for the Liverpool waterfront. Trains run frequently across Merseyside and tickets start from just £1.80. Plan your journey online. To whet your appetite about what to expect on the evening, check out the video section online. For the latest information about the event visit:- RiverOfLightFireworks.Co.UK.

Search for the best Merseyside parks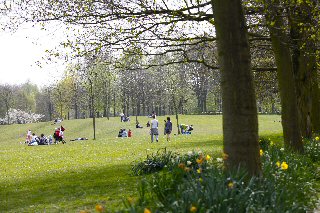 UK wide charity Fields in Trust is seeking nominations from Merseyside for the UK's favourite local green space, selected by public vote. Do you think that your local park, playground or playing field is the best in Merseyside? National charity Fields in Trust have launched a campaign to find the UK's Best Park, as voted by YOU! This unique award is open to all public green spaces across the UK through a simple online nomination. It might be that your local park is great for a Sunday afternoon stroll, your neighbourhood playground is a hive of activity for children, or a nature reserve provides a stress free space to relax. This is your chance to help your favourite space gain the recognition it deserves. Launching the awards Former England International footballer Graeme Le Saux said:- "The Fields in Trust's annual awards are a fantastic way for us to recognise the organisations and individuals who help make our parks, playgrounds and playing fields the best they can be. I was very fortunate that growing up in Jersey I had a huge amount of access to outdoor spaces and it was something I really appreciated as a youngster, not just because I wanted to be a football player but also because I was able to spend time outdoors with my friends. I understand the importance of these spaces and the opportunities they provide for our communities."

At a time when the UK's parks are seeing a dramatic reduction in funding for upkeep and maintenance and childhood obesity is identified as a growing concern, the UK's Best Park award will highlight the vital role of local parks and green spaces; for play, relaxation or sport; and help ensure they are protected from closure or building development. UK's Best Park is a unique award open to all local green spaces across the UK. A simple online nomination form allows anyone to suggest their favourite green space. This will be followed by a public vote with the winner announced at the Fields in Trust Awards ceremony on 30 November 2016.

Fields in Trust Chief Executive Helen Griffiths said:- "Parks and open spaces are arguably the most universal of all public services. They are used by the entire community from pre-school children through to retired adults; our nation's parks and green spaces are places to enjoy life experiences, whether that's reaching a personal sporting milestone, teaching grandchildren to cycle, engaging with nature, having a 1st kiss or simply walking a much loved dog. Our Awards help recognise the role that our parks play in our communities, bringing people together and creating a safe outdoor environment that everyone should be entitled to. We want to celebrate them and invite all park users to vote for their favourite green space."

The UK's Best Park award is 1 of 11 categories that together form the 5th, annual Fields in Trust Awards. Winners will be revealed at Lord's Cricket Ground on 30 November in an event which celebrates the achievements of individuals and organisations who have worked over 2015 to ensure that everyone has access to protected outdoor recreational space. Categories include the Community Champion Award and, sponsored by Environmental regeneration charity Groundwork, the Young Champion Award. A new category for 2016 is for the Best Athletics Project on a Fields in Trust site supported by England Athletics and parkrun, which will celebrate projects which have increased community participation in running or athletics.

Fields in Trust, the only national charity that safeguards recreational green space, want to recognise the role that parks play in our communities, bringing people together and creating a safe outdoor environment that everyone should be entitled to.
Greens warn thousands of cyclists will be stranded
METRO Mayor candidate demands Merseyrail makes provision for cyclists during cross river engineering works Following the announcement that Merseyrail cross-river services will be stopped during improvement works, Liverpool Green Party Leader and Metro-Mayor hopeful, Councillor Tom Crone, has raised concerns that thousands of commuter and leisure cyclists will be stranded when the works start in January 2016. "I've heard from worried cyclists who use the excellent rail facilities on a daily basis to cross the river that they don't know what will happen in the new year. It seems that Merseyrail are to rely on the ferries as a substitute, but they are expensive and do not run at all times of day as the trains do. They are subject to cancellations as happened just this week. People are worried they will end up stranded on the wrong side of the river from where they need to be' said Cllr Crone. Merseyrail state that cyclists should leave their bikes at home, unless they are needed to travel to a rail station and have said that the rail replacement busses cannot carry bikes. That just isn't good enough; cyclists have got used to the idea of crossing the river for work and leisure and they should receive proper help in doing that when rail is not an option. Merseyrail need to be bold and imaginative here, looking at options such as bus trailers for road based solutions. Whilst we warmly welcome these improvement works, and applaud Merseyrail for their continual investment into the rail network, we need to be sure that the right support is given to all commuters throughout this lengthy period, whether that is cyclists, or indeed people with accessibility needs who use the train regularly too."