Students urged to drink less and enjoy more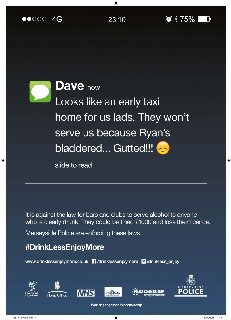 STUDENTS are being targeted in the latest phase of a campaign designed to reduce drunkenness in Liverpool. Using the slogan 'Drink Less Enjoy More', it is aimed at 18 to 30 year olds and warns that they risk having their night out cut short as bar staff may refuse to serve them. It's got the backing of student representatives at the University of Liverpool, Liverpool John Moores University (LJMU) and Liverpool Hope University, and is being launched, on Friday, 14 October 2016, in Liverpool Students Union, on Byrom Street. The aim is to encourage young people to cut back on how much they drink at home before going out; so called:- 'pre-loading' - as well as how much they consume when visiting bars, pubs and clubs. It will use radio, digital and outdoor advertising near shops, pubs and bars, and posters and other campaign material in bars.

The campaign, a joint initiative between Liverpool City Council, Merseyside Police and CitySafe, aims to raise awareness of the 2003 Licensing Act, which states it is illegal to:-
► Buy alcohol for someone who is clearly drunk.

► For bar staff to serve someone who is clearly drunk.
Both offences are punishable with a fine of up to £1,000 and premises found to be serving people who are clearly drunk are also at risk of being stripped of their licence, but local research shows only ½ of people are aware of the law.

Mayoral lead for Community Safety, Councillor Emily Spurrell, said:- "All the evidence we have shows that 18 to 30 year olds are most likely to get drunk on a night out, and this places a huge strain on public services such as the Police, Ambulance staff and Hospitals at a time when they are already under massive pressure. Almost 75% of 18 to 30 year olds who need an Ambulance to take them to Hospital are taken between midnight and 5am. Most instances are at the weekend, with many incidents preventable if people hadn't drunk too much. We aren't telling people not to drink and we don't want to stop people enjoying themselves. This is about having less, pacing your evening and not overdoing it. That way you will have a better and safer night, significantly reducing your chances of ending up in Hospital. We're working closely with bars and clubs in the City Centre and around popular student areas on Allerton Road and Lark Lane to support their staff to help keep people safer, and not serve them if they are excessively drunk."

The Council's Alcohol and Tobacco Unit staff are running training sessions to support bar staff to confidently refuse service to someone who is clearly drunk. Merseyside Police will be actively enforcing the laws in order to reduce drunkenness both in the City Centre and also areas popular with students around Lark Lane and Allerton Road.

The campaign features a range of advertising including posters with text conversations between friends to illustrate how their night out could be ruined if they ignore the law, including:- "Dean, don't get too smashed mate! We won't get served anywhere later" and "Looks like an early taxi home for us lads. They won't serve us because Ryan's bladdered…Gutted L."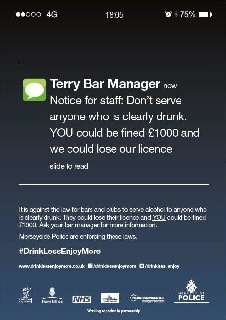 Superintendent Mark Wiggins from Merseyside Police said:- "We know that about ½ of all violent crimes committed are alcohol related and that if you drink at home before going out, you are more likely to be involved in violence, either as a victim or as an offender. Liverpool's night time economy is famous and the City has a well deserved reputation as a safe and vibrant place to enjoy a night out. Every weekend at least 100,000 people come into town to enjoy the night life and we want to ensure those people leave with great memories and are keen to come back time and time again. This scheme isn't about stopping people having a good time or aimed at those who drink responsibly, it's there to help identify the small minority of people who have too much alcohol and could end up being a danger either to themselves or others. People should ask themselves whether they want to have their night ended early having been refused entry to a bar due to them having consumed too much alcohol too early. Drink sensibly and enjoy your night out with friends. We are working with our partners to educate staff at licences premises so they are not breaking the law by serving people who have clearly already had enough to drink. Merseyside Police is committed to reducing violent crime and making the streets safe and if successful. We hope this initiative will help make Liverpool an even safer place for locals and visitors alike to enjoy a night out."

Liverpool Students' Union Vice President (Community Engagement), Daniel Crombleholme, said:- "We all know that Liverpool is a fantastic City with a great culture and vibrant night time economy. We want all students to have a great experience in the City and love their time here. We also want students, both in front of and behind the bar, to ensure that everyone has a safe and enjoyable time in our City's great venues. LiverpoolSU is 1 of the 1st Unions in the UK to be awarded the Alcohol Impact accreditation from the National Union of Students and the Home Office. Our work aims to create a positive culture of responsible drinking and promotes safer drinking behaviours on campus and in communities. We've worked closely with all stakeholders in various campaigns for a number of years and Drink Less Enjoy More is another great example of this great partnership work."
The campaign will run until the New Year - more information can be found online, on Facebook or on Twitter @drinkless_enjoy.

Riverside Fireworks
WITH Bonfire Night just a few weeks away, fire safety experts are once again reminding the public that the safest way to enjoy fireworks is to attend an organised display, such as the inaugural Riverside Fireworks.

Riverside Fireworks takes place, on Sunday, 6 November 2016, in the Riverside Park, Chester-le-Street, climaxing with a 25 minute, superhero themed fireworks' display, and is being run in conjunction with the:- 'The Fire Fighters Charity' and 'Durham Agency Against Crime.'

With around 1,000 fireworks related injuries each year, it's more important than ever that people stay safe, and the smartest way to do this is to avoid buying fireworks for personal use.

Keith Wanley, County Durham and Darlington Fire and Rescue Service area manager for operations, said:- "The best way to enjoy bonfire night and stay safe is to go to an organised display, such as this one. You'll see a lot more fireworks and it's a lot cheaper. Although we would advise people to attend an organised event, if you are planning to use fireworks at home then please follow the firework safety code, ensure the fireworks meet safety standards and are stored and disposed of properly."

Not only will Riverside Fireworks be the safest way to enjoy the festivities, the full evening of entertainment will also include a fun fair, live music, food and refreshments, plus a superhero fancy dress competition!

The gates for the event will open at 5pm, on the 6 November 2016, and the display will kick off at 7pm. Standard tickets cost £5, and children under 6 go free! Limited on site car parking will also be available, but this must be booked in advance via the website.

With demand expected to be extremely high, organisers Stanley Events are urging people to buy early to avoid disappointment.
Tickets for Riverside Fireworks are on sale now, and are available online, and for more information, and updates on entertainment, you can also find details on Facebook.
Pedestrians urged – Watch Your Step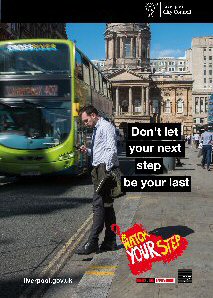 ADULT pedestrians are being urge to watch their step and don't be distracted as they cross roads. A new campaign is under way as figures show that 100 pedestrians aged between 26 and 59 have been killed or seriously injured on Liverpool's roads in the last 3 years. An analysis of the causes show that 2 out 5 adult pedestrians involved in accidents had failed to look properly while crossing the road. Among the main issues of concern are people using their phones as they step off the pavement or being under the influence of drink. The new campaign, fund by the Merseyside Road Safety partnership, and spearheaded by the City Council's road safety team, has posters and digital advertising at bus shelters, rail stations and other locations urging pedestrians, for example, to keep their:- "Eyes on the road, not on your phone."

Councillor Tim Beaumont, Mayor lead for wellbeing said:- "Many road safety campaigns have been aimed at children or drivers, but the accident statistics show there is an issue with adult pedestrians. So many people seem to get engrossed with checking their phone that they step into the road without looking. This campaign is just reminding pedestrians to use common-sense and don't be distracted when crossing the road... the message is quite simply ''watch your step.''"
New survey reveals people's connections to the North West
THE average person from the North West moves 5 times in their life, but 59% end up living within 25 miles of where they were born, a new study has found. According to the national poll of 2000 people by ancestry firm Living DNA, 24% of Brits have lived 500 miles or more away from their birthplace at some point in their lives. Yet researchers found that a high number of people stay close to home, with 51% of all those surveyed now living in the same county of the UK that one or more of their parents were born in. In the North West, this figure was higher than the national average at 73%, suggesting people from the region are considerably more attached to areas where their parents came from. The survey also explored people's roots. Over ½ of respondents from the North West said they felt most 'rooted' either where they were born or where they grew up (51%), compared to 31% who felt most rooted where they live now. David Nicholson, managing director of Living DNA, said:- "Whilst the average Brit makes a number of moves in their lifetime, our survey found that as a nation we are still really attached to our family roots and birthplaces. However, our knowledge of our roots appears to be quite limited. For example, 18% of people from the North West told us they have no idea where their grandparents were born."

Despite the importance of roots for many, just 11% of people from the North West said they do not feel rooted anywhere. And 20% of those from the county that were born in the UK saw themselves more as:- 'citizens of the world' than 'citizens of the UK', a perception that would make them 'citizens of nowhere' according to Theresa May's speech at the 2016 Conservative Party Conference. The survey also revealed some interesting generational differences nationwide. Young Brits aged 18 to 24 were the least likely to know where their grandparents were born, and 3 times more likely to consider themselves 'citizens of the world' (24%) as those aged 65 and over (8%).

Meanwhile, most older Brits aged 65 and over would be very or quite surprised to find they had ancestry from outside the UK (54%), compared to just 40% of 18 to 24 year olds. "It's interesting to see that a lot of Brits, and especially older generations, would be surprised to find they had ancestry from outside the UK," says Mr Nicholson. "The truth is that if you look back through history, everyone of us has ancestry from other parts of the world. This can be proven by looking at our DNA, which shows that ultimately we are all connected to 1 another."

Living DNA commissioned the survey to mark the launch of its new DNA ancestry test; the most detailed service of its kind in the world. From a simple saliva swab, Living DNA is able to break down people's ancestry to over 80 worldwide regions. It is also the only test of its kind which can tell people how much DNA they share with 21 regions of the UK, including Cumbria and North West England. The service also allows people to look back over multiple generations to see how their ancestry has evolved through human history, and discover when they shared ancestors with different people throughout the world. To find out more about Living DNA, visit:- LivingDNA.Com.