Wirral Council appeals for Pictures to help replace stolen Thurstaston plaque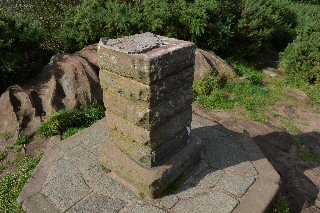 WIRRAL Council is taking action to replace the brass map which was recently stolen from the viewing point at the top of Thurstaston Hill. The plaque sat on a sandstone plinth at the highest point on the hill, and guided visitors to the panoramic views across the Dee to North Wales and the Mersey to Liverpool. It was stolen in August 2016 and has not been found. The replacement plaque will be produced using photographs of the original brass map; and that's where local people can help. The Council has some images which will help to produce the new plaque, but members of the public can help by sharing their photographs of the map in its former glory. To share your photographs or stay in touch with developments on the project, contact Local Team Leader Paul Greenslade on:- 0151 677 7594 or paulgreenslade@wirral.gov.uk. The Council is keen to ensure that the new plaque is in keeping with the tradition of what was there previously and that it highlights how valuable the site is to the local community and visitors. Cllr Jeff Green, Chair of the Wirral West Constituency Committee, said:- "The Constituency Committee places a strong focus on improving local amenities in Wirral West, by providing funding for projects or helping groups to access the support they need from the Council and others. This was a particularly mean crime in that the theft of this map has spoilt this much loved place for our residents and visitors alike – and I have offered the support of the Constituency Committee to help put things right."

Anyone who has any information about the theft of the original plaque can still contact Merseyside Police by calling:- 101 or by calling the Crimestoppers line anonymously on:- 0800 555111 or ranger Paul Greenslade on:- 0151 677 7594.
Global running campaign to help kids get active returns to Liverpool
AROUND 650 primary school children joined forces in Liverpool this week for the '2016 INEOS GO Run For Fun™' event. Children from primary schools around Liverpool took part in the run at Wavertree Athletics Track, on Tuesday, 11 October 2016, cheered on by parents, friends and the 'GO Run For Fun' mascot, Dart. The youngsters were joined by Team GB Olympian Kelly Massey, who won bronze as part of the 4 x 400m women's relay team in Rio. Kelly said:- "It's great to be involved in an event like GO Run For Fun, to help inspire the next generation of sporting talent and to encourage more kids to get fit, healthy and active . You never know, there might even be a future Olympian in the mix!"

Having encouraged more than 166,000 children to get running through over 260 events so far, the GO Run For Fun campaign is the biggest children's running initiative in the world. By the end of this year it aims to encourage many more kids to get off the couch, give the TV a rest and get active. The 'GO Run For Fun' campaign is the idea of Jim Ratcliffe, owner of INEOS, one of the UK's largest manufacturing companies, which announced a £1.5m donation spread over three years to encourage children to run for fun via the 'GO Run For Fun' charitable foundation. He explained:- "I'm passionate about getting as many children running early in their lives. The idea is simple; to get children out of the house having fun. It is not rocket science. Running is the basis of so many great sports. If our children can catch the running bug early, they're more likely to stick to it, and this can only lead to them having more active and healthier lifestyles in the future."

'GO Run For Fun' will continue to tour the UK throughout the year with other events planned for Worthing, Portsmouth and Mansfield, as well as internationally across the US and Europe. For more information and to enter your child for:- 'INEOS GO Run For Fun' events happening near you, or to register your local club or school's interest in joining our campaign, please visit:- GoRunForFun.Com. You can also visit them on the:- 'GO Run For Fun' Facebook Page, or find them on Twitter @_GRFF.

Trust's funding brings hope on fuel poverty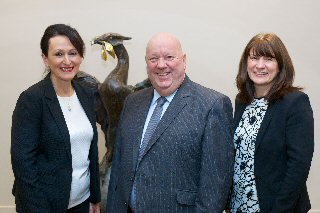 A new initiative to help people out of fuel poverty could reach more than 1000 Liverpool residents in 2017, and bring in hundreds of thousands of pounds in financial benefits.

The initiative is being funded through the Scottish Power Energy People Trust, an independent charity which provides funding to registered charities to help vulnerable and disadvantaged people out of fuel poverty.

The Trust is providing a £50,000 grant to the Mayor's Hope Fund which was set up to prevent or relieve poverty in Liverpool.

In 2017, the City Council's Healthy Homes team will work with local families on the new scheme. Qualified energy advisors will work with vulnerable people to help them reduce their energy costs including switching to cheaper tariffs and by maximising all income benefits due to them.

While more than 1000 people could be given advice, 150 of the worst hardship cases will benefit from direct support through works carried out in their home such as repairs to boilers and radiators, gas safety checks, whole house draft proofing and the installation of LED light bulbs.

It is estimated that this move will deliver financial benefits for local people of about £300,000 in 2017.

Ann Loughrey, Company Secretary and Trustee, ScottishPower Energy People Trust, said:- "The Trust is pleased to be working with the Liverpool Mayor's Hope Fund to help the team there deliver a really beneficial project that helps some of the most vulnerable families across Liverpool."

The Mayor of Liverpool Joe Anderson said:- "This is fantastic news for those people in the City finding it harder and harder to pay their energy bills. It's great that the Mayors Hope Fund and the ScottishPower Energy People's Trust are playing a significant role in pulling together partners to tackle causes of fuel poverty and to help the most vulnerable."

Councillor Jane Corbett, Liverpool City Council Cabinet Member for Social Inclusion, Fairness and Equalities said:- "Tackling poverty is a priority for the City and fuel poverty is an important part of that. This funding will help make a real difference. There are thousands of people across the City struggling to make ends meet due to the government's so-called austerity programme, and it's good to see a business such as ScottishPower working with us to address the impact of this programme on many people's, including our children lives."

To be eligible you must own the house you live in; the property must have inadequate heating and/or insulation, and the household will need to be in receipt of benefits or low income and able to work with our advisers to demonstrate that your heating bills are taking an unfair proportion of your income.
A low income for these purposes can range from £10,000 for a single adult no children to £28,000 for a household of 2 adults with 4 children

If you think you may be eligible or someone you know may be eligible please contact via email, or by calling:- 0800 0121 754. Trained advisers will respond to all enquiries.

Tenants in private rented properties should approach your landlord first; if you are on certain qualifying benefits your landlord may qualify for Energy Company Obligation (ECO) support towards the replacement of the boiler and insulation.