Government must speed up plans for a new industrial strategy
COMPLACENCY is 'not an option' warns a new report, which says that the Government must swiftly implement its new industrial strategy in order to support manufacturers' ambitious growth plans across the pre and post Brexit divide:-

► Ambitions: 76% of manufacturers are actively going for growth while 71% have a 3 to 5 year business plan in place to back up their ambitions.

► 63% of firms are focussed on driving up productivity – margins (71%) and sales (64%) are also key targets.

► Innovation and new business models come to the fore – benefits of collaboration demonstrate importance of the supply chain being based in the UK.

► 90% of adults say the UK needs a comprehensive, long-term industrial strategy – 86% want the Government to promote a stronger manufacturing base in Britain.

► A new industrial strategy must build a competitive and predictable business environment and deliver a coherent and consistent approach to supporting growth, says EEF.

The new report by EEF, the manufacturers' organisation, and NatWest, calls on the Government to speed up plans to introduce a consistent and coherent long term industrial strategy to ensure that manufacturers' growth ambitions are fully supported across the pre- and post-Brexit divide. It says that swift implementation is vital if growth ambitions are not to be allowed to fall by the wayside, particularly while the UK steers its tricky way towards Brexit.

Industry's call is backed up by a new poll showing nine in ten UK adults (90%) agree that the UK needs a comprehensive, long-term industrial strategy and 86% want the Government to promote a stronger manufacturing base in Britain. The report welcomes the fact that a UK wide industrial strategy is back on the Government's table and says that it must clearly set out the Government's goals for growth, backed by policies which deliver a more skilled workforce; more resilient infrastructure; a lower cost of doing business and better support for growing businesses.

The study:- 'Manufacturing Ambitions: an industrial strategy for a stronger economy' shows that 76% of manufacturers are going for growth, while 71% have a 3 to 5 year business plan in place to back up their ambitions. The sector already has a strong track record on productivity and, promisingly, there is every indication that this is set to continue. 63% of firms are focussed on driving up productivity, while margins (71%) and sales (64%) are also key targets in manufacturers' growth plans.

Innovation and the introduction of new business models are coming to the fore as companies pursue growth. Over 9 in 10 are either already increasing innovation efforts (63%) or plan to do so within the timeframe of their current business plan (29%). Manufacturers have also been quick off the mark in spotting the growth opportunities from servitisation (providing services to complement product sales). 41% are already actively providing services, while a further 27% have it targeted within their business plans.

Supply chain collaboration is, however, seen as even more critical to growth, with 52% of manufacturers already enhancing cooperation in areas such as production, design and development and a 26% planning to do so. The depth of collaboration may be a surprise to those outside of industry, with 67% of manufacturers already working with their supply chain on product design and development.

Other key areas for supply chain co-operation are in customising offers to customers (67%) and forecasting demand (60%). And while manufacturers see a range of activities as having a positive impact on productivity, 10% say that greater supply chain collaboration would provide the biggest boost.

While identifying some strong positives, the report also points out that the current trajectory of manufacturers' business plans still falls short of where the sector needs to be by 2026. And, while companies can innovate and work hard to tackle many of the internal and supply chain challenges they face, creating the right business environment through an ambitious, comprehensive and long-term industrial strategy spanning all Government departments will be critical to support growth.

Steve Warren, North West Region Director at EEF, the manufacturers' organisation, says:- "We need to get this right and we need to get this in place now so that manufacturers' growth ambitions are supported across the pre- and post-Brexit divide. It is not enough to talk about an industrial strategy, it is time for the Government to draw a line under the stop go efforts of the past and to demonstrate its commitment to industry by putting some much needed flesh on the bones. Manufacturers are not just talking about future growth; they have firm plans in place to make it happen. Their ambition and drive will help get the sector and our economy on the road to stronger, better-balanced growth, but this must be matched by Government. If we are to stay the distance and realise the full benefits for the UK then complacency is not an option. A consistent long term industrial strategy can help us make more of what we have and develop the growth drivers of the future. We must strive for better productivity, increased trade and more ambitious investment in new technologies. Government can underpin this by supporting higher skills, investing in infrastructure, lowering the cost of doing business and providing world class support for growing businesses."

David Meredith, Director, Commercial Banking, Greater Manchester, NatWest, says:- "We have some amazing manufacturing businesses in this country. The industry is a significant part of the UK economy and it is vital that businesses are given the right support in order to compete globally and succeed. As this report clearly indicates, a long term industrial strategy will help UK manufacturers to compete and succeed in the future. At NatWest we are already well down the line with building a series of solutions and support systems to aid the potential and aspirations of the sector. With continuous engagement at its core, we hope to provide progressive mentorship that can plug manufacturers into the advanced technologies, the most up to date thinking and R&D, and the best new business models and practices."

New statistics show that North West residents are foreigners when it comes to local landmarks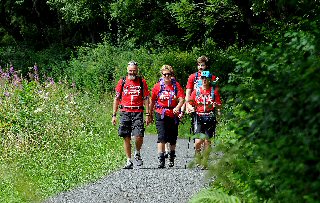 THE British Heart Foundation (BHF) can reveal that some of the North West's world renowned landmarks are going unvisited by residents living just a stone's throw away from the famous sites.

With a third of people in the North West choosing not to take a short break in the UK 2015 (32%), the BHF is encouraging people to go off the beaten track and get exploring their local area with its programme of walks and treks, to help raise money for heart research.

Top 10 UK destinations North West residents have never visited:-

| | | |
| --- | --- | --- |
| Ranking | Name of destination | % of residents in the North West who haven't visited |
| 1 | Giant's Causeway | 90% |
| 2 | Brecon Beacons | 81% |
| 3 | Isle of Wight | 80% |
| 4 | Angel of the North | 75% |
| 5 | Cambridge University | 75% |
| 6 | Hadrian's Wall | 74% |
| 7 | Brighton Pier | 72% |
| 8 | Stonehenge | 72% |
| 9 | Oxford University | 71% |
| 10 | Glasgow | 68% |
Top of the list of local landmarks left unvisited is Hadrian's Wall. Although the iconic barricade is renowned across the globe, 74% of people in the North West have failed to see it for themselves. Also, 24% of North West residents have never taken in the stunning scenery and picturesque landscape of the Lake District. But it's not just the countryside that local people are taking for granted. 20% of locals have never even been to Blackpool Pier.
Adam Brockett, BHF Events Manager said:- "The North West is bursting with incredible must-see destinations and it's a real shame that they're going unseen by people who live in the region, which is why we're encouraging residents to sign up to one of our treks. Signing up to a BHF trek is a fun and healthy way to make the most of your local scenery and iconic heritage sites. Including a range of terrains and distances, you will also be helping fund life saving research that will benefit the estimated 902,000 people in the North West who suffer from heart and circulatory disease."

Included in the BHF's programme of treks in the North West is the BHF's Hadrian's Wall Hike, which takes place on 7 May 2016, where trekkers take on 9 miles across the most challenging section of the historic wall.

Other options include the 8 Peaks Challenge in the Lake District on 2 September. Set against the dramatic backdrop of the famous National Park, you will be put to the ultimate test as you tackle some of the most rugged mountains in England, climbing over 1600m in a single day.
Every pound raised from a BHF trek will make great strides in the fight against heart disease. By signing up to take on a ramble to remember, you will be helping us win the fight against heart disease. To find out more, visit:- BHF.Org.UK/Challenges.
Huyton cigarette smuggler has to repay £340k
A convicted cigarette smuggler from Huyton has been ordered to repay £340,000 or face a further 4 years in jail. Stephen Nicholas Riozzi, 53, has been given 3 months to pay the confiscation order or serve the extra jail time.
During investigations into Riozzi's finances after his original arrest in 2011, HM Revenue and Customs (HMRC) found that he had amassed a substantial property portfolio in the UK and abroad.
Zoe Ellerbeck, Assistant Director, Fraud Investigation Service, HMRC, said:- "Riozzi profited from the illegal trade in smuggled cigarettes and counterfeit tobacco and now has to repay his criminal profits. HMRC is committed to recovering money stolen from UK Taxpayers whether it is hidden here or abroad. We urge anyone with information about the commercial trading of smuggled goods and the associated Tax evasion in the Merseyside area to contact us on:- 0800 59 5000."

His Honour Judge Wright at Liverpool Crown Court accepted that Riozzi had been living a lifestyle well beyond his declared income and that his properties were bought with the criminal profits associated with the illegal trade in smuggled cigarettes and Tax evasion.
Riozzi, of The Park, Huyton, was caught at an industrial unit in Knowsley in December 2011 with huge quantities of illegal cigarettes and counterfeit tobacco. He was arrested by HMRC, but gave investigators a false address and denied any knowledge of the tobacco products.
In March 2014 he was jailed for 53 months after pleading guilty at an earlier hearing to 2 counts of fraud.
The Court determined that he had benefited by £913,863 from his crimes, linked to 5.5 million smuggled cigarettes discovered at a Knowsley industrial unit.