Outcome of chief executive disciplinary panel
SOUTHPORT and Ormskirk Hospital NHS Trust confirmed that its Chief Executive, Jonathan Parry, has been dismissed for gross misconduct. Mr Parry has the right of appeal against the decision. The announcement follows the outcome of a disciplinary hearing which reviewed 21 allegations of misconduct. The disciplinary panel found evidence on 11 counts of misconduct, 7 of which amounted to gross misconduct. The panel's recommendation has been accepted and implemented by the Trust Board.

Trust Chair, Mrs Sue Musson, said:- "This has been a very serious and complex matter for the Trust, and I am grateful to the panel for conducting the hearing and reviewing all the evidence so diligently. Resolving this disciplinary case (subject to any appeal) will now enable the Board to focus on our future and on the Trust's key priority, delivering high quality, sustainable healthcare services to our local population."

Mrs Musson confirmed that she will not be extending her contract for a second term with the Trust. She also confirmed that she will be taking up a new post as Chair of Lancashire Teaching Hospitals NHS Foundation Trust, in January 2017.

Mrs Musson has formally notified NHS Improvement of her decision and has informed her Board colleagues. Mrs Musson's final day with the Trust will be 30 November 2016. Speaking about her decision, Sue Musson said:- "It has been a great honour and a privilege to have served as the Chair of Southport and Ormskirk Hospital NHS Trust for the last 2 years. During my time as Chair, I have had an opportunity to work with many wonderful people who are dedicated to providing the best possible care to the local communities our NHS Trust serves. Like me, they are passionate about the National Health Service and committed to delivering high quality healthcare services for the benefit of local patients. It was a very difficult decision choosing not to continue in the role. I do believe, though, it is the right decision. The end of my current term of office coincides with the completion of the disciplinary investigations. Therefore, this feels like an appropriate juncture for me to move on and for a new Chair to have a clear path to lead the Trust into the future. I want to acknowledge the bravery of the individuals who came forward and spoke out about their concerns. Following this difficult time for everyone concerned, the Trust now has an opportunity to focus on the future. I leave in the knowledge that the Trust is in the skilled, knowledgeable and capable hands of my Board colleagues. I know they will support the incoming Chair and all the Trust staff to continue to deliver the best possible healthcare to the people of Sefton and West Lancashire. I want to thank everyone within the Trust and the wider health economy for their generous help and support. I will very much miss working with you."

Mrs Musson has accepted the position of Chair at Lancashire Teaching Hospitals NHS Foundation Trust. She will take up the post on 1 January 2017.
Appeal following unconfirmed reports of shots fired in Southport
ON Thursday, 20 October 2016, Officers form Merseyside Police were called to Janes Brook Road, Southport, after a member of the public reported that he had been shot at by another male, at about 10.40am. As a resul a full search of the area was then carried out by the specialist Matrix Team and but at that point, no evidence of a discharge has been found. Later on Friday, 21 ober 2016, a 17 year oldd ale was arrested arrested on suspicion of possession of a firearm with intent to cause fear of violence. Merseyside Police then told us that:- "At this stage the incident is still being treated as an unconfirmed firearms discharge. Enquiries are ongoing but Officers have still not found evidence of a firearms discharge. Anyone with information is asked to contact detectives at Sefton CID on:- 0151 777 3055, or Crimestoppers on:- 0800 555 111."

Toxteth teen wins bronze at the National Sportivate Awards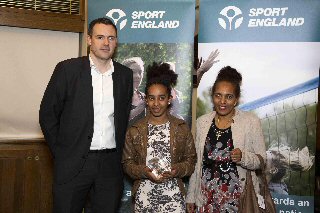 TOXTETH'S Kusqaum Adam, has taken bronze in Sport England's 'Sportivate Participant of the Year Awards', in recognition of her contribution and outstanding commitment to sport. The award was presented in London by the Minister for Sport, Tracey Crouch MP and Paralympic super star Dame Sarah Storey.

Having recently moved to Toxteth, 15 year old Kusqaum wouldn't have described herself as a traditionally sporty person. That all changed when she started attending skating sessions at the Wheels Extreme Rolla Fitness project. Learning to skate has helped Kusqaum not only become active, but it has boosted her self-confidence and helped her make lots of new friends. Through the encouragement, support and guidance from the project, Kusqaum has also become a regular member of the local youth board, helping to make decisions on youth issues for the wider community.

Sportivate aims to give young people, like Kusqaum who weren't playing sport previously, the opportunity to discover a new sport of their choice. Once the Sportivate sessions have been completed, the youngsters are then helped to find a club or venue where they can continue to be active.

Since its launch, more than 780,000 young people have attended six to eight weekly Sportivate sessions, with over 650,000 completing their coaching sessions. Sportivate is being delivered by a network of 44 county sports partnerships, working with local clubs and providers. Over 80% of the young people surveyed reported that they are still taking part in sport three months after their Sportivate session had ended.

Accepting the award, Kusqaum Adam, said:- "The Sportivate Wheels Extreme Rolla Fitness project has given me the chance to get fit and meet other people my age that I've got stuff in common with. It's also helped me get the chance to help other people too by doing some voluntary work. It's amazing to think how different my life is now compared to before I started with Wheels Extreme."

Speaking on behalf of Merseyside Sports Partnership, who facilitate funding within the county, Director, Jean Stephens said:- "I'm delighted that this Sportivate award has come to Merseyside. It's a great example of how sport and physical activity can have an impact, not only on individuals, but also in terms of benefiting the wider community too."

Sport England's Director for Community Sport, Mike Diaper, said:- "Starting a new sport can be a nerve racking experience, but thanks to the support of Wheels Extreme Rolla Fitness, Kusqaum has been able to find an activity she enjoys. Kusqaum journey is testament to the valuable role Sportivate plays in encouraging young people to get outside their comfort zone, and tap into their sporting potential."

Minister for Sport, Tracey Crouch said:- "These awards are a fantastic acknowledgement of the huge contribution our young people and community groups have made to the success of Sportivate. The inspirational winners are doing amazing things across a range of sports and it is right that we celebrate their wonderful achievements."