TV's Seann Walsh is heading to St George's Hall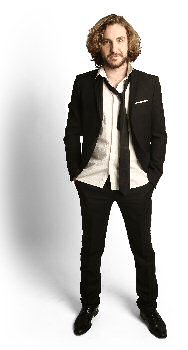 ON Wednesday, 16 November 2016, the Lie-in King, Seann Walsh, will be stopping off on his UK tour 'One for the Road' in Liverpool's St George's Hall. Described by the Guardian as ?unquestionably the best observational comic of his generation" Seann Walsh is travelling the UK stopping at over 60 dates, that also includes Chorley, Little Theatre, on Saturday, 26 November 2016, with what is a fantastic show.

However dishevelled he may be, the 'Foster's Comedy Award' nominee is also 1 of the best comics in the country. With a keen observational mind, Seann can spot the absurdity in everything and convert it to perfectly delivered stand up comedy. You might have seen Seann on TV, but he's something else live; pacing the stage, working the room and reducing crowds to hysterics. Even if he'd probably rather be at home watching Sky Sports News. Seann is a regular face on the small screen on ITV1's Saturday night sports panel show 'Play To The Whistle' and as team captain on E4 and Channel 4's comedy quiz show 'Virtually Famous.' Other recent TV appearances include:- BBC1's 'Live At The Apollo', ITV1's 'Jonathan Ross Show' and 'Tonight at The London Palladium', Channel 4's '8 Out Of 10 Cats Does Countdown' and 'Alan Carr: Chatty Man', as well as Comedy Central's 'Russell Howards Stand Up Central.'

Seann is quickly becoming a well respected comedy actor, having recently starred in Sky's silent comedy, '3 Kinds of Stupid'. Seann is featured in the brand new 'Comedy Shorts' series for Sky that premiered at the 'Cat Laughs Comedy Festival' in Kilkenny, before airing on Sky On Demand and Sky Arts that aired in June 2016. To book tickets and to see all the tour stops go to his website or the tour site website.
Football's FIFA might not like the Poppy, but OS do!
FIFA may not want to see poppies on footballers' shirts, but the Poppy has now made it onto UK maps. Thankfully the Football Associations of England and Scotland say that they will defy a ban... It's not the 1st time that there has been a misunderstanding about its significance. In 2011 for example, workers in some high profile chains had been told to remove their poppies in shops, like Poundland. Often the reason given has been that it might cause offence... Oddly, there is still currently no express right permitting an employee to wear a Poppy at work. Some employers are happy to leave it to their employees as to whether or not to wear such, but others may want to take a more "hands on approach." There may well be a genuine occupational requirement for employees not to wear poppies. For example, those handling or processing food may be prevented from doing so on health and safety grounds, like KFC did in 2015. In 2015 it stopped staff from wearing poppies in kitchens, on health and safety reasons. But unless employers have a clear dress code policy in place, preventing employees wearing charitable symbols such as poppies or wristbands for example, any disciplinary action taken for doing this could be difficult to justify.
But some good news has hit the headlines as this week. We have been contacted by Keegan Wilson, from the UK's Ordnance Survey. He commented that:- "Our surveying team are working across Britain on a daily basis, capturing all of the changes to our country. From new roads and housing estates to hospitals and shopping centres, the team map it all out. Our surveyor, Keith Lanham, was asked to survey a more unusual site recently, with particular significance on Remembrance Day. This year marked the 100th Anniversary of the Fovant Badges in Wiltshire. If you haven't come across them before, they are regimental badges that were carved into the chalk downs above the village of Fovant by the soldiers of those regiments. To mark the Anniversary, the Fovant Badges Society, the voluntary organisation which maintains the badges, commissioned the addition of a centenary badge to mark 100 years of the Fovant Badges, and securing their long term future."
He added that:- "The trustees of the Society decided that the centenary was best marked by the building of a new badge on the hillside. The new design is a Poppy with '1916' and '2016' lettering. As far as possible the new badge used construction techniques that would have been familiar to the Soldiers stationed in the area in World War 1. Each of the original badges represents a regiment that was stationed at Fovant during WW1, until the camp closed in the 1920's. On a foggy October morning, I climbed the West facing escarpment to survey the new badge. Using my GNSS (Global Navigation Satellite System) kit, I was able plot the fresh chalk outline of the 25 metre diameter poppy and 2 dates. The most difficult aspect of the task was not the climb to the badges' location, or the steepness of the survey site, but how to show the detail with regards to current product specification. This is possibly the 1st completely new hill figure to be surveyed for a century. With the help of the specification team, we decided to show the Poppy and 1916 to 2016 dates in full, due to the importance of this memorial to those who fell in the Great War."
What are your views on the Poppy? Should the World football governing body's rules prohibiting political, religious or commercial messages on shirts apply to the Poppy? Should the FA defy a ban on players wearing poppies when the teams meet on Armistice Day? Should the UK put into effect a law that protects those who want to wear Poppies? Please let us know your views, via emailing us to:- News24@SouthportReporter.com.

MPs to vote on lifesaving law requiring defibrillators in Schools
Photo with thanks to The OK Foundation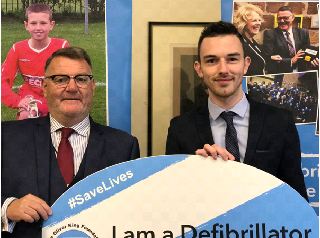 IN October 2016, The Oliver King Foundation launched its latest project:- 'Defibrillator Champions', which has resulted in over 150 Members of Parliament signing up to support getting lifesaving defibrillators in their constituencies.

As a result of this project, Defibrillator Champion and Conservative MP Maria Caulfield has tabled a bill in the House of Commons to debate having access to a lifesaving defibrillator in all Schools.

MPs will vote on whether to progress this piece of legislation to the next stage in the debate that could ultimately see a lifesaving defibrillator in every School by 2020. The Oliver King Foundation was setup with the aim to see a defibrillator in every School.

Our list of Defibrillator Champions includes high profile politicians including Foreign Secretary Boris Johnson, Government Chief Whip Gavin Williamson, Shadow Chancellor John McDonnell and Shadow Education Secretary Angela Rayner. Their role will be to promote the importance of this lifesaving equipment, and work to get it in their local Schools.

Every single day in the UK, 82 people suffer a sudden cardiac arrest; less than 10 will survive.
The Oliver King Foundation is astonished by this figure, and is working hard to increase the provision of lifesaving defibrillators right across the UK.

Every year in the UK, 270 children die at School from the same condition as Oliver, Sudden Arrhythmic Death Syndrome, which takes 12 young people every week. 12 year old, Oliver King, was taking part in a swimming lesson, at King David High School, Liverpool, when he suffered his fatal cardiac arrest, where a lifesaving defibrillator was not available until an Ambulance arrived, some 24 minutes later.

Mark King, Founder of The Oliver King Foundation and father of Oliver said:- "From day 1 we have called for a law to require a defibrillator where you see a fire extinguisher. After 5 years of meetings, petitions and debates, we are excited that the Members of Parliament will finally put this important cause to a vote. Oliver's legacy could take a whole next step from next week, just 2 months before his 18th birthday. I will continue to fight for this and make sure that it happens. We have spent the last 3 weeks in Parliament, and the last 4 months preparing for it. So we are delighted that our Defibrillator Champions program has resulted in a vote in the Commons!"

Jake Morrison, Chief Executive of The Oliver King Foundation said:- "Having been involved in this charity from before day one, it is brilliant that 5 years on we finally get to see how this will lay out in Parliament. In our 5 years of campaigning, there has not been a vote in the House of Commons on whether Schools should have lifesaving defibrillators. Every week we are meeting high profile MPs, cardiologists, charities and survivors who all agree that this equipment is vital. It is time that MPs and Government finally push this issue through, and inevitably save many lives. As a charity we now have a task to bring together other campaigners, families, charities and survivors of cardiac arrest to equip our MPs with the information and facts to ensure this lifesaving law is put in place as soon as possible."

The Oliver King Foundation started its campaign back in 2012. It started off with an e-petition to the UK Goverment for a law to be passed that requires defibrillators in all Schools. Since it was launched by the Foundation which it has secured 110,000 signatures.
A debate was then held in Westminster Hall, followed by a meeting with the then Public Health Minister, Anna Soubry MP. Ms Soubry visited the School in Liverpool a few months later and unveil the Foundation's 1st Community Public Access Defibrillator.

Then in July 2013, The Oliver King Foundation secured a change in Government Policy, where the Department for Education, they then started to recommend that all Schools purchase a lifesaving defibrillator through issuing non statutory guidance.
Automatic External Defibrillators are safe and easy to use, with no formal training required. They are designed to be picked up off the wall and used within 4 minutes of a cardiac arrest, as chances of survival drop by 10% for every minute that goes by. The machine will talk the user through every step of the process, this cannot be overwritten.

The Oliver King Foundation has since placed over 1000 defibrillators across the UK and in turn they have saved 11 lives.
What are your views on this issue? Please let us know by emailing us to:- News24@SouthportReporter.com with your thoughts on this matter.
Merseyside Police Constable has completed the New York Marathon
ON Sunday, 6 November 2016, Merseyside Police Constable Steve Twidale completed the New York Marathon, so far raising over ?2,000 for a charity set up by Bryn Hughes, the father of late GMP officer Nicola Hughes. Steve said:- "The Marathon was a brilliant experience, with the massive crowds around New York such a lift to these tired legs. I would like to thank everyone who has given generously so far, helping this wonderful cause." Anybody wishing to contribute to this cause can still visit Steve's Just Giving Page or text:- 'TWID47 ?5' to:- 70070. If you are interested in fundraising for the charity please contact:- Info@PCNicolasFund.Co.UK.