Man rescued and arrested after stolen car was driven into Carr Mill Dam and sinks!
Video stills with thanks to the National Police Air Service (NPAS)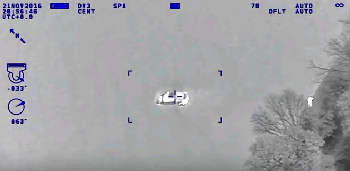 WE have been informed that a man has been charged following an incident at Carr Mill Dam, on Monday, 21 November 2016, at around 8.20pm. The male was reported to have been from Formby and aged 41, but later a press statement was released that said it was David Tighe from Roby, who had been was charged with dangerous driving and handling stolen goods. He has since appealed at Liverpool, Knowsley and St Helens Adult Remand Court.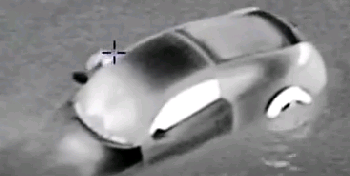 Footage was put on YouTube of the rescue following a Police chase. We are told that at around 8.20pm, on Monday, 21 November 2016. Officers located a suspected stolen Audi TT car being driven in the Liverpool area. Roads Policing Officers attended close to Bowring Park Golf Course in Huyton, where the car was found stationary in a car park. Upon attempting to stop the car, the driver of the Audi sped off, leading to a Police pursuit up the M62, through Winwick and Newton-le-Willows into St Helens.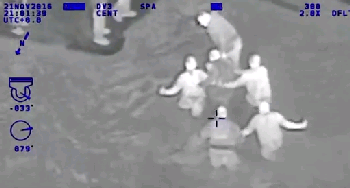 Officers deployed a stop stick before the Audi continued to drive onto the East Lancashire Road towards the Waterside pub in St Helens where the driver drove at speed into the Carr Mill Reservoir. As the car began to sink, 5 Officers entered the water and rescued the driver from the back of the car.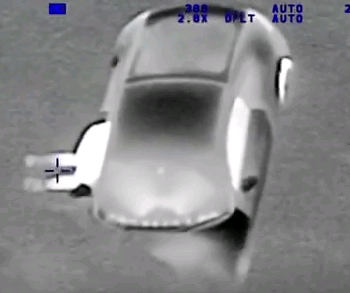 The man was taken to Hospital as a precaution where he was found to be uninjured. The man has now been arrested on suspicion of unauthorised taking of a motor vehicle, burglary dwelling, dangerous driving, and failing to stop. He has been taken to a Police station where he will be questioned by Detectives. The Officers involved were checked over as a precaution and have all been released.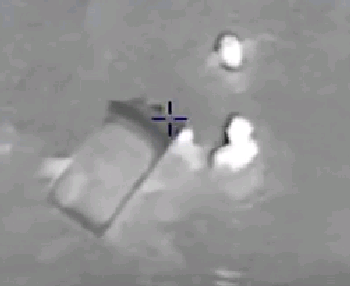 Chief Superintendent Jon Ward said:- "The Officers involved in this pursuit and rescue acted with exceptional bravery, tenacity and professionalism to rescue the man on a bitterly cold, wet and miserable evening. Without a second thought given to their own safety and the conditions, they entered the freezing water and dragged him through the rear of the car, just before it became completely submerged. We are extremely proud to have such outstanding Officers serving for Merseyside. Police on the front line are vital in protecting our communities and the pursuit and rescue serves as a reminder of the very real dangers that Officers face to keep us all safe day in, day out."

Officers are appealing for anyone who was in the area and may have seen any part of the incident to contact Merseyside Police's Roads Policing Unit on:- 0151 777 5747. Alternatively, contact Crimestoppers anonymously on:- 0800 555 111.
CCTV images of a robbery at a Go Local Store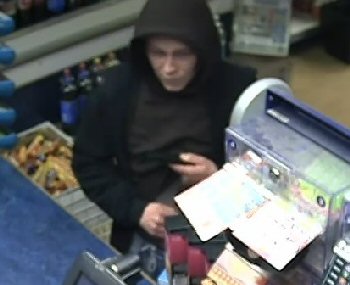 MERSEYSIDE Police Detectives have issued a man they want they would like to speak to following a robbery at Go Local Store, located on Bridge Road, Crosby. We are told that at around 3pm, on Sunday, 30 October 2016, a man entered the store and approached the shop counter. He is then said to have produced a kitchen knife with a red handle. The man is reported to have demanded cash and the female assistant handed over a quantity of cash, before pressing a panic alarm and seeking assistance from a neighbouring shop keeper.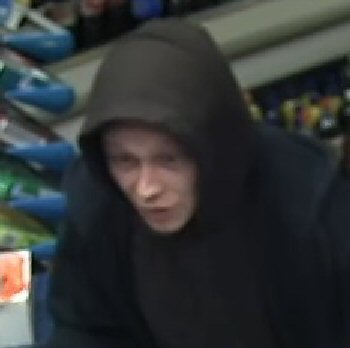 The man left the shop and was last seen on Cavendish Road. He is described as approximately 5ft 10in tall, average build, with short blond hair and clean shaven, he had a light tanned complexion and was wearing a dark coloured coat and blue jeans. The female assistant wasn't injured, but was left shaken by her ordeal. An investigation is underway and Officers believe the man in the images may have information which could assist with their enquiries. Anyone who recognises the man or knows of his whereabouts is asked to call:- 0151 777 3824 or the Crimestoppers line anonymously on:- 0800 555 111.

CO-OP serves up its newest store in Formby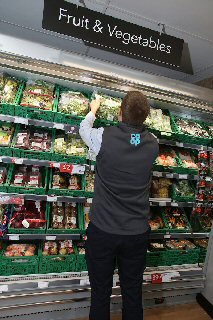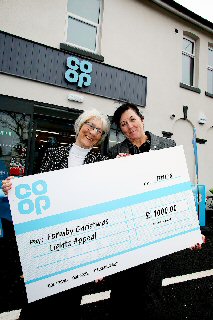 THE Co-op has served up its newest food store in Formby, on Thursday, 17 November 2016, following a near £600,000 investment creating 20 new jobs. Local Councillor Denise Dutton was among the guests of honour helping colleagues at the new store; located on Queens Road; to cut the ribbon and declare the Co-op open for the community. The new store will open between 7am to 10pm, and include an in store bakery and a focus on fresh, healthy foods, meal ideas and essentials. To see the pre-opening party photos we took in last weeks edition, please click on here.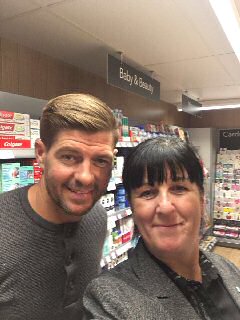 It also brings a funding boost to local community groups through the Co-op's new Membership scheme. Co-op members receive a 5% reward on purchases of Co-op own branded products and services, with a further 1% going to local causes and groups to make a difference in the community. The Co-op has also appointed a Community Pioneer, Amy Johnston, a member of the food store team working to foster involvement in community activities, from local fundraising to working with charities, schools and voluntary organisations to contribute to local life.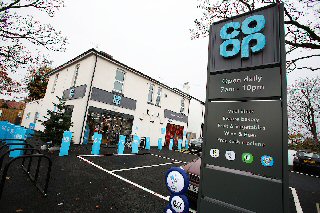 Helen Horsley, Store Manager, said:- "We are delighted to have made such a significant investment in Formby; we have had a great response from the community and to open the Co-op's newest food store is an exciting time for the whole team. Our aim is to establish the store as a local hub and we are looking forward to serving the community. The Co-op is moving forward with a clear purpose and momentum. The return to our 'clover leaf' design logo; 1st used in the 1960's; aims to re-establish the Co-op as a centre for the community, and we want shoppers to know that they can become a co-owner and member of their Co-op. We are also giving back to the community. Our members have an opportunity to make a difference locally simply by using their membership card when they shop with us and raise much needed funding for organisations who contribute to improving local life."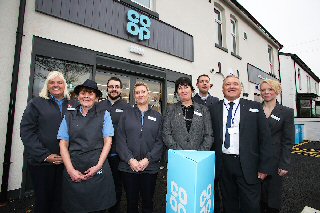 There are offers and promotions in and around the new store to mark its launch. And, students in Formby who hold a NUS extra card receive a 10% discount off their groceries in the store.

Earlier this year the Co-op was described as the fastest growing non discounter food store according to retail industry data released by Kantar Worldpanel.
St. Modwen teaches site safety to Liverpool school children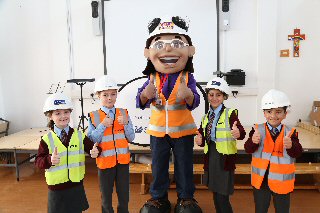 PUPILS at Faith Primary School received a lesson in site safety recently by regeneration specialist St. Modwen, the developer behind the transformation of Great Homer Street. St. Modwen joined forces with construction partner Caddick Construction to host a special assembly for the school children.

The assembly highlighted the importance of health and safety around live construction sites and covered the various hazards that can be found on site. The Considerate Constructor mascot Honor Goodsite visited an assembly and asked the children, aged 7 to 11 years, to identify the large machinery and other potential dangers, including deep holes and scaffolding. The pupils were also invited to try on high visibility jackets and safety helmets.

Created by the Considerate Constructors Scheme, Honor Goodsite is the UK construction industry's new female mascot. Joining Ivor Goodsite, the schemes other successful mascot who has visited more than 26,000 school children across the UK in the last 12 months, Honor teaches children about building site safety, protective equipment and inspires them to consider a career in construction.

Paul Mackenzie, head teacher at Faith Primary School, said:- "There's a high level of construction work ongoing in the area surrounding the school so it was a really useful for us to have St. Modwen come in and teach the children how to stay safe around these sites. By the end of the assembly, the children could identify the various hazards that can be found on site, such as falling objects and heavy machinery."

Following the assembly, the pupils were invited to take part in a poster competition, where they were tasked with highlighting the key safety messages covered in the assembly. St. Modwen will select the winning entries, which will be displayed on the hoardings around the development site at Great Homer Street. The posters will be used to promote site safety to residents and passers-by.

Paul Batho, projects director for St. Modwen at Great Homer Street, said:- "A building site might seem like a great place to explore but in reality, they can be extremely dangerous, especially for children looking for somewhere to play. Therefore, it is so important for St. Modwen to work with local schools and raise awareness of the hazards to keep pupils safe."

Debbie Watson, marketing manager for Caddick Construction, said:- "Visiting Faith Primary School was a lovely experience. The children enjoyed learning about the ins and outs of a building site, including the dangers that can be present on a live site. They were pleased to meet Honor Goodsite. As members of the Considerate Constructors scheme, we're committed to operating safely and considerately in the communities where we work, including educating local children about safety on building sites and about careers in the construction industry."

Great Homer Street is currently being transformed through a £150 million regeneration scheme that will bring a supermarket, shops, homes and improved public spaces to the area. The regeneration will have a continued positive economic, social and environmental impact, leaving behind a positive legacy that communities will be able to enjoy for years to come.