Society asks Southport to give the gift if time this Christmas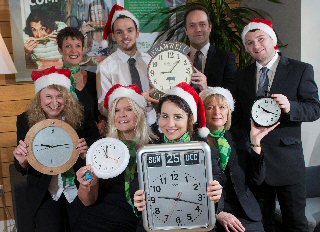 YORKSHIRE Building Society is asking the community in Southport to give the gift of time this Christmas for its final 'Hour of Need' campaign activity in aid of Marie Curie. The Society's Hour of Need campaign was launched in 2014 with the original aim of raising £500,000 by the end of December 2016. Thanks to the strength of support this was reached early with the Society now more than doubling this figure, with the current total standing at more than £1million. Every £20 raised funds 1 hour of Marie Curie nursing care and customers and colleagues at the Yorkshire Building Society branch in Southport have so far funded 57 hours of care by contributing £1,153 to the campaign. To get in the seasonal spirit and give the campaign a festive farewell, the branch, on London Street, will be hosting a Christmas party event, on Wednesday, 14 December 2016, where people can enjoy some festive treats from the Society. People can show their support for Marie Curie and spread a little festive cheer by buying a set of the charity's stylish Christmas tree decorations with all proceeds supporting the Hour of Need campaign. The branch is also running a guess the weight of a Christmas Pudding competition. Lola Rowe, a Marie Curie Hospice Nurse, said:- "I would like to say a heartfelt thank you to all the customers and members of staff at Yorkshire Building Society who have contributed so far to the Hour of Need fundraising campaign for Marie Curie. Through their donations myself and my colleagues have been able to provide even more support to people in their hour of need."

Rachel Coulthard, assistant branch manager of the Southport branch of Yorkshire Building Society, said:- "We're so proud that customers in Southport have helped us to make this the Society's most successful ever national fundraising campaign. We hope our customers will call in to help support our final Hour of Need campaign event and help us give the gift of time this Christmas to terminally ill people and their families across the country."

If you would like to make a donation in support of the Hour of Need campaign, then please visit:- JustGiving.Com/HourOfNeed. If you or your family are affected by terminal illness and looking for support or just want to talk, you can call the free confidential Marie Curie Support Line on:- 0800 090 2309. The Marie Curie Support Line will be open, from 24 December 2016 to 3 January 2017, including Christmas Day.
Taxi drivers to be trained in safeguarding young people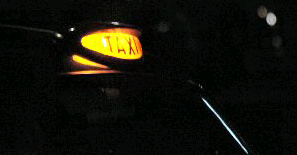 ALL taxi drivers in Liverpool are to undergo training to help them identify when children are being sexually exploited. The Licensing Committee has agreed that all current licensed drivers should have training before their licence is renewed licences are renewed every 3 years. New drivers already have to take a safeguarding module as part of their training. The training; a 2 hour course, free of charge to drivers; will be given by a Licensing Enforcement Officer. The course has been developed in conjunction with the Safeguarding Board and Merseyside Police. Councillor Christine Banks, chair of the Licensing Committee, said:- "Child sexual exploitation is an extremely important issue and one which we want to make every effort to prevent. Taxi drivers are among those workers who have a key role in protecting young people- as the report to the committee said they can be the 'eyes and ears' in spotting such activity. They can, for example notice young people being taken to different locations around the City and, while we are not asking them to eavesdrop on passengers, they could hear conversations which may indicate that a child is being exploited. The vast majority of taxi drivers would want to do all they can to protect young people and I am sure they will welcome this training which will better equip them to do so."

It is anticipated that all of the City's 4.700 licensed hackney and private hire drivers, will all have to received training within a year. They will be issued with a certificate on completion of the course which they will be required to produce when applying for their licence to be renewed. Failure to produce a training certificate will generally prevent a licence being renewed, although drivers will be given an opportunity to appear at the Taxi Driver Licensing Sub committee to explain why they have not completed the training.

Macmillan's volunteers aim to assist more people across Merseyside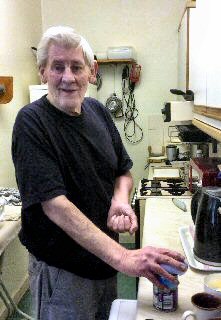 A volunteer led scheme run by Macmillan Cancer Support is looking to support even more people affected by cancer in their own homes and local communities across Merseyside.

Macmillan's Community Support Schemes in Liverpool, Wirral, Chester and Cheshire West provide both practical and emotional support to people affected by cancer.

As the number of people affected by cancer grows, the schemes help people from the point of diagnosis through to bereavement support, and they also aim to assist both the person with the diagnosis and their loved ones.

Harry Daniels, 75, from Liverpool City Centre, has been supported by a Macmillan volunteer who has provided both practical and emotional support. He said:- "It was Sue, my Occupational Therapist, who told me about the scheme, and then Linda Towey and Phill Davies came round to visit, and I haven't looked back since. Phill's been so supportive."

The Lead Volunteer for the Community Support Scheme undertakes an initial visit in order to discuss what support Macmillan Volunteers can provide, and then matches the client with a suitable volunteer.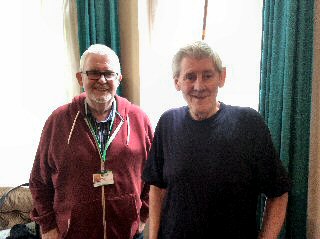 Harry, who says that Phill has helped him in all kinds of ways, added:- "Shopping was a really difficult thing to do since I've started walking with a stick, as people seem to think I'm invisible, but going with Phill has given me a lot of confidence and I'm now eating more healthily as I can get to the shop where there's more choice."

Macmillan Volunteer Phill Davies says he's been able to build a great relationship with Harry whilst supporting him with practical tasks such as helping with Harry's admin, and even sourcing a new tin opener.

Phill, a retired senior caseworker for the Border Agency, said:- "Harry was really struggling to use a conventional tin opener as he has limited movement in his arm, so I managed to find a one-handed tin opener online. It seems a small thing but it's given Harry more independence."

Phill also enjoys his conversations with Harry whether that's about music, guitars, calligraphy or listening to Harry's stories from work. He added:- "Volunteering with Macmillan Cancer Support has made me feel valuable again, a partnership between me and the client; I've learnt such a lot from Harry."

Macmillan Community Support volunteers can help with practical tasks such as gardening, light housework, or ironing, as well as providing some company and emotional support whether that's a chat over a cup of tea, or taking a walk with someone who feels less confident about being on their own.

All Macmillan Cancer Support volunteers have completed an application process, hold a DBS Certificate and are fully trained.

If you, or someone you love, have been affected by cancer and you think Macmillan's Community Support volunteers could support you, then please get in touch with your local service:-

► Community Support Liverpool:- 07525 592611.
► Community Support Chester and Cheshire West:- 07455 758717.
► Community Support Wirral:- 07710 707791.