Don't let fraudsters ruin your festive fun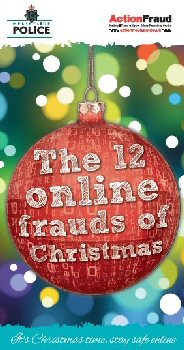 POLICE Detectives are urging members of the public to not let fraudsters ruin their festive fun this year by avoiding falling victim to the 12 online frauds of Christmas. The run up to Christmas tends to be a busy time for shops and stores across Merseyside but millions of pounds are also spent online by shoppers keen to get a bargain or treat a loved 1. Detective Inspector Helen Bennett said:- "The festive season and Christmas shopping can be a busy and stressful time but by taking a few extra minutes to make additional checks on the things you are buying means you have the peace of mind that your purchase; and your bank account; is safe and secure. Thousands of pounds will be spent in the next few weeks, both in shops and online, but people shouldn't be complacent when they spend their hard earned money. We want people to enjoy themselves but stay safe online at the same time. We would advise people to follow some basic tips and look at the Get Safe online website. A few simple checks now will save a financial hangover in the new year."

Here are some top tips to avoid falling foul of the 12 online frauds of Christmas:-

► Online shopping fraud; During December around 50% of people in the UK are expected to use the internet to buy more than half of their presents. As with every purchase if something sounds too good to be true, it probably is. Buy from reputable sellers and make sure you use an authentic website, check payment pages are secure and wherever possible pay by credit card.

► Christmas e-Cards; An increasing number of Christmas cards are being sent via email. Don't open attachments or click on links in festive emails, text or social media posts you are not expecting, as they could be scams. The email could also contain a virus that will embed itself onto your electronic device and collect your personal data.

► Auction fraud; Auction sites are a popular way to buy Christmas presents. While the majority of items on sale are genuine fraudsters use the festive period as a chance to 'sell' popular items such as smartphones and designer clothing. Always research a seller before you bid, be cautious when buying from sellers abroad and use recommended methods of payment rather than transferring money direct to a seller.

► Holiday fraud; Just like any other time of year many people like to book a break over the festive season. Research your trip thoroughly and only book with a reputable travel company; always pay with credit card and use companies that are ABTA or ATOL protected.

► Loan and investment scams; There is an increase in online loan appeal applications at this time of year as people seek to cover the costs of the festive period. Research any loan companies online before making any financial commitment and always read the terms and conditions. Never set up or a loan or investment which starts with a cold call.

► Ticketing fraud; If you want to buy concert or event tickets as a Christmas gift be careful who is selling them and only buy from official sellers to save being disappointed. Only look at tickets from reputable websites that are secure (show a padlock) and avoid entering bank or credit card details on public or shared computers.

► Donating to charity; The festive period is traditionally a time when charities seek donations. Most are legitimate but to be safe visit the charity's website into your browser rather than clicking on a hyperlink embedded in an email and do not respond to requests to donate money through a money transfer company such as Western Union or Moneygram.

► Mobile malware / malicious apps; if you are buying a new phone or laptop ensure you protect yourself by using a pincode or password, only download apps from official app stores and install anti virus software.

► Money transfers; Never send a money transfer for an online purchase. Never send money in advance to obtain a loan or credit card and never provide banking information to people or businesses you don't know.

► Social media scams; Most adverts placed on networking sites such as Twitter and Facebook are genuine but some frauders advertise giveaways in the hope people will click on bogus adverts and be redirected to a website full of scams. Do not have too much personal information on social media accounts which could allow your bank accounts to be compromised.

► Dating romance / fraud; Many singletons will be making a New Year's resolution to find their ideal partner and sign up to an online dating website. Always guard your privacy when chatting online and never send money or give credit card or online account details to anyone you don't know or trust.

► Mobile payments; More and more people are using mobile devices to make purchases. Do not save passwords or financial data onto your mobile device unless it is absolutely necessary and do not leave your Bluetooth on as cyber criminals can hack into your device unnoticed.

If you have fallen prey to fraudsters, report it by contacting Action Fraud. Go to Action Fraud, the UK's national fraud reporting centre's website or call them on 0300 123 2040.

Joint Xmas operation to target cash in transit robberies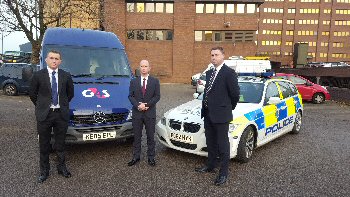 MERSEYSIDE Police have joined forces with other Officers across the North West and the security industry, to launch a joint operation, targeting cash in transit robberies, in the run up to Christmas 2016.

The action will be co-ordinated by Titan (North West Regional Organised Crime Unit), the regional collaboration to tackle serious and organised crime groups involved in drug trafficking, firearms, armed robberies, aggravated burglaries and other serious crimes.

Officers from Titan, Merseyside, Greater Manchester, Cheshire, Lancashire, Cumbria and North Wales, the British Security Industry Association (BSIA), SaferCash and other partner agencies will be working together to combat cash in transit robberies.

This year's regional campaign was launched on Monday, 5 December 2016 and will see Officers using both high visibility and covert patrols on the ground and in the air, to escort security vehicles as they carry out their normal deliveries.

A number of other tactics will be used including armed Police vehicles escorting high risk security vehicles as they carry out cash deliveries, CCTV monitoring and patrol cars following cash handling vehicles. In addition, all cash containers will include either Smartwater or a dye, which will be released when they are opened, marking the notes so they are both unusable and traceable.

The action follows significant success so far this year in combating cash in transit robberies across the region with 14 offenders being convicted and sentenced to more than 80 years in prison.

Detective Inspector Jon Smith from Titan's regional intelligence unit, said:- "The region has seen a significant fall in cash-in-transit robberies in recent years but we are not complacent and we are determined to make sure criminals do not see these types of Offences as easy ways to make money, because they most definitely are not. Our message to those planning on carrying out cash-in-transit robberies in the run-up to Christmas is clear; we will find you and we will make sure you spend this Christmas and many more to come behind bars away from your family and loved ones. Robberies that target cash-in-transit vehicles, banks, Post Offices and commercial businesses are often violent Offences that can result in life-changing mental and physical scars on those who find themselves confronted by these criminals. This is by no means a victimless crime. These robberies can cause deep distress to those at the brunt of the attacks, who are just trying to earn an honest living. Titan, together with the six Police forces in the North West, are committed to cracking down on the criminals who make the lives of people making an honest living in the security and commercial industries a misery and we will continue to use all the powers available to us to target these criminals, prevent Offences and bring those responsible to justice."

Detective Chief Inspector Steve Richardson from Merseyside Police's Matrix unit added:- "While cash in transit attacks are falling in Merseyside we are determined to ensure we continue to see year on year reductions. We want the message to be heard loud and clear that anyone thinking about getting involved in these crimes will be found and they will feel the full force of the law. The hard working guards on the receiving end of these attacks, which are often very frightening and involve the threat and sometimes the execution of violence, are left extremely traumatised. We urge anyone with any information about those involved in these kind of incidents, or about any suspicious activity around cash in transit vehicles or ATMs, to call us so we can take action against them before they have opportunity to carry out these crimes."

All North West Police forces, in partnership with the security industries, will continue to share intelligence and provide assistance for cross-border deliveries throughout the campaign and in the following months.

Steve Hurst, head of SaferCash, said:- "This initiative is an excellent example of the North West not only working in partnership with the Forces within the region, but also with industry. SaferCash and the BSIA are fully supportive of this bigger picture approach, and are providing resources to work with the region to reduce this type of violent crime and support any prosecutions."

Police are asking the public to be vigilant and help stop the violence by reporting any suspicious activity in the run up to the festive season to their local force by calling:- 101, or to Crimestoppers, anonymously, on:- 0800 555 111. In an emergency always call:- 999.
The Video above was taken on 2 September 2016. Merseyside police said that all 4 men were sentenced to a total of more than 23 years in prison, following this cash in transit robbery in Old Swan.