Last Chance for Schools to Showcase Budding Artists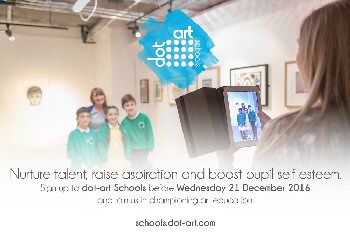 SCHOOLS across the Liverpool City Region, Cheshire and Warrington have until 21 December 2016, to sign up to the annual dot-art Schools programme, an inter school, online art competition culminating in a public vote and gallery exhibition. dot-art Schools is a well established fixture in the academic calendar for many local schools; since its inception over 3000 students from almost 170 schools have taken part. This is the 5th year it will take place in the Liverpool City Region and due to its success and a new partnership with Liverpool John Moores University, this year sees the launch of a pilot scheme covering Cheshire West and Chester, Cheshire East and Warrington, with further expansion across the North West planned. The scheme is open to Year 5 and Year 9 pupils from both mainstream and special schools. It is designed to nurture talent, raise aspiration and take art out of the classroom into the real world.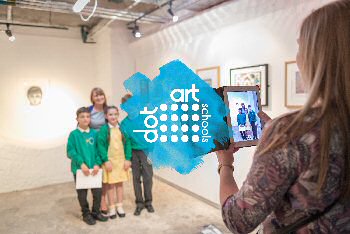 The exhibition in Liverpool will take place at the Grade 1 listed St Georges Hall, with the Cheshire exhibition venue being announced in January. For the second year, award winning international haircare brand Tangle Teezer will be the principal sponsor. Lucy Byrne, Managing Director of dot-art commented:- "We are very excited about the launch of our new scheme across Cheshire but also intend to keep growing and building on the success of the Liverpool programme. As the effects of cuts to arts subjects in the curriculum begin to be felt, we feel it is more important than ever to ensure children all have access to a creative education."

Carolyn Murray, dot-art Schools Project Manager added:- "We know the run up to Christmas is a busy period for teachers so all we need from them is a simple form which takes 5 minutes to complete. The programme will then begin in earnest in the new year."

Schools need to sign up to the programme before Christmas. Find out how by visiting:- Schools.Dot-Art.com or via emailing them. You can also call them on:- 0345 017 6660.

Should a new Community Police Station be created in Maghull Town Hall?
MERSEYSIDE'S Police Commissioner is asking people living in Maghull tell her if they think it's sensible to open a new Community Police Station, in Maghull Town Hall.

Jane Kennedy is proposing to locate a new, accessible Community Police Station in the Town Hall on Hall Lane to replace Maghull's existing Police Station on the Town's Westway, which is 20 years old and is currently closed to the public.

The proposals are part of the Commissioner's 10 year investment plan which will modernise Merseyside Police's stations and facilities. The proposals were unveiled by the Commissioner in October 2014 when she launched a 2 month, pan-Merseyside consultation which included an online survey, community road shows and public meetings.

The proposals received overwhelming support, with 92% of respondents agreeing. At the heart of the proposals was the creation of a network of modern, fit for purpose Community Police Stations across Merseyside, where neighbourhood police officers and PCSO's would be co-located in busy local hubs alongside partners.

Since 2014 the Commissioner has been working with Merseyside Police's estates and facilities team to identify appropriate venues for these new stations to be located across Merseyside.

Now the Commissioner wants to see if local people agree that Maghull Town Hall would be the best location for their Community Police Station. It would be the first Community Police Station to be located in Sefton. Jane said:- "People across Merseyside overwhelmingly gave me their support for my proposals to improve Merseyside Police's stations and make them more accessible to the public. I think Maghull Town Hall is an excellent location for this Community Police Station. It is centrally located and will see the policing team co-located with Councillors, Council workers and a host of voluntary groups which serve the local community. Now I want to hear the views of local people and make sure that they agree. It is vital we put these Community Police Stations in the best place for the people they serve so I really want to know if we've got it right."

Leader of Maghull Town Council, Cllr Patrick McKinley said:- "We welcome the proposals from the PCC for a new community Police Station in Maghull. A small group of us have been working and negotiating with Merseyside Police over the past year to bring this to fruition for Maghull. We should not underestimate the achievement or the importance of this for the Maghull Community. We will be the first area to have one of the new generation of Community Police Stations in the whole of Sefton and this will bring community police back into the heart of Maghull. It is a clear demonstration of the PCC's commitment to local Community Policing."

Deputy leader John Sayers said:- "This is a unique opportunity for Maghull and fits in perfectly with our neighbourhood and antisocial behaviour plans. We have been working closely with our police on a range of issues and the Community Police Station will further cement our partnership to help us to address some of the issues facing Maghull, particularly during times when resources are stretched. I would like to thank the PCC for demonstrating this commitment to Maghull."

People are asked to share their views to Merseyside Police directly by sending an email. Also please tell us your views on the Community Police Station program that Merseyside Police are putting in place across the Merseyside region. Do you agree with it or do you think it will leave large sections of the community without proper cover? Email our newsroom at:- News24@southportReporter.com.
Deceased estates notice - Lilian May Jackam
Pursuant to the Trustee Act 1925, any persons having a claim against or an interest in the Estate of Lilian May Jackam (also known as Lillian May) Jackam (Deceased), late of Birch Abbey Rest Home, 55 Alexandra Road, Southport, Merseyside, PR9 9HD, UK, who died on 04/10/2018, are required to send particulars thereof in writing, to the undersigned Solicitors, on or before 24/05/2019, after which date the Estate will be distributed having regard only to claims and interests of which they have had notice. Churches Solicitors, 12 High Street, Fareham, Hampshire, PO16 7BL, UK. Ref:- 'T553015.'
..Paid Advert..
Contact us:-
(+44) 08443 244 195
Calls will cost 7p per minute, plus your telephone company's access charge.
Calls to this number may be recorded for security, broadcast, training and record keeping.

News24@SouthportReporter.com
4a Post Office Ave, Southport, Merseyside, PR9 0US, UK


Our live Southport Webcam image above.
To see it live, please click on image.

Event Notices

More events that are taking place on Merseyside can be found on our Event Listings Calendar.

Click on here to see our event calendar.
Are you going to this event? If you are please let us know what you thought of it!

These are our other websites within the Southport & Mersey Reporter Network.

Mersey Reporter

Formby Reporter

Liverpool Reporter

Southport TV
| | |
| --- | --- |
| | © - Southport Reporter® is the Registered Trade Mark of Patrick Trollope |
..