60 take part in Christmas baby and child service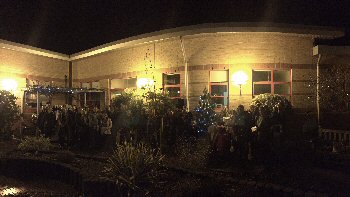 MORE than 60 people took part in a 'Baby and Child Remembrance Service' at Ormskirk Hospital. Salvation Army band members provided music for the informal service which was led by the Rev Martin Abrams, the chaplain of Southport and Ormskirk Hospital NHS Trust.

"The run up to Christmas can be a very exciting and special time but it can also heighten a sense of loss, grief and isolation. We 1st held this event last year. It is a much appreciated and moving event for those who take part. Many had suffered a child or baby loss at some time the past." said Martin.

Attendees also wrote the names of loved ones on baubles to hang from the Christmas tree in the garden where the service was held. 'Trees of Remembrance' are also available in the prayer and quiet rooms at both Southport and Ormskirk Hospitals during December 2016.
Funding secured to give City green make over
LIVERPOOL has been awarded nearly £3.5million to create new green corridors across the City. Liverpool City Council teamed up with Mersey Forest, the University of Liverpool and organisations in Valladolid (Spain) and Izmir (Turkey) to successfully bid for 10 million Euros of Horizon 2020 European funding which will be invested in creating new green spaces in the City; 4 million Euros, of which (£3.4 million) is specifically for Liverpool.

Over the next 3 years the Liverpool partners will undertake a range of innovative research projects and work with local communities, organisations such as the Business Improvement District and other stakeholders to identify and retrofit a number of 'green corridors' as part of the URBAN GreenUP project.

Work will start in the New Year when plans for the corridors will be developed. It is likely the sites which will be transformed will include locations within the Baltic Corridor, the business and commercial district of the City Centre and the Jericho Lane / Otterspool areas.

The aim is to tackle environmental City issues through Nature Based Solutions and to deliver a range of environmental improvements including increasing biodiversity, improving air quality and alleviating surface water issues. Work will include planting trees, introducing green walls (also known as vertical gardens) and establishing rain gardens and sustainable urban drainage systems, whilst enhancing pedestrian and cyclist routes in and out of the city.

Liverpool City Council's Cabinet Member for Neighbourhoods, Councillor Steve Munby, said:- "Receiving this funding will allow us to environmentally enhance some key Vity routes, benefitting the local community, businesses and the City as a whole, whilst providing an opportunity to adapt parts of the City so they are more resilient to future climate change impacts. It is incredibly important to be able to work in partnership, not only with other Liverpool organisations, but to share information and best practice with other European Cities which also have environmental improvements high on their agenda. It will be incredibly rewarding to see these green corridors flourish over the next three years and make Liverpool an even more pleasant place to live, work and visit."

The project delivers on the green corridor recommendations in the Mayoral Review for Green and Open Spaces and will additionally fulfil emerging aspirations in the development of the City's Local Plan. The proposed environmental improvements builds on the work of the Mersey Forest over the past 25 years, providing a valuable opportunity to bring nature back to the urban core, and at the same time enhance the green infrastructure of the City. Paul Nolan, Director of the Mersey Forest, said:- "Liverpool has been on the leading edge of Green Infrastructure planning and delivery for several years. This is a great partnership and we look forward to helping to deliver this exciting project with communities and business."

The in depth research, experimental design of technical solutions and practical testing, together with data analysis, will be undertaken by the University of Liverpool. Dr Ian Mell, University of Liverpool, said:- "The URBAN GreenUP project is a fantastic opportunity to look at what makes an attractive and useful landscape and how people from all walks of life can reconnect with nature. Delivering the URBAN GreenUP project will place Liverpool at the forefront of European research for Nature Based Solutions."

The Green UP project will help to consolidate and promote the green infrastructure partnership work of the City and Mersey Forest. The funding also provides an opportunity to promote the City as a focal point for high quality research in this sector.
Greens Call for Car Free Sundays
LIVERPOOL Green Party renew calls, and say Rome and Paris have set examples to be followed. Liverpool Green Party renewed calls to introduce a partial ban on cars travelling into the City Centre on some Sundays, in a move echoed in Rome and Paris this month. The Mayor of Rome has made Sunday 'semi car free,' in order to increase air quality, and promote public transport use, and Liverpool Green Councillors believe the same idea should be put in place in Liverpool. The move follows similar restrictions imposed in Paris, Athens, Brussels and other major Cities around the world. "Liverpool already has some of the most polluted air in the region, and the Council has done little to combat that. In fact, the Council have played a part in adding to the problem by exceeding their own cap for City Centre car parking spaces and allowing trees to be removed. What I'd like to see is an area around Liverpool City Centre where cars won't be allowed to enter on maybe one Sunday per month during the spring and summer. We need to work with the bus companies to add a better, more reliable, and cheaper bus service, encouraging people to travel into the City Centre by public transport and giving people the opportunity to walk and cycle in when the city has lower levels of emissions." said the leader of Liverpool Green Party's Council group, Councillor Tom Crone. Cllr Crone, who is Green Party candidate for Metro Mayor has said he would like the bus companies to come under the authority of the Metro Mayor and has vowed to work with them to ensure people across the City region are better served by public transport and that prices are reviewed in line with other major Cities. Cllr Crone has also raised concerns about emission levels across the region pointing out that Councils need to act soon before more people suffer from ill health in the Liverpool City Region. "It's fantastic to see Liverpool has been award £3.4million to create a green corridor, and myself and the Green Councillors are all for these improvements. What we need to do, however, is to work with the relevant authorities to ensure we see the maximum benefit from this green corridor, and ensure we protect it. Reducing our emissions in the City Centre will go towards this." added Cllr Crone.

Yoko Ono, Jeremy Deller and Mark Leckey to exhibit at Bluecoat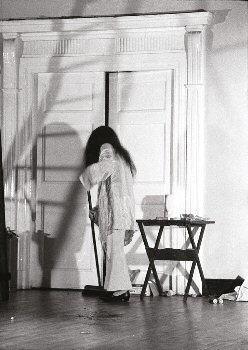 A specially curated exhibition, Public View, marks the beginning of Bluecoat's 300th Anniversary Programme 'Drawn' from over 50 years of art at Bluecoat, Public View, that runs from 4 February 2017 to 23 April 2017. will feature 100 artists who have previously exhibited at the gallery, many at the beginning of their careers, and several now high profile artists. Public View will present a wide range of work, including paintings, drawings, prints, sculptures, photographs and video, with many pieces previously exhibited in the gallery, some re-made especially for the exhibition, and others completely new. There is a wide generational breadth of artists, from international names like John Akomfrah, Derek Boshier, Jeremy Deller, John Latham, Yoko Ono, Imran Qureshi and Yinka Shonibare, to younger artists like Jamie Shovlin and Niamh O'Malley. Reflecting Bluecoat's continuing commitment to artists in the City region, there will be a strong representation of Merseyside born artists such as Chila Burman, Mark Leckey and Paul Morrison, as well as others living and working locally, including:- Pete Clarke, Alan Dunn, Nina Edge, Leo Fitzmaurice, David Jacques, Paul Rooney, Twin Studio and Imogen Stidworthy. These have exhibition profiles beyond Liverpool, including internationally and many had their first significant shows at Bluecoat.

The exhibition includes:-

► Video and photographic documentation of performances in 1967 at Bluecoat by Yoko Ono and Mark Boyle

► Paintings and prints by popular Liverpool artists with long Bluecoat associations including Maurice Cockrill, Adrian Henri, Clement McAleer, Don McKinlay and Sam Walsh

► Screen printed posters by designer Malcolm Garrett for an early Buzzcocks' gig and an editioned print of Peter Saville's first poster for Factory

► Pete Frame's Eric's Progeny family tree, charting the careers of musicians associated with Liverpool's famous club. The work is courtesy of artist, musician, writer and record producer Bill Drummond, who himself has work in the exhibition.

► Works by artists who had early career exhibitions at Bluecoat, including Elizabeth Magill, Bashir Makhoul, Paul Morrison, Keith Piper and Imran Qureshi.

► Jeremy Deller's print History of the World, which resulted from his Acid Brass, commissioned by Bluecoat in 1997

► A new series of photographs from John Akomfrah, showing for the 1st time.

► Works made especially for the show in response to the gallery's changed architecture by Nina Edge and Brigitte Jurack.

► A new work by Mike Stubbs, Director of FACT, who exhibited at Bluecoat in 1989 and 1990.

► A series of 'punk portraits' by John Hyatt (artist, and professor at Liverpool John Moores University) first shown at Bluecoat in 1986; and a remake of a life sized female figure from newspaper by Lin Holland (artist, and senior lecturer at Liverpool Hope University), originally exhibited in 1987.

Bluecoat has been showing new art for over 100 years, from Roger Fry's seminal Post Impressionists exhibition in 1911 that featured Picasso and Matisse, to showcases of the next generation of artists like the recent Bloomberg New Contemporaries. Over this period Bluecoat has developed a reputation as an important regional gallery, helping launch many artists' careers, initiating and hosting significant UK and international touring exhibitions, and being at the forefront of new developments in the visual arts, while nurturing the local artists' community. The Bluecoat building, a fine example of Queen Anne style architecture, began life as a charity school in 1717, before housing an arts community in 1907, and formally becoming an arts centre in 1927, making it the first of its kind in the UK. Its Anniversary Programme sees 300 days of celebration, running from 4 February 2017 to 30 November, 2017. It will comprise exhibitions, performances of music, dance and live art, literature events, commissions, a sociologist in residence, and a major heritage participation project, My Bluecoat.
Bluecoat Chief Executive Mary Cloake said:- "Bluecoat has been at the heart of Liverpool's cultural life for many years and it seems fitting that, as the 1st exhibition in our 300th Anniversary programme, Public View will highlight the diverse range of artists who have exhibited here. Bluecoat has always strived to be at the forefront of developments in contemporary art in the UK, often bringing major artists to Liverpool for the first time. The organisation has played a key role in representing Liverpool on the national stage, and in establishing the City as a Centre for ground breaking art. It is thanks to the support of the people of Liverpool that Bluecoat has been able to achieve as much as it has during its 300 years, and we invite everyone to join us in 2017 to celebrate our history and achievements, and look forward to our future."

Bluecoat Artistic Director Bryan Biggs, who has curated the exhibition, said:- "Public View brings together works since when the gallery space was improved and an exhibition programme formalised. Even with 100 artists, this is but a small, though significant, sample of the thousands of artists who have shown here. It aims to reflect something of Bluecoat's curatorial interests and distinctive exhibition programming over this period. Visitors will be able to see some of their favourite artists or art that will be familiar from previous exhibitions, while at the same time discovering exciting new artwork, some of it never exhibited before. There is a wide range of work included, with many of our 'artistic alumni' generously donating their work in the exhibition, or another work, to a fundraising auction to be held later this year that will help ensure Bluecoat continues its support for artists. The exhibition is the perfect start to Bluecoat's 300th anniversary year. It celebrates the achievements of our past while simultaneously looking towards the future as we maintain our long running connection with these artists and continue our commitment to supporting artists at all stages of their careers."