How building a dalek helped my chronic pain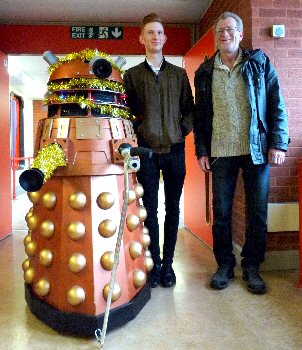 A father with chronic pain surprised staff and patients at Southport Hospital when he toured the wards with his homemade, life sized Dr Who Dalek.

Kevin Howard has been using the pain service for 14 years since he woke up 1 morning with pain in his shoulder. The pain intensified and numerous tests and investigations over 2 years failed to produce a diagnosis. Kevin was eventually diagnosed with chronic pain, though after 2 years of suffering he was no longer able to work as an electrical engineer and required regular pain medication.

It was a referral to Clinical Psychology at Southport and Ormskirk Hospital NHS Trust that helped Kevin turn his life around. "The pain is still the same, I just have a different mindset now..." said Kevin.

Because of his pain, Kevin was no longer able to play football with his son, Stewart, they set about building a life size Dalek, so that they could do something together. "We call the dalek Jeremy and he's 12 years old now. We started building him when my son was 6 and it helped to teach him how to use tools, it took us 3 months to build. We even used Jeremy as a Christmas Tree 1 year. My wife wasn't too happy!"

Stewart is now 18 and accompanied his Dad (and Jeremy the Dalek) around the Hospital to boost the spirits of patients and staff.

Kevin is also a volunteer at the pain clinic, based at Ainsdale Centre for Health and Well Being, every Friday and with the Living Well programme. For more information on the pain clinic and Living Well, visit:- SouthportAndOrmskirk.NHS.UK and click on the Clinical Psychology section.
Appeal after video posted on social media
MERSEYSIDE Police have confirmed that they have launched an investigation after after a video was posted to social media in recent days, showing dangerous driving. The video shows a green BMW 328 estate repeatedly sliding around a roundabout, on Benthams Way, Southport and at 1 point the vehicle comes close to colliding with an NWAS Ambulance, that was driving onto the roundabout. Enquiries are ongoing to identify who was driving the car at the time of this offence, believed to have happened in recent days. Inspector Keith Kellett from Merseyside Roads Policing said:- "We are well aware of this incident and are making extensive enquiries to identify the person responsible. I would like to reassure members of the community that we will not tolerate such dangerous driving on the roads of Merseyside. Manoeuvres like drifting are incredibly reckless and it is through luck alone that there was not a serious accident, potentially involving the Ambulance. If drivers behave in such a way it is inevitable that someone will be hurt and we will be relentless in identifying those responsible and removing them from the roads."
Anyone with information on this incident is asked to contact:- 101 or Crimestoppers, anonymously, on:- 0800 555 111.

1 in 10 homes in Liverpool could be setting themselves up for a Christmas disaster
EVEN in the relatively mild Christmas forecast, the festive season can be ruined if boilers or central heating go wrong. Yet British Gas research found that almost a 3rd of residents don't check their heating is working ahead of the holiday period.

The poll also found that almost half do not get their boiler serviced and more than 42% do not bleed their radiators, putting themselves at risk of a Christmas calamity.

More than a 3rd of North West residents say family get togethers are their favourite festive activity. But engineers expect to be called out to almost 1,400 homes in the region next week, so engineers are urging families to check their homes are ready for the winter break.

Last year almost 60 homes in Liverpool faced a boiler breakdown on Christmas Day. Working over Christmas, Peter Knowles, a British Gas engineer in the region, is hoping to avoid crashing any celebrations. He says preparation is the key to steering clear of domestic disaster over the holiday period.

Peter said:- "Our priority is to keep our customers' homes and businesses warm, safe and working this winter, and engineers like me are on standby to visit homes and businesses over Christmas. Simple things like blocking draughts to stop heat escaping, or bleeding your radiators, can help keep your home warm, yet our research shows that very few people do them to prepare for the winter months. By carrying out a few quick checks, everyone can focus on enjoying the Christmas they've been hoping for."

Last winter, British Gas fixed more than 1.3 million boilers and made nearly 250,000 visits to fix problems with white goods and electrics in the home. During the same period, the company fixed almost 11,000 commercial boilers for small to medium sized businesses.
LJLA expects 10% passenger increase as Christmas and New Year 'getaway' begins
LIVERPOOL John Lennon Airport (LJLA) is gearing up again for the traditional Christmas and New Year 'Getaway', with almost 130,000 passengers expected to pass through the Airport over the festive and New Year holiday period. Passenger numbers are set to be 10% higher than in 2015, following a similar trend seen throughout most of 2016.

With many schools now having finished for Christmas, families from across the region are expected to head off on flights over the holiday period with passengers travelling to a mix of destinations in search of some much needed Winter sun, to go skiing, visit relatives, or looking for Christmas and New Year festivities across a range of European Cities.

As usual, popular flights for passengers over the coming days are expected to be Winter ski destinations such as Geneva, Salzburg and Grenoble, The Canary Islands and southern Spain for some warmer Winter weather and popular City break destinations.

Christmas is also a popular time for passengers to fly via LJLA to return home or visit family and friends, with flights to Northern Ireland and the Republic of Ireland expected to be amongst the busiest.

LJLA Management are once again keen to remind all passengers to allow plenty of time to pass through the Airport during this busy period and that restrictions on liquids carried in hand luggage are still in place. Passengers are also reminded to think carefully about what items they are intending to pack in hand luggage, before they set off for the Airport; especially those who are travelling with presents for friends and relatives.

To avoid disappointment at the security search point and to help keep security queues to a minimum, passengers are being asked to travel with their presents unwrapped if they are to be carried in hand luggage.

Robin Tudor, Head of PR for LJLA commented:- "We expect this to be another busy Christmas here at the Airport as thousands of passengers pass through over the festive period taking advantage of the convenience of flying via Liverpool."