£30k being invested into developing local peer led services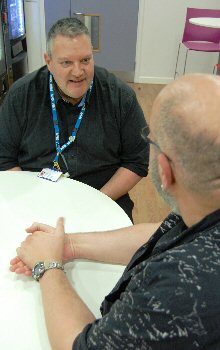 £30,000 is being invested into new peer support roles at a local NHS Trust to better support people with their mental health care and recovery.

The money was awarded to Cheshire and Wirral Partnership NHS Foundation Trust (CWP) by Health Education England North West, as part of its programme for workforce transformation, supporting a bid to test new and enhanced working practices. So far, seven people have been trained and recruited into peer support volunteer roles to work alongside people who access our services and health professionals. The money will be used to develop and deliver accredited training for over 30 more peer support roles by the end of 2017.

National evidence and local experience has demonstrated that support from a 'peer', someone who has personal lived experience of similar health conditions, can have a hugely positive impact on patient experience and well being. The support is available for people who access mental health services and is in addition to clinical support from health professionals.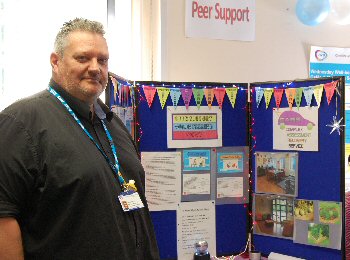 Simon Hough, CWP's 1st peer support volunteer, co-chair of the Trust steering group and lead trainer, says:- "I have lived with schizophrenia for most of my life so have 1st hand experience that I can draw on to give hope and support to others. Being a peer support volunteer is massively rewarding and is also beneficial to my well being. It has given me my confidence back and helps me to help others get the support they need."

Avril Devaney, CWP Director of Nursing and Therapies, says:- "This funding will help us to make this invaluable support more widely available. What's important for CWP is that people with lived experience are integral to shaping, guiding and developing this work so that it is truly co-produced and person centred."

Ken Edwards, from CWP Clinical Education, says:- "With an emphasis on building confidence and communication skills, the Peer Support role has potential to become a pathway into employment for people who are looking for this. After completing the training and building their confidence and skills two peer support volunteers have already gone on to secure full time employment."

Sefton Council Christmas 2016 and New Year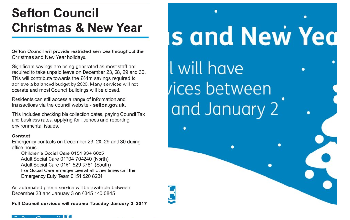 THIS year, Sefton MBC have said that:- "Due to budget savings, services will be restricted over the festive period. Significant savings are being generated via this action, as most staff are required to take unpaid leave, on 23 December, 28 December 29 December and 30 December 2016. This will help to contribute towards the £65m savings, required to achieve a balanced budget by 2020. Many services will not be operating and most Council buildings will be closed. Residents who need to access can still obtain information via the Sefton Council's website. Please also be aware that this includes the ability to check bin collection dates, paying your Council Tax and Business Rates, as well as applying for licences and reporting environmental issues. We wish all or residents a happy and safe Christmas and a fantastic New Year."
Emergency contact information for closed dates will be between office hours only, for the following services:-
► Children's Social Care:- 0151 934 6025.
► Adult Social Care North:- 01704 704 240.
► Adult Social Care South:- 0151 920 8234.
For emergency contact, out of hours, the for Social Care Emergency Duty Team, contact them via calling:- 0151 920 8234.
An automated phone service will be available between 23 December and 3 January 2016, on:- 0345 140 0845.
Sefton Council's full services will resume on Tuesday, 3 January 2017.
Confirm your Hospital appointment with a text!
THE Royal Liverpool and Broadgreen University Hospitals NHS Trust's 2 way text service now allows patients to confirm, cancel or rearrange outpatient appointments when they receive their reminder text on their mobile phones. The service, which makes managing appointments much easier for patients, will also help to reduce the number of missed appointments, which could have been given to other patients. Figures show that over 150,000 people missed their outpatient appointment at the Royal and Broadgreen since 2015, with each missed appointment costing around £160 on average. In short...

► Nationally, missed appointments or 'Did Not Attends' cost the government around £1billion a year and cause longer waiting times for other patients.
► Patients will receive a text 7 days before their appointment and 48 hours before if there is no reply to the original text.
► To benefit from the service, patients will need to make sure the Trust and GP have their up to date contact details.
► Patients will receive a phone call to their landline if the clinics don't have access to a mobile phone number.

Colin Hont, deputy chief nurse, said:- "Patient care is always our priority. We know that 1 in 10 people don't attend their appointment simply because they forgot. When someone doesn't attend their appointment without letting us know, it can delay treatment and increase waiting times for other patients. If we know a patient can't attend their appointment, we can offer that space to someone else who needs it. We're launching this across most of our outpatient clinics. So patients can benefit from our new texting service, we're asking that they check that our hospitals and their GP have their most up to date contact details."

Patients can opt out of the service by replying to the text with:- 'Stop.'