Autistic and Cerebral Palsy players benefit from inspirational local hero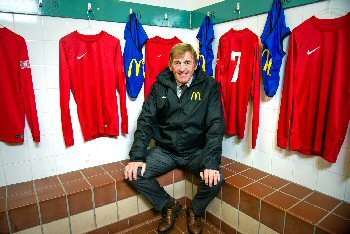 ON Monday, 12 December 2016, Walton Sports Centre FC were joined by England Paralympic hero Jack Rutter along with Liverpool FC legend Kenny Dalglish, who gave the club a surprise visit to deliver brand new kit to the under 14's team. The club received the kit for free Courtesy of the McDonald's Kit Scheme for accredited clubs.

The McDonalds Better Play programme has, for over 14 years, worked with clubs and leagues that enable children to enjoy football every week regardless of ability or gender. Walton Sports Centre Football Club takes pride in a dedication to providing training for all children, giving particular attention to those that are less abled. The Under 14's team consists of 14 children with either Cerebral Palsy or varying degrees of autism.

During their visit, McDonald's ambassadors Jack Rutter and Kenny Dalglish passed on their expertise during a unique training session which saw them take part in a number of drills with the Under 14's team. They also hosted an official kit handover alongside Labour MP Steve Rotherham and local McDonald's franchisee Mark Blundell, who was in attendance along with other franchisees from the Liverpool area.

"The kit that the club has been given through the McDonald's Kit Scheme is a perfect reward for all of their efforts and hard work. Playing for Liverpool over so many seasons, I have worn a lot of kits in my career and I know they always have a real impact on teams, creating a sense of unity and belonging. After the efforts I've seen today I'm certain the players will put in some great performances wearing it." said former Liverpool player and Scottish international manager Kenny Dalglish.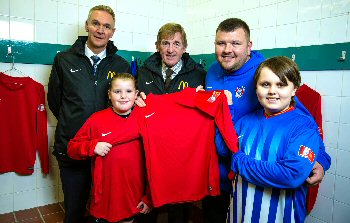 McDonald's Ambassador Jack Rutter added:- "As a Paralympic athlete, it was great to get the chance to train with the children at Walton Sports Centre FC. I was really impressed with the standard of football and the club has a genuine community feel, helping those who need it most. It is not just the players that make a team but all of the inspirational volunteers who give up their free time and it was a pleasure to be able to give them their new kit today."

As a long standing supporter of grassroots football in England, McDonald's started the Kit Scheme in 2014 and it has proven immensely popular among grassroots clubs, with over 175,000 kits being donated to date. Running for over four years now, the scheme allows every accredited club throughout the UK to order a brand new playing strip and has proven extremely popular in Liverpool, where almost 6,600 individual kits have been claimed by the city's clubs.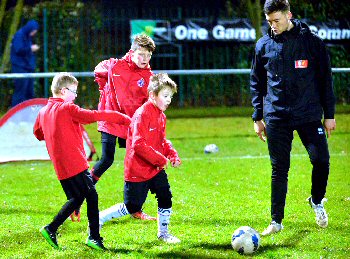 Walton MP and Labour's candidate for Metro Mayor of the Liverpool City Region, Steve Rotheram, said:- "Grassroots football clubs are a vital part of local communities, particularly here in Liverpool; a City which has a great affinity with the game. With local clubs such as Walton Sports Centre FC are doing great work in providing opportunities for people across a range of different ages and abilities to take part in football. Today's event also highlights the important role the McDonald's kit scheme plays in helping as many of the City's young people engage in football as possible."

Local McDonald's Franchisee, Mark Blundell, who supports local grassroots football in the Liverpool area, said:- "Walton Sports Centre FC is a fantastically well run club and one that I am proud McDonald's are involved with. I'm sure that this visit from Kenny and Jack will be a day that the players cherish for years to come. The McDonald's Kit Scheme is making a significant impact on grassroots football and thousands of clubs up and down the country continue to benefit from it."

For more information about the McDonald's Accredited Kit Scheme visit and how your club can benefit from McDonald's Community Partnership visit:-McDonalds.Co.UK/KitScheme.

Children's University comes to National Trust Formby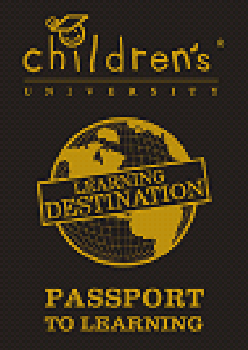 THE National Trust at Formby is delighted to be registered as a Learning Destination for the Children's University, a nationwide initiative which aims to promote learning outside school hours. The idea is to get kids involved in various activities with their families, sparking a love of learning, whilst having fun in the process!

While the National Trust already has a number of incentives to encourage children to explore the great outdoors, such as '50 things to do before you're 11¾', it is hoped this new partnership will act as a further way to kindle an interest amongst young people in the countryside and coastline. Participants will get stamps in their 'Passport to Learning' as they complete activities.

The scheme is launching in time for the Christmas holidays, with Make a Kite, Hunt for Bugs and Woodland Bingo just some examples of what is on offer. For more information about the activities available during your visit, please head towards the Membership trailer, open at the weekends and school holidays between 12pm to 3pm. On submission of your evidence, it's here you will also be able to collect your stamp; don't forget to take your Passport to Learning! Please note that some activities have a charge for materials.

"We are very pleased to be working with the Children's University to encourage young people to get out and about and discover this special place. We'll be offering a range of hands on fun learning activities over the coming months from bug hunting to kite flying; perfect for bringing the family together to work off that Christmas pudding whilst having fun in the great outdoors. We look forward to welcoming you soon." said Andrew Brockbank, Countryside Manager, National Trust Formby.

For more information, visit the National Trust's website or go to:- ChildrensUniversity.Co.UK.
"Team up with Mark Wright on Christmas Day"
Photo by Dave Evens - The Scouse Pap...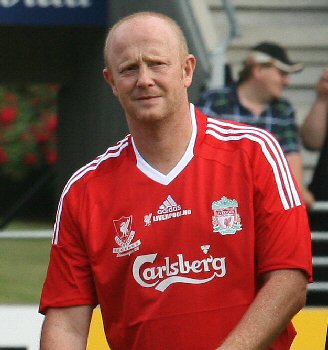 FORMER Liverpool Captain Mark Wright has teamed up with top Liverpool restaurant Hanover Street Social to make sure that as many people as possible have somewhere to have Christmas Dinner on Christmas day. Wright who is also a Foster Carer has collaborated with Jonny and Collette Poole owners of Hanover Street Social to be able to provide 70 people on Christmas Day a happy environment.
Wright said:- "Not everyone is fortunate to be in a place in their lives where Christmas Day means being with people and having a big meal with all the trimmings. This year myself, Jonny and Colette Poole will be doing our bit to make sure that we can help at least 70 of those people in need."

Colette Poole owner of Hanover Street Social said:- "We as a business have a strong social responsibility ethos but as individual's myself and Jonny also care very deeply that people are not alone. Our suppliers have generously donated all the food for the day for which we are very grateful!. We have already been contacted by families that have children that are living below the poverty line; 1 family were struggling so much that they only had one winter coat between 2 children to share."

The successful Hanover St social which is also part of the Bacaro, Salt House Tapas and Cheese and Co group of restaurants will also be joined by local celebrities on Christmas Day including Pete Price and Clare Sweeney.

Any organisations that would like to donate toys or nominate an individual or a family in need for a place on Christmas Day please contact Collete via:- email or drop any donated toys into Cheese and Co 1 Derby Square (on the corner of Caste Street)