Positive growth forecast for inbound tourism to the UK in 2017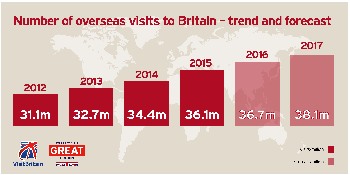 PLANNERS and Forecasts from VisitBritain, the national tourism agency, indicate that 2017 is set to be another record year for inbound tourism to the UK.

Spending by overseas visitors is predicted to reach £24.1 billion in 2017, an 8% increase on spending in 2016, which is expected to top out at £22.3 billion.

The number of overseas visitors to the UK is expected to rise next year to 38.1 million visits, up 4% on 2016, which is likely to see about 36.7 million visits by the end of 2017.

VisitBritain Chief Executive Sally Balcombe said:- "These figures not only underpin a longer term pattern of growth for inbound tourism, one of our fastest growing export industries, but also demonstrates its growing importance as a key driver for economic growth and jobs. With our hotels, shops and attractions all offering excellent value for overseas visitors right now, it's a great time to come to Britain. Through our strategic partnerships and global marketing campaigns we are converting aspiration to visit into bookings, ensuring that the economic benefits of tourism are spread across all of Britain's nations and regions."

VisitBritain's campaigns have continued to produce results and generated an extra £800 million across the nations and regions of Britain during the last year. Every £1 the Government invests in VisitBritain for international marketing, has resulted in an overseas visitor spending £23 here in Britain.

VisitBritain is positioning Britain as a must go now holiday destination through its global #OMGB 'Home of Amazing Moments' campaigns to promote the amazing experiences that can only be had here. It is part of the UK Government's global GREAT Britain campaign, which showcases the very best of what Britain has to offer as a place to visit, study, invest and do business.

Promoting the diversity of Britain's tourism offer across all its nations and regions will continue in 2017 through a range of activities, events and celebrations:-

► England's 'Year of Literary Heroes' will celebrate literary anniversaries and milestones.

► Wales will pay tribute to epic myths and legends of yore with the:- 'Year of Legends!'

► Scotland is set to celebrate its rich past during the:- 'Year of History, Heritage and Archaeology...'

Following on from a year which has seen anniversaries celebrated for William Shakespeare, Beatrix Potter, Charlotte Bronte and Roald Dahl, the literary theme continues next year with special events to commemorate.

► The 20th Anniversary of the 1st Harry Potter book – Harry Potter and the Philosopher's Stone.

► The 125th Anniversary of the first Sherlock Holmes publication.

► The 200th Anniversary of the death of Jane Austen.

Other celebrations, attractions and openings in 2017 include:-

► Hull – the UK City of Culture 2017.

► 2017 World Athletics Championships and World Para Athletics Championships in July and August.

► 2017 ICC Champions Trophy in June at grounds in Cardiff, London and Birmingham.

► 70 years of the Edinburgh festivals. These will see the City being transformed like never before with music, science, film, art, theatre, dance, literature and storytelling.

► The 25th anniversary of the Premier League.

► 2017 ICC Women's Cricket World Cup final will be held at Lord's Cricket Ground.

► 2017 Women's Rugby World Cup will be held in Belfast.

► New Hadrian's Cavalry exhibition; a wall wide exhibition celebrating the elite Roman cavalry regiments that guarded Hadrian's Wall and projected the power of Imperial Rome 2,000 years ago.

► Glynn Vivian Art Gallery in Swansea, Wales, will host the Leonardo da Vinci; 10 Drawings from the Royal Collection.

► British Music Experience moves from London to Liverpool; the new permanent attraction opens at the historic Cunard Building, on the Pier Head, in February 2017.

► Blue Whale comes to the Natural History Museum after 35 years of the Diplodocus skeleton display the central display in the museum's Hintze Hall is set to change in the summer of 2017 to a blue whale skeleton, marking the start of a decade of transformation for the museum.

Tourism is Britain's 7th largest export industry and 3rd largest service sector. The industry is also a major job creator, for example every 22 additional Chinese visitors that come to Britain create an additional job in the sector.

Inbound tourism was worth more than £26 billion to the UK economy in 2013.

Rock 'n' Roll Liverpool Marathon to Celebrate 50 Summers of Love in 2017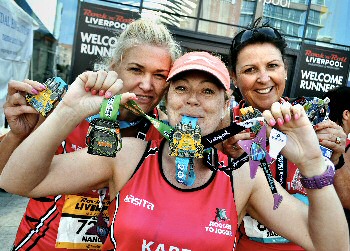 LIVERPOOL is to again see the return of the Liverpool City Council, Rock 'n' Roll Liverpool Marathon and ½ Marathon. Working in partnership with Liverpool City Council, Rock 'n' Roll Liverpool Marathon 2017 promises to be bigger and better than ever before. The popular running event is set to take part in the 50 Summers of Love celebration, embracing the music and culture of 1967. As the 50th Anniversary of the 'Summer of Love,' Liverpool will play host to a season of events and performances inspired by the era including this annual musically themed race, which will take place over 27 May to 28 May 2017.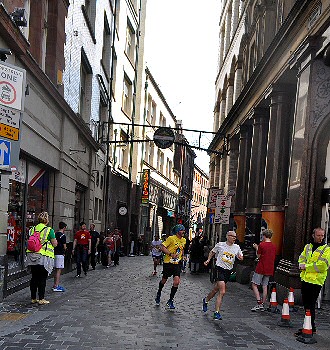 1967 saw some of the biggest cultural shifts of a generation and the moment the avant garde forced its way into the mainstream. Liverpool played a big part, it being the year Sgt Pepper's Lonely Hearts Club Band album was released by the Beatles, The Mersey Sound poetry anthology was published and the Metropolitan Cathedral opened whilst homosexuality was decriminalised in the UK.

"We are so excited to be a part of this historic and colorful celebration... Our event fits right into the theme of the summer which will honor an important part of Rock 'n' Roll history." said Stacey Campbell, Vice President of Global Events for the Rock 'n' Roll Marathon Series.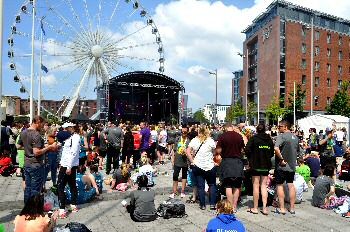 Assistant Mayor and cabinet member for culture, tourism and sport, Councillor Wendy Simon, said:- "The Rock 'n' Roll Marathon and ½ Marathon has become 1 of the highlights of the city's sporting calendar and is growing in popularity year on year. We're delighted that 2017's event will be part of our Summers of Love programme and the music element of the running activity will help us celebrate what was one of the defining moments in modern culture."

The Rock 'n' Roll Liverpool Marathon is known for putting local bands and live entertainment along the course to encourage runners as they make their way to the finish line. The musically themed race concludes with a finish festival and headline concert outside of Echo Arena to celebrate the day's achievements. Last year's event brought record breaking numbers to Liverpool with 16,000 registrants and a total economic impact of about ₤7.26 million.

The marathon and ½ marathon will start and finish by the Albert Dock, 1 of the most visited attractions in the UK and a World Heritage Site. The races features scenic views of Liverpool's stunning docks, rich architecture, spectacular museums and historic commercial districts.

A 5K kicks off the weekend on Saturday at Albert Dock giving runners the opportunity to register for the Remix Challenge. Those who participate in the 5K and either the marathon or half marathon on Sunday will complete the Challenge and earn a bonus 3rd medal. In its 1st year, the 5K was given the Running Award for the Best Fun Run in the UK.

For more information, visit:- RunRocknRoll.com/Liverpool or follow @RnRLiverpool on Twitter.