Help to inspire the UK's next generation of manufacturers and engineers
EEF, the manufacturers' organisation, is urging parents, teachers and employers to make 2017 the year they help to inspire the UK's next generation of manufacturers and engineers.

The call follows concerns that young people are missing out on vital opportunities for a long-term, dynamic and well paid career because they are being put off by outdated myths and misperceptions about the sector.

To raise awareness and to help people better understand what modern day manufacturing and engineering are really all about, EEF has pulled together a top 10 list of myths and facts:-

1. Manufacturing and engineering are just for boys…

Myth: they both provide open and equal opportunities to enjoy an exciting, rewarding and creative long term career. Companies are actively encouraging more female apprentices and graduates to join and employers are keen to encourage and support women throughout their careers.

2. There will be over 2.5 million job openings in engineering companies up to:- 2022…

Fact:- these figures from Engineering UK show that engineering companies are continuously looking to recruit. With an ageing workforce it is more important than ever to ensure there is a pipeline of talent coming into the industry.

3. The work is low paid…

Myth:- engineering graduates now earn over £5,000 or 22% a year, more than other UK graduates; a figure that further reinforces engineering's reputation for being a well paid career. At the same time an engineer can expect to earn £32,699 a year, while a senior engineer can expect £41, 800. In contrast, national average pay in the UK is £27,607 a year according to ONS.

4. Work in manufacturing is manual and repetitive…

Myth:- with the advent of a new digital industrial era, demand for skilled and highly skilled workers over the next 3 years will soar. Firms are on the hunt for people management and leadership skills, production related technical skills and craft/technician skills. Sales and marketing and IT and software skills are extremely valuable too.

5. Employers have strong recruitment plans…

Fact:- 66% of manufacturers plan to recruit an engineering graduate in the next 3 years and 66% plan to recruit an engineering apprentice in the next 12 months.

6. The prospects for graduates aren't so good as in other sectors…

Myth:- according to Engineering UK, 66% of engineering and technology graduates were in full time employment within 6 months of graduating, compared with 58% of all graduates.

7. Manufacturing doesn't have a future in the digital age…

Myth:- manufacturing's future is the digital age and UK manufacturers are already gearing up to take advantage. New technologies will start to change the way factories look in a relatively short space of time and over 8 in 10 manufacturers (83%) say that they will need to invest in staff skills in order to adopt them.

8. Smart kids only go to University….

Myth:- smart kids can also take an apprenticeship and apprenticeships can also lead to a degree. Young people today have choices and an apprenticeship is just as valid a career pathway as going to University; plus, because you 'earn and learn' you can avoid incurring student debt.

9. Raising awareness isn't important…

Myth:- 72% of manufacturers say raising awareness of apprenticeships will encourage more young people into manufacturing; 63% say the same of STEM promoting initiatives between schools and business.

10. Careers advice has a role to play in inspiring young people…

Fact:- 6 in 10 firms (60%) say better informed careers advice will encourage more young people into engineering.

Steve Warren, North West Region Director at EEF, says:- "A career in manufacturing and engineering ticks all the boxes, offering jobs, good pay and the chance of an interesting and dynamic long term career. Our sector has much to offer and by helping young people to understand this we will give them every reason to want to get involved. Manufacturing and engineering also offer young people the chance to choose the career path that is right for them. Whether you choose to 'earn and learn' as an apprentice or join industry as a graduate, the fact is that your choice will be respected and your ability and ambition rewarded. It's vital we get this message out there so that more young people feel inspired to seize the opportunity to start a great career."

To find out more, visit EEF's dedicated apprentice website, where young people, parents and teachers can find guides, information and interactive tools to help them get up to speed on careers and apprenticeships in manufacturing and engineering.

New Peerless roll out for 2017 challenge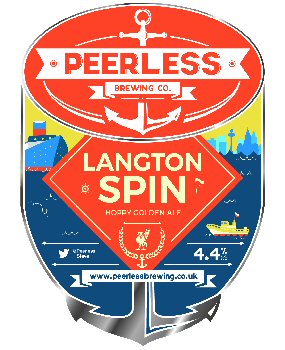 STARTING 2017 off with a roll out of a fine tuned cask ale range, Wirral's acclaimed Peerless Brewing Company is getting ready to tackle the next stage of its growth.

The rationalisation and roll out of new brands for the 7 year old business builds on a major 2015 investment to double capacity, as demand for the award winning ales grew around the Wirral and Merseyside, across the North West and nationally.

2 new brands are named to reflect the rich heritage of the region. Lottie Dod (4.2%abv) pays tribute to the illustrious Bebington born sportswoman Charlotte "Lottie" Dod who won the Wimbledon Ladies Championship 5 times; the 1st in the summer of 1887, aged just 15. She remains the youngest ladies' singles champion. Full bodied, classic amber ale the brew delivers:- "rich malt flavours from pale, cara and crystal malts combined with Admiral and First Gold hops while a touch of Cascade provide the beer with a nicely rounded finish."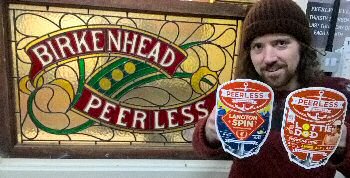 A 2nd roll out is Langton Spin (4.4%ABV), a rebrand of the highly popular Peerless Gold and named for a manoeuvre carried out by Mersey River pilots. Following the 1st Liverpool Pilotage Act, in 1766, to stop the loss of ships in the busy traffic heading to the port pilots developed the Langton Spin. This unique technique of spinning the ships around enables vessels of up to some 400ft to enter Langton Lock on an ebb tide.

Peerless describes the brew as well balanced golden ale with:- "a distinct citrus fruit and hop aroma which delivers an initial hop bitterness derived from Admiral hops and citrus notes from El Dorado, Columbus and Cascade varieties leading to a crisp dry finish."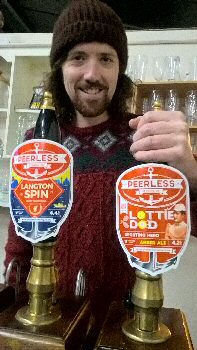 The revamp has seen cask ales Paxton's Peculiar and Crystal Maze dropped along with keg brew Storr Lager, as Peerless aims to concentrates on a core range of varied strength, cask brands along with creative monthly specials to be released in 2017. January sees the arrival of Chill Factor (4.1%) a zesty pale ale with Deadbeat (4%) blonde ale for February and a variety of styles following. including red wheat and red rye brews.

The brewery team, now 6 strong; has been strengthened with the appointment of law graduate turned trainee brewer Matt Brown while former pub and restaurant operator Pete Walsh takes a sales and distribution role.

Peerless founder and managing director Steve Briscoe said:- "With more and more brewers on the scene each year competition is ferocious, so quality has to be at the heart of our operation. Investment in new testing regimes and new staff alongside our new brands will see us meet the challenges of 2017 and step up to the next stage of our business."
3 men where arrested following traffic stop, in Formby
MERSEYSIDE Police have confirmed that 3 men where arrested following a traffic stop, in Formby, Merseyside. At around 4.30pm, on Thursday, 6 January 2016, Officers stopped a Transit van, on Elbow Lane, Formby and following a search of the vehicle, found what is believed to be either stolen or counterfeit designer clothing, including labels such as North Face and Jimmy Choo. 3 men, aged 64 years, 46 years and 21 years, all from the Formby area have been arrested on suspicion of handling stolen goods. They remain in police custody at this time. Detective Chief Inspector Gayle Rooney said:- "Handling counterfeit or stolen goods is a serious offence and not a victimless crime with legitimate businesses losing out. If you are offered cheap goods, no matter how good the 'bargain' appears to be, please don't buy them. Call the Police via:- 101 or Crimestoppers and tell us where and when you saw them."