Small business confidence in the North West recovers despite increasing costs
SMALL business confidence has recovered in the North West despite increasing operating costs, according to the Federation of Small Businesses (FSB)'s latest quarterly Small Business Index (SBI).

The SBI, which reflects how firms expect to perform over the coming ¼, reached +5 across the region in Q4 2016, up from -14 in the previous 3 months. This means that more businesses feel confident than pessimistic. Small business confidence rose to +8.5 for the UK as a whole in Q4.

Almost all (87%) of small firms in the North West expect to remain the same size or expand over the coming year. 28% exporters surveyed expect to increase overseas sales in the next ¼.

Small businesses in the region face challenges, however. 62% report an increase in the cost of doing business compared to the same period in 2016, with labour costs mentioned most frequently as the main cause of this increase (25%).

Chris Burgess, Chairman of FSB Merseyside, West Cheshire and Wigan, said:- "Small business confidence is showing resilience following the uncertainty reported in the wake of the Brexit vote, which is good news. In particular, small exporters continue to be ambitious. The fall in the value of the pound will certainly have had an impact but we shouldn't underestimate efforts to make UK goods and services more competitive overseas and help small businesses go out to find new markets and new customers, including the International Festival for Business in Liverpool in the summer. However, with business costs rising, significant challenges lie ahead for small business owners and there is still a long way to go to create an enterprise environment in the UK that genuinely supports business growth. This will become more urgent as we move closer to leaving the EU. We look forward to a March budget which simply must be pro-business and pro-growth; increasing the Employment Allowance to help small firms boost job creation would be a good place to start. In addition, FSB is committed to working with local agencies in Liverpool City Region, Cheshire and Greater Manchester to make the region the best it can be in which to start and grow a business."

The next FSB Small Business Index for the 1st ¼ of 2017 will be published in April 2017.
Another Post Office to close on Merseyside!
BOOTLE will see yet another Crown Post Office face the axe; yet another on Merseyside being closed. The announcement comes after the CWU held a 5 day strike, in a dispute partly about branch closures. That strike before Christmas 2016, only affected Crown Post Offices. It is thought that the demise of this Bootle Post Office, along with 36 others, now due to go, will see around 300 staff lose their jobs. These 37 will then be franchised or closed for ever. This closure comes as the Post Office sees ever increasing costs and competition from both online, in forms of email and other file sending systems, as well as offline, with the rise in cheaper courier services and now, drone delivery. All of which will put further pressure on the service. In Southport, as many know, the 1st closures led to the loss of the historic Crown Post Office, located on Lord Street. That loss has resulted in many complaints, as well as difficulties for the elderly and business users alike. What are your views on this? Are you affected by the closure? Please email us to:- News24@SouthportReporter.com.
Father and son sentenced for burglary of local Churches
MERSEYSIDE Police have welcomed the outcome of an investigation into the burglaries at 2 Churches in the Southport and Ainsdale area. On Friday 13 January 2017, Liverpool Crown Court heard that the father and son team had pleaded guilty to 2 charges of burglary. Police also asked that 13 like offences be taken into consideration before the sentencing ruling was issued that:- Gregory Hawkshaw, 45, of no fixed abode, should serve 4 years in prison and Daniel Hawkshaw, 22, from Southport, should serve 3 years and 3 months in prison. Detective Inspector Robbie Moss said:- "This is clearly a despicable series of crimes targeting the very heart of what should be considered locations of respect and sanctuary, stealing from the people who strive to help and support some of the most vulnerable in our community. We will continue to target those that are intent on victimising the vulnerable. This shows that we will act and I encourage anyone with information on any crime to tell us so that we can take positive action."

Firefighters urge everyone to make a new year's pledge to test their smoke alarms monthly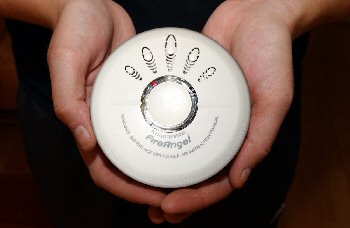 MAKE a new year's resolution: test your smoke alarms every month in 2017 and beyond. That's the rallying cry from Merseyside Fire and Rescue Service which is supporting the Fire Kills campaign to ask people to make testing their smoke alarms monthly one of their New Year's resolutions.

Many people see January as an opportunity for a fresh start, and safety should be top of the list. So, this month, firefighters are encouraging everyone to make sure they have enough smoke alarms in the home and that they work. It only takes a few seconds and saves lives.

Smoke alarms can give someone the few extra seconds they need to escape in a fire. While the majority of homes across the country now have an alarm fitted, most people are not aware that the average alarm has a lifespan of just 10 years and then needs replacing.

For people who live in a multi storey home or a larger property, a single smoke alarm is simply not enough.

in 2016, in nearly ½ of all fires in homes across the UK where the smoke alarm did not give a warning the reason was that the alarm was not close enough to detect the fire. Missing or flat batteries were another major cause.

Merseyside Fire and Rescue Service is asking people to make sure that their alarms are up to date and up to the job.

To keep your alarms in working order:-

Make sure there is at least one smoke alarm on every level of your home.
► Test your smoke alarms by pushing the button every month.
► Check that your smoke alarms are less than 10 years old.
► Fit smoke alarms on landings and hallways and near bedrooms.
► Consider fitting them in rooms which have electrical appliances that have a heater or charger in them.
► Take a moment to check on your loved ones who may need help to ensure they're fully protected.

Merseyside Fire and Rescue Service Group Manager Gary Oakford said:- "At this time of year, many people will be thinking of what they can do; big or small; to make a fresh start and improve their lives, homes and well being. Smoke alarms can offer vital protection for you and your loved ones, but most people simply fit and forget; they don't know if it might be coming to the end of its lifespan or not working at all. For most of us, there is nothing more important than keeping our loved ones safe and secure. So if your alarm is getting past its best or your top floor is missing an alarm of its own, make your New Year's resolution to fit new ones, test them on the first of every month and protect your loved ones in 2017."
Update on Knowsley Road, Southport stabbing
ON Tuesday, 10 January 2016, Merseyside Police have told local media that they had charged a man with assault, following a stabbing that was reported to have happened on Sunday, 8 January 2016, in Southport. We are told that victim who had been found a man who was bleeding from a wound to his neck has since been discharged from Hospital. Richard Thomas Thomley, 48, from Southport, has since been charged with Section 18 assault and remanded in custody. He is due to appear at South Sefton Magistrates Court on Tuesday, 7 February 2017. Anyone with any information is asked to call Merseyside Police on:- 0151 777 3833, or Crimestoppers, anonymously, on:- 0800 555 111.