Local cartoonist drawn to writing children's books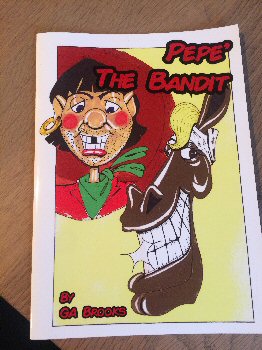 A local cartoonist has decided to branch out and try his artistic hand at writing children's book. George Brooks who now lives in Halton has been a cartoonist for over 35 years, drawing all his life as far back as he can remember. Now in his 60s, with a young attitude, George has decided to make the bold move and release a book he wrote many years ago.

The short rhyming story revolves around Pepe the Bandit and originated when his then 8 year old daughter came home from school saying her teachers were looking for parents to go into class and recite a poem, George said:- "My daughter Rosie gave me the impression that this had all been agreed by the teachers, however on the day, as I recited a short poem about Pepe it was clear from my daughters surprise and embarrassment that this was not the case."

Fortunately for the wider public, the short poem and illustrations about Pepe were a huge hit with Rosie's classmates and has now been developed into a children's book that George hopes will be just as amusing now as it was over 12 years ago and at under £5 its bound to be a huge success. Born in Bootle, Liverpool 1 of 5 brothers 1 sister, George made the transition from an engineer to a cartoonist after an accident to his hand meant he could no longer continue in his field of work. He soon discovered that not only his skills as a cartoonist but his vibrant and larger than life personality made him popular as a caricaturist at various events both corporate and non corporate, including working on the Orient Express. In 1985 he became a member of the Cartoonist Club of Great Britain and has illustrated many books and magazines over the years.

A popular choice for weddings, special occasions and corporate events George is now hoping that his embarrassing day in school many years ago will now prove just as successful as his career as a cartoonist has been.
Anyone wishing to purchase a copy of Pepe the Bandit can do so by emailing George himself at:- brook.sie@hotmail.co.uk, but don't leave it too late as there are only a limited number of books available.

Cut the cost of your energy by signing up to collective switch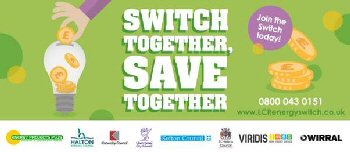 REGISTRATION is now open for the Collective Switch scheme which has so far saved consumers on Merseyside more than £1 million in energy costs. Merseyside, along with North Wales, has the highest average cost for gas and electricity in the country; with the average default bill of £1,197.

As the region also has one of the lowest average incomes in the country, people are paying a whopping 7.7% of their average income on energy; the highest in Britain.

According to Ofgem ⅔ of households are paying more than they should because they are on their energy supplier's standard tariff; and could save up to £352 per year by switching.

Merseyside's local authorities in Halton, Knowsley, Liverpool, Sefton, St Helens and Wirral are working with a local charity called Energy Projects Plus to help people switch to a cheaper rate.

The Merseyside Collective Switch uses the collective buying power of those who register to take part, to negotiate exclusive tariffs from energy suppliers. The tariffs negotiated in previous rounds have often been the cheapest on the market and exclusive to the Collective Switch.

To join the 'Collective Switch' online or call the local Save Energy Advice Line on freephone:- 0800 043 0151, where you can also get free and impartial help and advice about saving energy at home.

Mrs Appleby from Wallasey took part in the last round in November. She said:- "I was delighted to find that my monthly payments have dropped from £115 per month to £74 per month; incredible!"

Previous rounds of the switch have attracted exclusive offers from both the large and smaller suppliers, including:- British Gas, E.on, EDF Energy and Ovo, and have included offers for prepayment meter (or pay as you go) customers as well as direct debit and pay on receipt of bill.

In addition to the Collective Switch offer, participants are welcome to switch to any tariff on the market to find the deal that's right for them, with tariffs shown against each other for comparison. The service is free, and there's no obligation to switch if you decide not to.

Mayor of Liverpool and Chair of Liverpool City Region Combined Authority, Joe Anderson, said:- "The Merseyside Collective Switch is a great scheme that is putting money back into the pockets of local people. It demonstrates that by joining together, we can get a fairer deal from energy providers. I hope many more people join this round."

Registration closes at midnight, on Monday, 13 February 2017.