83 year old blind veteran from Merseyside to have paintings included in St George's Hall art exhibition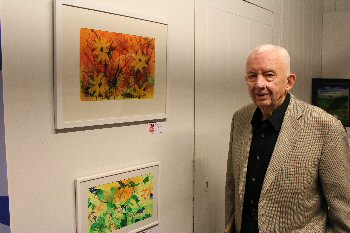 A blind veteran from Merseyside who has discovered a love for art since losing his sight has attended the opening of a special art exhibition that features his work.

Don Mulryan, 83 and from Wirral, is exhibiting his work along with other blind veterans at the:- 'Art – Life Beyond Sight Loss' exhibition which opened its doors to the public, on Saturday, 14 January 2017.

The exhibition explores the role of art and craft in assisting blind and vision impaired veterans overcome the barriers and challenges of sight loss. Held at St George's Hall, it includes paintings, wood work and ceramics produced by a number of blind veterans who have been trained in new techniques after visiting the charity's training and rehabilitation centres.

Don was born in Liverpool and began his military career as a National Serviceman in 1952 when he enlisted with The Green Howards. He was then transferred to Royal Army Ordinance Corps and served with them until 1954. He later joined the Intelligence Corps TA until he was discharged as a Sergeant in 1958.

After his service he initially returned to his previous career in banking, but at the age of just 33 his sight began to fade as a result of Macular Dystrophy, a rare genetic eye disorder that causes loss of vision.

Don continued in banking until his sight deteriorated to the point where he was no longer able to read documents. He then qualified and worked as a Technical Officer for the blind, working as a contractor for many agencies including Bradbury Fields and the National Federation for the Blind.

It wasn't until 2013 that Don became aware that Blind Veterans UK supported veterans who had lost their sight after completing their Service like himself. He says:- "I'd heard of St Dunstan's, which is what Blind Veterans UK used to be called, but had no idea they now supported people like me. I was chatting to a man at Henshaws Society for the Blind and he told me I had to get in touch with them. I'm so glad he did."

Don attended an Introductory Week at the charity's Training and Rehabilitation Centre, in Llandudno to find out more about the support the charity could offer. He says:- "We tried out all sorts of things that first week and it was absolutely brilliant. I learnt that, in addition to getting training in things such as IT, we could also receive support in developing interests. So I went back to Llandudno to try my hand at a week of painting. I cannot tell you how happy the painting course has made me. I have always wanted to have a go but never had a chance before my sight condition developed; but now with the help of Blind Veterans UK I have created paintings which have received favourable comments from all those who have seen them. Abstract painting is perfect for me as there is no need to focus on detail. The Art and Craft instructors taught me a blowing technique which has been perfect. Using a brush can be tricky as my sight condition makes it difficult for me to perceive depth, meaning I don't always know when the brush has met the canvas. Although I have now received a special magnifier which allows me to add in more details when I want to."

Since the charity's founding in 1915, Blind Veterans UK has considered the study of art and craft skills to be an important element of rehabilitation for the blind veterans it supports. This exhibition:- 'Art – Life Beyond Sight Loss' will exploring the impact of arts and crafts on the lives of blind veterans and illustrate how the military charity has enabled many of its beneficiaries to build confidence, self belief and independence.

The exhibition is open to the public, until 29 January 2017, excluding Monday's and Tuesday's; and will be open from 10:00 to 16:00. Admission is priced at £3 per adult, £1.50 per child with reduced rates available for groups and schools.

Many of the items displayed in the exhibition will be up for auction, including a collection of signed portraits of celebrities such as Steven Gerrard, Joanna Lumley, Andy Murray, Lorraine Kelly and many more. Visit:- BlindVeterans.Org.UK/LifeBeyondSightLoss for more information and to bid on the auction.

Blind Veterans UK was founded in 1915 and the charity's initial purpose was to help and support soldiers blinded in World War I. But the organisation has gone on to support more than 35,000 blind veterans and their families, spanning World War II to recent conflicts including Iraq and Afghanistan.

For more than a century, the charity has been providing vital free training, rehabilitation, equipment and emotional support to blind and vision impaired veterans no matter when they served or how they lost their sight.
Fake millionaire ordered to repay £20k
A Widnes fraudster, who was branded as "Walter Mitty" was attempting to steal £2 million in false VAT repayment claims, according to HM Revenue and Customs (HMRC). We are told that Anthony Knowles, 58, was found in Court to have been pretending to be a sheik backed multimillionaire, trading in horse medicines. He has been ordered to pay back £20,000, within 3 months or serve a further 9 months in jail, after being jailed for 4 years.
Zoe Ellerbeck, Assistant Director, Fraud Investigation Service, HMRC, said:- "Knowles provided dozens of fake documents in his attempt to convince HMRC, and others, that he was genuinely the head of a multimillion pound empire. All this was based on Walter Mitty style grandiose lies, fraud, and theft from the public purse. His real living circumstances laid bare his lies. We are now recovering the stolen money for British taxpayers."

Knowles pretended to trade in equine medicine for racehorses, move in rich circles and claimed to have a £25 million bank balance. In reality he lived in a 2 bedroom Council house and was unemployed.

As part of his scam, he attempted to buy a Cheshire mansion and farm, and received quotes for building a huge oak framed extension to include stables, groom quarters and garages. HMRC discovered he had sent 1 estate agent an email, claiming he had £12 million in funds available to purchase new property.

HMRC investigators told the court of luxury spending by Knowles on a £4,000 weekend stay at Claridges and the purchase of luxury goods from Hermes. He had also falsely claimed to HMRC officers that his business was being financially supported by a sheik; who was never traced. Despite Knowles claiming he had no assets, HMRC identified almost £20,000 in tainted gifts he gave family members and he was ordered to repay these within 3 months or serve a further 9 months in jail.

Store owner fined for severe food safety breaches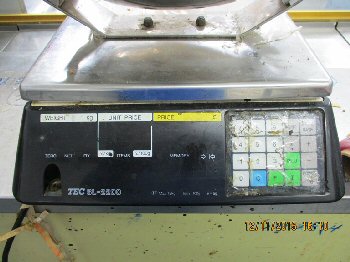 THE owner of a food store has been fined more than £11,000 after pleading guilty to nine food safety breaches. Mr Shafeq Nasser Al-Suraimi, who runs Green Mountain Food Store, on Lodge Lane, Liverpool, which operates as a shop and Halal butchers, was fined a total of £3,600, made to pay £7,617.34 in costs to the council and a £40 victim surcharge.

The Magistrates Court was told that, on 4 November 2015, Environmental Health Officers from Liverpool City Council carried out an unannounced routine inspection and found:-
► Mouse droppings in the meat display fridge, in the butchery department, on a counter, on shelves, in between the floor and the skirting boards and in a walk in fridge.
► Large holes in the fridge were found, which were thought to be access points for pests
► Equipment used to butcher meat was dirty.
► Blood was found on the door handle of the walk in fridge.
► Floor and wall coverings were in a poor structural condition.
► Rodent smear marks were observed on skirting boards.
► Evidence throughout the shop and the butchers which indicated a lack of any effective cleaning .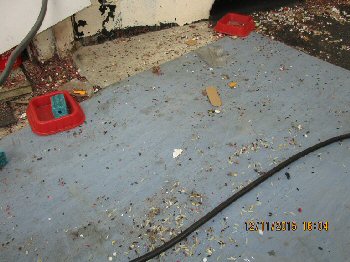 The findings resulted in the immediate closure of the premises, with the agreement and co-operation of the manager, due to the imminent risks to public health.

9 days later, on 12 November 2017, officers returned to the premises for a follow up inspection and found them in the same poor condition, no cleaning had been undertaken and pest infestation remained obvious. There was also evidence that despite the closure, meat was still being prepared in the butchers. Green Mountain Food Store was formally closed, on 19 November 2015.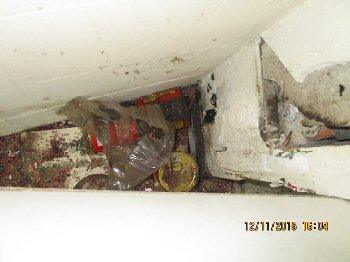 The investigation found a report from a pest control company dating back just 1 month earlier, in October 2015, advising the owner of an urgent need for a deep clean of the premises, pest proofing, stock control and daily checks for pest sightings. During that company's visit to the food store they had caught 6 mice on glue pads and 15 bait boxes had been eaten. On a previous visit the company had found a rat along with a number of mice in the cellar.

Following the 2nd closure a full refurbishment took place and the environmental health team revisited the location again, on 12 April 2016, where officers were satisfied there was no longer a risk to the public.

Councillor Steve Munby, Cabinet Member for Neighbourhoods, said:- "This is a shocking example of a severe breach of food safety standards which could have resulted in customers being very ill. We will not tolerate food businesses operating in this manner and the seriousness of this charge is reflected in the considerable fine levelled at the owner. Our environmental health team do incredible work across the city so that residents and visitors can, rightly so, expect the highest possible standards when they visit any food outlet."
French Honour for British War Heroes
6 war veterans are set to receive the highest decoration from the French Government; the National Order of the Legion of Honour. The award is being presented to the Liverpool men for their bravery and role in liberating France in 1944. The medals have been distributed via the French Embassy in London, and will be presented by Honorary Consul of France, Mr Philip Daniel, on behalf of the President of the Republic of France.

Receiving the award will be:-

► Capt. Tim Fitzgerald, 3rd Battalion, The Irish Guards.

► Kingsman Bernard Cross, 5th Battalion, The Liverpool King's Regiment.

► Rifleman Desmond James Ryan, 2nd Battalion, The Royal Ulster Rifles.

► Pte Michael Crumby, 8th Irish Battalion, The Liverpool King's Regiment.

► Gunner Richard Stanley Hughes, Royal Regiment of Artillery.

► Leading Aircraftman Stephen Conyngham, Royal Air Force.

If you do not know, the National Order of the Legion of Honour (in French: Ordre national de la Légion d'honneur), is a French order established by Napoleon Bonaparte on 19 May 1802. The Order is the highest decoration in France and is divided into 5 degrees of increasing distinction:- Chevalier (Knight), Officier (Officer), Commandeur (Commander), Grand Officier (Grand Officer) and Grand'Croix (Grand Cross).