New digital platform invites its audience to Walk into Space
IN January 2017, international dance company IJAD launched its pioneering digital platform and theatre space - Open Online Theatre. To mark the occasion, they will be performing the world premiere of 'Walk into Space' that is an interactive, dynamic performance exploring the concept of gravity and the wonders of the universe.

Occurring across 3 days at FACT, in Liverpool, and set against a backdrop of views of space, taken via satellite telescope, Walk into Space turns the performance space, the dancers, and the audience into stars, planets and satellites.

The event also sees the public launch of IJAD's creative digital platform, Open Online Theatre. The brainchild of IJAD's Artistic Director Joumana Mourad, Open Online Theatre fuses digital technology and sensography. In doing so, she hopes to revolutionise not only our notions of performance but also the relationship between artist and audience.

Open Online Theatre gives the audience a unique way of co-creating with performers and builds on IJAD's ongoing mission to embed the audience in the creative process; to take them on a journey from inspiration to creation where they see the evolution from thought to incarnation.

In the run up to the show, IJAD is asking audiences to directly influence the creative process by sharing scientific ideas and creative thoughts. The audience is invited to interact using the hashtag #OrbitsProcess, both online and in person during the performance.

The show will be held over the 23 January and 24 January 2017, at 2pm and 7pm.

Last Train To Auschwitz to be preformed at the Gladstone Theatre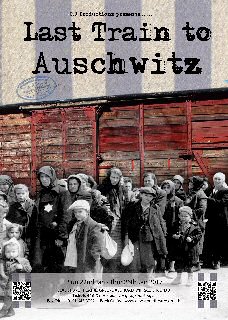 THE 'Last Train to Auschwitz' is back popular demand. This highly critically acclaim play will be performed by a stela cast of Liverpool?s own acting talent, starring Crissy Rock, in her most Dramatic role since the award winning performance in:- "Lady Bird Lady Bird."

Last train to Auschwitz tells the story of a group of Women's journey into hell. Their final destination is the notorious concentration camp Auschwitz. Auschwitz, a place where dreams die 1st and nightmares become a reality. Every day is a fight for survival, but through all this, bonds of love and friendships are formed. No matter what colour or creed, from the movie star to the gypsy, they band together in their fight for survival despite their inhumane treatment by the prison guards. A world they no longer know or recognise, some will live to tell their story , others will perish in the ever burning ovens of the Gas chambers. The memory of those who perished will stay eternal in the pages of history and be passed down from generation to generation. A lesson to all, that evil should never be allowed to rise it's ugly head again. The show will be preformed from 22 January to 26 January 2017, at the Gladstone Theatre, Greendale Road, Wirral, CH64 4XB. To for prices and booking book go to:- GladstoneTheatre.Org.UK.
Deceased estates notice - Lilian May Jackam
Pursuant to the Trustee Act 1925, any persons having a claim against or an interest in the Estate of Lilian May Jackam (also known as Lillian May) Jackam (Deceased), late of Birch Abbey Rest Home, 55 Alexandra Road, Southport, Merseyside, PR9 9HD, UK, who died on 04/10/2018, are required to send particulars thereof in writing, to the undersigned Solicitors, on or before 24/05/2019, after which date the Estate will be distributed having regard only to claims and interests of which they have had notice. Churches Solicitors, 12 High Street, Fareham, Hampshire, PO16 7BL, UK. Ref:- 'T553015.'
..Paid Advert..
Contact us:-
(+44) 08443 244 195
Calls will cost 7p per minute, plus your telephone company's access charge.
Calls to this number may be recorded for security, broadcast, training and record keeping.

News24@SouthportReporter.com
4a Post Office Ave, Southport, Merseyside, PR9 0US, UK


Our live Southport Webcam image above.
To see it live, please click on image.

Event Notices

More events that are taking place on Merseyside can be found on our Event Listings Calendar.

Click on here to see our event calendar.
Are you going to this event? If you are please let us know what you thought of it!

These are our other websites within the Southport & Mersey Reporter Network.

Mersey Reporter

Formby Reporter

Liverpool Reporter

Southport TV
| | |
| --- | --- |
| | © - Southport Reporter® is the Registered Trade Mark of Patrick Trollope |
..