Sporting legends join Community Trust to help raise ₤21,000 for a new 'HITZ' minibus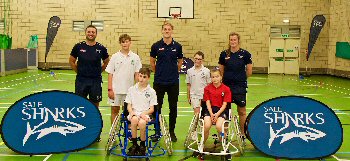 A quartet of British sporting legends joined forces with Sale Sharks at a special dinner to raise money to buy a minibus to support a life changing community programme. Former England footballer John Barnes, Olympic gymnast Beth Tweddle, rugby league legend Paul Sculthorpe and former Sharks star Mark Cueto were on hand at Manchester's Innside Hotel as ₤21,000 was raised for the Sharks' HITZ programme.

Guests forked out for auction prizes including rugby boots worn and signed by World Cup winner Jason Robinson, hospitality tickets for a match at Manchester United's Old Trafford stadium and a leotard signed by Tweddle. And the:- 'Evening with Sporting Legends' night was rounded off by John Barnes, who performed his 1990 'World in Motion' rap to the delight of the 200 strong audience. Delivered across:- Manchester, Cheshire, Lancashire, Merseyside and Cumbria by the award winning Sale Sharks Community Trust, HITZ uses rugby to increase young peoples' resilience, self reliance and confidence. It gives them the skills to get back into education, vocational training, apprenticeships and employment. The money raised at the event will pay for a new minibus to help trust staff take vulnerable young people to HITZ sessions across the North West. 2 young people who came through the programme and have since gone on to full time employment took to the stage at the event. Cameron Healey and Lacey Marshall, both 18, told how HITZ had changed their lives and helped them achieve their dream jobs. And then it was over to the legends for an on stage question and answer session, with host, BBC 5 Live's Rachel Burden.

"It was a fantastic night and we're really happy with the amount of money that we managed to raise. The new minibus will help us take these young people from difficult situations to places where our coaches can help them." said Jonny Acheson, Sharks Community Manager.

Lacey, from South Manchester, added:- "HITZ has changed my life. Before I started on the programme I was the sort of person who stayed in bed all day. Now I work in the Civil Service, doing a job I love."

Among the guests were a number from Barclays Bank, who had agreed to match, pound for pound, any money raised on the night.

Jonny added:- "We're so grateful to our legends and to everyone who gave so generously and in particular, to Barclays, who matched everything we raised. The HITZ programme has already had some fantastic results but we're not resting on our laurels. With this money we can continue to make a difference to lives right across the North West."

5 Live Breakfast presenter Rachel Burden said she was 'honoured' to be asked to host the event. "It was a brilliant event, supported wonderfully well by the legends. It was such a privilege to be involved and I'm so glad we managed to raise enough money to buy the minibus. I know it'll make a huge difference to the lives of so many young people."

Liverpool Store Teams Celebrate Top Employer Certification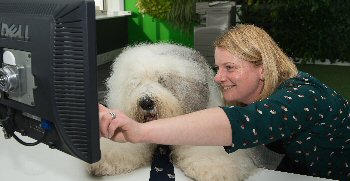 THE store teams at Dulux Decorator Centre across the United Kingdom are celebrating after AkzoNobel's Decorative Paints UK have been officially certified by the Top Employers Institute for exceptional employee offerings. As part of AkzoNobel Decorative Paint UK, which includes the store network of 188 Dulux Decorator Centres, the 'super brand' Dulux and the beloved Dulux dog, is proud to have been recognised by the Top Employers Institute for the 5th year running. The annual international research undertaken by the Institute assesses leading employers globally on several factors, including excellent employee conditions; nurturing and developing talent throughout all levels of the organisation, and striving to continuously optimising employment practices.

North West Regional Manager, Martin Sagar, comments on the certification:- "Our store teams are extremely proud to be awarded with the prestigious status. It's testament to their hard work, talent and commitment to personal development, supported by the company. We hope to continue to build on our strengths and look for ways to continue to improve, and ensure we retain this award in the future."

Responding to this year's results, Brian Chapman, AkzoNobel HR Director UK and Ireland, said:- "We're delighted to achieve the Top Employers United Kingdom certification again. At AkzoNobel we have a huge opportunity to achieve things previously unimagined but we believe we can only win and accelerate growth if we harness the strength, talent and commitment of our people; together we can be unstoppable. It's this drive to succeed which makes us focus on nurturing our employees to make sure we can offer them the best. We talk a lot about the fact we can only grow our business as fast as we grow our people. But unlike some organisations we walk the talk. We are committed to developing all our people to help them achieve their full potential; professionally and personally."

Crucial to the Top Employers Certification is the completion of a stringent research process, and meeting the required standard in order to achieve the Certification. To further reinforce the validity of the process, all answers were independently audited, meaning this research has verified the AkzoNobel's outstanding employee conditions and earned them a coveted spot among a select group of certified Companies. James Gooding, UK Country Manager for the Top Employers Institute:- "Optimal employee conditions ensure that people can develop themselves personally and professionally. Our comprehensive research concluded that AkzoNobel provides an outstanding employment environment and offers a wide range of creative initiatives, from secondary benefits and working conditions, to performance management programmes that are well thought out and truly aligned with the culture of their company."

To learn more about the Top Employers Institute and the Top Employers Certification, online.