Withington Girls School students through to national business final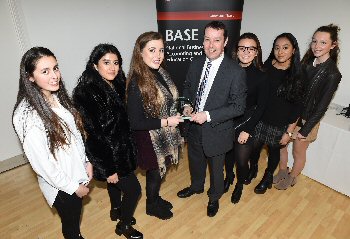 BUSINESS savvy students from Withington Girls School beat off competition from 15 other local teams to win the Liverpool heat of ICAEW's national business and accounting competition, BASE, on Tuesday, 7 February 2017.
What would you do if you were a business advisor for the day?
16 teams of local students found out what it was like to walk in the shoes of finance professionals, as they focused on key employability skills to formulate strategic business advice for a real life organisation and delivered this to their board of directors, just like real chartered accountants.

► Withington Girls School impressed the panel of judges and will go on to represent Liverpool at the National Final which takes place in June

► The team from Cronton and Riverside College were the runners up and all teams can be rightly proud of their achievements in dealing with a very demanding business challenge

► This was one of 43 heats attracting over 3,000 students from across the UK

Melanie Christie, ICAEW North West, Regional Director said:- "I was really impressed with the performance and strategic thinking of Withington Girls School. These budding business advisers looked beyond the numbers and they also showed they had an excellent instinct for business and ethics in order to give well rounded advice. Congratulations to all the teams who took part. I expect I'll be seeing more of these young people in leading business roles in the future. Students should not lose sight of the importance of developing skills and experience, alongside their academic achievements. It is vital that students are given opportunities such as BASE to develop these softer skills outside of the classroom."

Head Judge, Andrew Moss, President of the Liverpool Society of Chartered Accountants said:- "During the challenge we looked for the teams who supported their recommendations with sound ethical and financial evidence. Withington Girls School showed excellent teamwork and time management in delivering a comprehensive proposal. The team from Cronton & Riverside College were the runners up and all teams can be rightly proud of their achievements in dealing with a very demanding business challenge. BASE is a great example of how schools, employers and young people can work together to improve skills, and can also give business leaders the opportunity to learn what motivates the next generation of talent."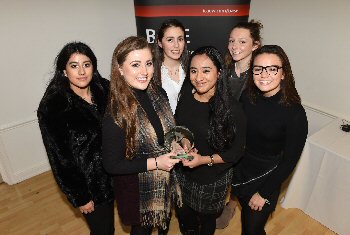 Just in case you don't know about BASE, this is a quick background to it:-

BASE links schools, students and employers to develop employability skills and provide an insight into what a career in accountancy, business and finance might be like.

The competition has seen more than 13,000 students take part since it began in 2009.

The BASE competition was supported by local firms including RSM, Pennington Silver, DSG Chartered Accountants, Henry Bath and Son Ltd, Pheobus Solutions Bennett Brooks, MJF Accountancy Ltd SB&P, Kaplan, Deloitte, DSW Bridge Houghton, Mazars and Practical Car and Van Hire who provided professional mentors and judges.

For further information about BASE and how to participate please visit:- ICAEW.Com/Base.

Merseyside sports stars launch The Clatterbridge Cancer Charity ₤15m New Cancer Hospital Appeal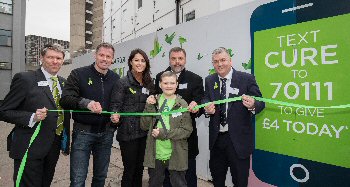 SOME of Merseyside's biggest sports stars joined patients and fundraisers to launch the appeal to build a new cancer Hospital for Liverpool. Olympic gold medal hockey player Sam Quek, and former Liverpool and Everton footballers Jamie Carragher, Graeme Sharp and Ian Snodin were at the site of the new Clatterbridge Cancer Centre in Liverpool City Centre for the landmark event. They joined 10 year old Reece Holt, who was treated at The Clatterbridge Cancer Centre NHS Foundation Trust in Wirral for a brain tumour, to officially start the ₤15 million appeal.

Katrina Bury, Head of the Clatterbridge Cancer Charity, said:- "One in two of us will develop cancer over our lifetime so this new Hospital is vitally important for the people of Merseyside and Cheshire. We are only going to get one chance in our lifetime to build a brand new facility like this, which will transform cancer care for generations to come. I would like to thank Sam, Jamie, Graeme, Ian and of course Reece for helping us launch this incredibly important appeal. We hope everyone will get behind us and help to build a cancer Hospital that we can all be proud of."

Reece, 11, from Morecambe in Lancashire who was treated with radiotherapy after surgery for an aggressive grade 3 brain tumour, said:- "I can't wait to see the Hospital once it is built, it looks like something out of the future and I'm excited about the new technology for treating patients like me."

Mum Rachel O'Neil said:- "Until the morning of the 5th May last year cancer didn't affect me or anyone I knew. By 7pm that evening my son was on full life support fighting for his life. Why should you get behind and donate if it doesn't affect you? Because it can happen in the blink of an eye and the work they do at Clatterbridge is invaluable."

Sam said:- "I would urge everyone to get behind this appeal in any way they can. It is really important that the great work of The Clatterbridge Cancer Centre in Wirral extends to Liverpool. This is an innovative City and it is incredible to see Liverpool at the centre of expert treatment and cancer research."

Graeme said:- "The staff at The Clatterbridge Cancer Centre do a fantastic job and it is great that this new facility will be opening in Liverpool and working towards eradicating cancer. This appeal is something everyone should get behind. Cancer has touched my family and I think most families, so it is really important that the City's football clubs back this appeal."

Jamie said:- "I am very pleased to be involved today. Cancer is something that affects us all at some time in our lives whether individually in our life or through a family member or a friend. I think to have the new centre here can only be great for the City."

Andrew Cannell, chief executive of The Clatterbridge Cancer Centre NHS Foundation Trust, said:- "Our new Hospital, due to open in Liverpool City centre in 2019, is part of an exciting programme of capital investment of ₤157m to expand and improve cancer care in Merseyside and Cheshire. We want to continue to change cancer care for the better and we can only do this by investing in our current sites in Wirral and Aintree, and building a brand new cancer Hospital in the heart of Liverpool. To ensure we really can achieve our vision for patient's right across the region, we are launching this extremely important ₤15m public appeal. With the support of the people of Merseyside and Cheshire, this new Hospital alongside our existing network of 10 operating sites means that patients will benefit from the most advanced cancer treatment, expertise and research as close to home as possible."

As well as the new Hospital, due to open in 2019, ₤8 million will be invested in the current site in Wirral, as part of the ₤157 million investment in transforming cancer care. The Radiotherapy Centre, at Clatterbridge Cancer Centre Aintree, and chemotherapy clinics in the region's district Hospitals will also continue to treat patients.
People are being invited to join in the drive by going green, the corporate colour of The Clatterbridge Cancer Centre NHS Foundation Trust and its charity. Schools, colleges and businesses have been holding green days, people have been having green bake sales and a number of landmark buildings in Merseyside, Cheshire and the Isle of Man have been lighting up in green in support of the appeal. Social media is awash with the hashtag #letsgogreen and people are being encouraged to post a selfie dressed in green and make a donation to the fund.
People who want to help can also text:- 'Lets194' to:- 70070 to make a donation of ₤4.