Stylish new Pizza Express restaurant opens in Formby
ON 13 February 2017, a stylish new Pizza Express restaurant opened in the heart of Formby, bringing it's signature and much loved dishes to the town for the 1st time. The new opening brings with it an 20 additional jobs to the community. The 141 sq ft restaurant, has been designed to provide a relaxing space with coastal links, reflecting the village.

Artwork in the restaurant celebrates the 1st lifeboat Station, in the world, launched in 1776, which was on Formby Beach and its remains can still be seen today. Restaurant Manager Archie Quinlan comments:- "I am incredibly excited to be bringing the nation's best loved pizza to Formby, and to be at the helm of such a great team."
Sponsor needed to go the distance for charity race team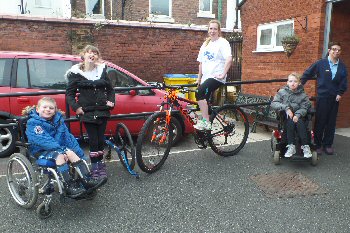 STICK 'n' Step, the North West charity that provides support to children with cerebral palsy and their families, is looking for a headline sponsor for its cycle race team at Revolve 24. This is a major 24 hour cycling endurance event being held at Brands Hatch motor racing circuit later this year.

Taking place on 16 September and 17 September 2017, at the iconic Brands Hatch race track in Kent, Revolve 24 consists of a number of cycling endurance events, where entrants can race as part of a team or as an individual. Stick 'n' Step is 1 of the event's official charity partners for 2017.

The sponsorship presents some great opportunities for publicity including branding on event materials and team cycling tops, social media coverage and inclusion in event press releases.

Hettie Miles, fundraiser from Stick 'n Step, says:- "Taking part in a Revolve 24 is a great way to involve workmates in a fundraising challenge. We have reserved 4 places for our sponsor to enter a team of colleagues. We will provide fundraising ideas and materials, a personalised cycling jersey and loads of support on the day!"

For information about the sponsorship package or to find out how you can help raise money for Stick 'n' Step by taking part in the cycle challenge as an individual or part of a group, contact Hettie, on:- 0151 638 0888 or sending her an email.

Leading Cheshire entrepreneur and investor named region's new Institute of Director Chair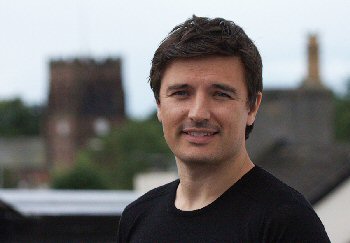 THE Managing Director and founder of 1 of Cheshire's leading creative and digital agencies, Carpe Diem, has been named as the region's new Chair of the Institute of Directors (IoD). Bill Carr, who has been a member of the IoD's regional committee for more than 2 years, has been appointed Chair of the IoD's Cheshire branch and the new role will see him fly the flag for businesses in the region, giving them a voice on the IoD national stage and helping the organisation promote business growth in the area. Small business mentor Bill, 40, will also help launch the IoD Advance concept to businesses in the north this year. IoD Advance focuses on expanding opportunities and access to professional development and peer to peer networks. An experienced entrepreneur and investor, Bill established innovative website design and digital marketing agency Carpe Diem, in Warrington, in 1999. Under his leadership, Carpe Diem has also grown into 1 of the UK's leading independent agencies, counting major international brands such as GlaxoSmithKline, Asics and New Balance as clients. In 2016 it was ranked in the top 30 out of more than 8,000 agencies registered with RAR (Recommended Agencies Register), and it was also named number 1 in Warrington, according to digital marketing and advertising website, The Drum, produced by Carnyx Group Limited. Bill puts his success down to his unrelenting passion for working with start ups, as both an investor and mentor, and his ability to provide expert guidance and support to a variety of businesses in the digital and tech sectors. He's currently supporting and investing in ten start ups through Manchester business accelerator network Ignite, including online education specialist Lumici Slate. Bill told us:- "The Cheshire branch of the IoD has always been a very proactive and engaging force within the local business community so this is a great platform to bring my knowledge and experience to further improve our offering to Cheshire businesses. I am passionate about supporting start up companies and I hope this role will give me the opportunity to use my experience; and the experience of our regional IoD members; to encourage, support and mentor the growing community of small businesses in Cheshire. In addition to its wide range of events and networking, the IoD provides, without doubt the best training and resources to support business leaders as they look to develop and grow. As we begin what will be a challenging but exciting year, I look forward to working with our members here in Cheshire to put forward our voice on both a regional and national level. I would also like to personally thank our former Chair, Jeff Hardman, for his efforts and support during my time working with the Cheshire committee."

Jeff Hardman came to the end of his tenure in December 2016. To find out more about the IoD, click on this link.