Disabled toddler gets specialist help to join in family fun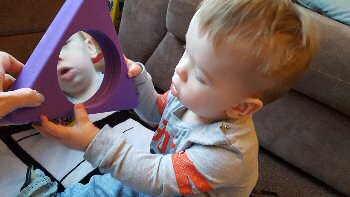 A boxful of specialist sensory toys is helping little Isaac O'Connor, from Allerton, develop his play skills and join in more family fun. Isaac, who will be 2, in March 2017, has the rare genetic condition Coffin Lowry Syndrome. As a result he has developmental delay and learning difficulties. With specialist toys being more expensive and harder to access than standard baby and toddler play equipment, Isaac's mum Kate Fenneberg contacted Newlife, the Charity for Disabled Children, for help.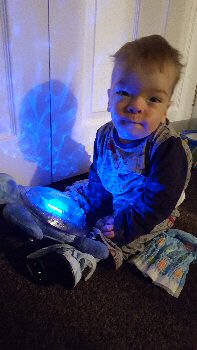 Newlife is the UK's largest charity provider of specialist equipment for children with disabilities and terminal illness, and has supported 605 children across Merseyside. Kate is a Special Educational Needs and disability link worker so knew all about Newlife and its range of support services; the charity also provided Isaac with a specialist car seat in 2016 In January 2017, Newlife delivered a Play Therapy Pod full of toys targeted at Isaac's needs. This was Newlife's 3,000th Play Therapy Pod loan. The toy service was launched as a trial with just a handful of pods; and there are now almost 400 in circulation around the UK. Each pod contains around ₤400 of sensory toys and is couriered to and from families' homes for 12 to 16 week loans.

Kate said:- "The toys came in a big crate and Isaac loves putting things in and taking things out of boxes so it was a hit from the start. We are gradually introducing him to the different items in the pod; and the 'Tranquil Turtle' has been an instant success."

The turtle toy projects an underwater effect on the ceiling and plays soothing music and sounds of ocean waves.

Kate added:- "Isaac and his 3 year old brother both love the turtle so we all have a bit of a wind down together at the end of the day. With specialist toys being so expensive it's good to be able to 'try before you buy' and I think I will end up buying one of the turtles. Isaac has only just started sitting up and can now play with his toys on the floor. Other toys in the pod are helping him develop new skills and interact with his brother."

Specialist toys are designed to stimulate the senses as well as helping children be comforted and distracted from pain through play. As well as benefitting children's development, there is a vital emotional aspect to playing; it is in these moments that barriers are broken, bonds are forged and relationships are strengthened.

Play Therapy Pod loans; suitable for all ages, from babies to teenagers; are just one of Newlife's range of practical support services, accessed via its national Nurse Helpline:- 0800 902 0095 (free from UK mobiles and landlines). Equipment Grants provide permanent provision of specialist aids; Emergency Equipment Loans offer a quick response for terminally ill and life limited children and those at risk through unsafe sleeping environments; Comfort Capsules enable families of terminally ill children to make memories together.
To find out more about how Newlife supports families across Merseyside, go to:- NewlifeCharity.Co.UK/Merseyside. The website includes information about how you can help children in your area. Alternatively, contact the Newlife County Liaison Team on:- 01543 431 444, or send an email.

Newlife guarantees that 100% of monies donated or fundraised in the Merseyside area will be used to specifically help local children with disabilities and terminal illness.
House shot at with children and baby in side
MERSEYSIDE Police are investigating after a firearms discharge that has been reported to have taken place at around 7.30pm, on Monday, 6 January 2017, within Whinfield Road, Crosby. We are told that both the Police and Merseyside Fire and Rescue Service where called out after a fire caused had damage to a front door and signs that a firearm had been discharged through the lounge window of a property on that road. Officers are making enquiries to establish the full circumstances of the incident and are working to establish the reason for the attack. House to house and CCTV enquiries are being carried out and high visibility patrols have been stepped up in the local area. It is believed the offenders may have left the area in a white car. Chief Inspector Mark Morgan said:- "The investigation into this incident is in its early stages and we are keeping an open mind as to why this has happened, but we do believe that the victims, who were new to the street, weren't the intended targets. Our priority is to establish who is responsible and to bring them to justice. Criminals who choose to use weapons do not care about putting other people at risk or the fear they bring to their own communities. There were children in this house, including a very young baby; the actions of those responsible were hugely reckless and we could easily have been dealing with a far more serious incident. We're relentless in our efforts to stop people acting in this manner. To protect our communities and achieve safer streets, I would appeal to the public to tell us what they know about the criminals involved in this incident and wider gun crime, so we can take robust action and put these people before the courts and in prison. If anyone believes they witnessed the incident or saw anything suspicious that could help us investigate this incident please contact our gun crime hotline on:- 0800 230 0600 or leave information anonymously with the Crimestoppers line on:- 0800 555 111."

Will your organisation support our NHS heroes?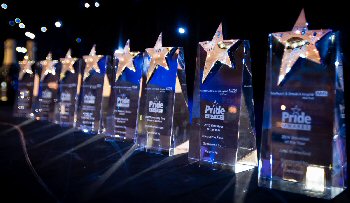 LOCAL businesses are being invited to help celebrate the work of NHS staff in hospitals and the community.

The Pride Awards, now in their 9th year, celebrate the excellence and professionalism of staff who work at Southport and Ormskirk Hospital NHS Trust. They are also an opportunity for staff to recognise the achievements of one another and for patients to highlight staff who have given outstanding care.

The Trust is keen to hear from businesses and organisations across Southport, Formby, West Lancashire and the North West who would be interested giving financial support to this year's Pride Awards.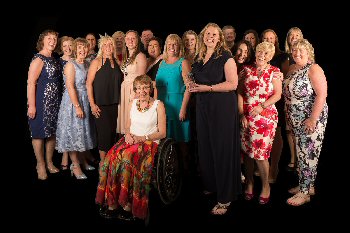 A number of sponsorship opportunities are available for each of the award categories.

Iain McInnes, interim Chief Executive, said:- "The Pride Awards are a fantastic opportunity for our community to help celebrate their NHS heroes. We are grateful to our existing sponsors for their continuing support but I know there will be many others who want to show their appreciation to staff by supporting this event."

Companies or organisations interested in sponsorship should contact Joanne Chorley at the Trust on 01704 704714 or email joanne.chorley@nhs.net.

The Pride Awards will be held at Southport Theatre and Convention Centre in June. Nominations for the Patient Award will open later in February.
Merseytravel receives gold reading award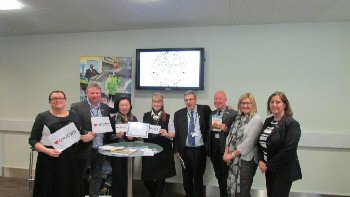 MERSEYTRAVEL has become the 1st employer to be awarded the Liverpool Quality Reading Award, in recognition of the various schemes put in place to facilitate reading for its staff. The award was presented on 8 February 2017, to the Union Learning Representatives and Reading Ahead Champions who support literacy inside and outside of the organisation.

Schools, colleges and now businesses can be accredited with a bronze, silver or gold award, which recognises the effort that they have made in promoting the joy of reading amongst their staff or pupils. Merseytravel are the 1st non School organisation to be recognised for this award and has reached Gold standard at the 1st time of asking.

In order to attain these awards schools and businesses are assessed across 6 themes, and whether they meet the criteria for bronze, silver or the gold award. The 6 themes include:- leadership and management, workforce development and business wide opportunities for reading for enjoyment.

Merseytravel are working with the Liverpool City of Readers acting as an ambassador organisation for promoting reading to other businesses and organisations across Liverpool.

Merseytravel Chair, Councillor Liam Robinson, said:- "We're very pleased to have been awarded the gold level Liverpool Quality Reading Award, recognising our staff for their commitment to learning and development. To be the 1st non School employer to receive the award emphasises the work that we do to facilitate reading with staff, the community and public transport users."

Gill Lawson, School Improvement Officer for School Improvement Liverpool, said:- "We are delighted that Merseytravel has embraced the aims of the Liverpool Reading Quality Mark and has become the first non-school employer organisation to achieve the award, and at gold standard."

Merseytravel has several reading projects, both for staff, partner organisations and our customers, which are facilitated in partnership with UnionLearn, The TUC, The Reader, our Union Learning Reps and Reading Ahead Champions, including:- the Reading Ahead Challenge and the Liverpool City of Readers' Anytime is Storytime programme.