4 in 10 workers in Liverpool believe the gender pay gap is 'out of their hands'
NEW research from the UK's leading independent job board, CV Library, has found that 41.2% of employees in Liverpool believe that the gender pay gap is 'out of their hands', with 75% admitting that they've been paid less because of their gender. The research, which surveyed 1,000 UK workers on their attitudes towards the gender pay gap in Britain, found that despite there being concerns around stopping pay inequality, 83.3% of workers in the city do believe that their employer can effectively measure any gaps in their organisation.

When asked what else could be done to prevent any further disconnect, employees in Liverpool cited: set salaries for each industry/role (30.8%), more support for working mums and dads (30.8%), ending the stigma around women going on maternity leave (30.8%) and more confidence amongst women to ask for more money (7.7%).

Lee Biggins, founder and managing director of CV Library, comments:- "The gender pay gap has been a topic of discussion for many years now, but it's concerning that it's come to a point where workers now see no way out. While there's been some development to better support working parents, such as the introduction of shared parental leave, organisations must work hard to facilitate their employees and create an honest and open culture where women feel comfortable taking a stance against inequality."

The study comes just 1 month before the changes in legislation around gender pay reporting are set to come in place. When asked about their attitudes towards these new rules, 70% of workers in Liverpool said that they would be happy for their company to publish their salary. In addition, 52.4% said that their reason behind this is that it would be fair for everyone. However, of the 30% who said that they wouldn't be happy for their salary to be revealed, 66.7% said that it's because it is private information. Furthermore, 41.2% of workers in Liverpool believe that the changes that are being put in place, in April 2017, will be enough.

Biggins continues:- "The new legislation coming into play in April should go some way to highlighting gaps in UK organisations, but it's clear that the issue won't end here. Our survey found that 43.3% of workers in Manchester think that there's more that could be done to stop the gender pay gap and the Government needs to listen. Without effectively tackling the issues around flexible working, caring responsibilities, helping women aged over 40 back into the workforce, and general workplace discrimination, the UK can't expect to see the gender pay gap to truly close for some time. We hope that our research is another wake up call for the nation when it comes to tackling unequal pay."

For more information, download the full report online.

Merseyrail profits would pay for keeping guards almost 3 times over
Photo by RMT Union.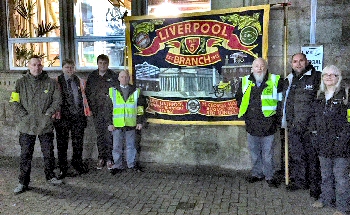 MERSEYRAIL and Merseytravel claims that they cannot afford to keep guards have been exposed as entirely wrong and misleading by new research showing that dividends paid out by Merseryrail are up to ₤14million a year, almost 3 times the cost of keeping guards. The research also shows that in 2014 the revenue income of Merseyrail was ₤51 million, and Merseyrail paid out a dividend not far short of ₤14 million meaning a quarter of passenger fares ending up in the pockets of Merseyrails owners, Serco and Dutch state owned Abellio. RMT believes that instead of getting rid of Guards Merseyrail should forsake some of its dividends to pay keep the guards and if it does not do so voluntarily then Merseytravel should renegotiate its contract with Merseyrail. If Merseyrail won't cooperate then, when their contract expires in 2028, any new contract should ensure that revenues are retained to keep the guards; this is easily achievable as the new trains are to be brought through a 30 year long financing deal.

Mick Cash RMT General Secretary said:- "These figures show that up to a quarter of fare revenue is being sucked out of Merseyrail to pay for dividends of around ₤14m a year. That is frankly obscene under any circumstances but the fact that around ₤14m a year is being allowed to leak out of Meresyrail while at the same time senior Liverpool politicians are pleading poverty as an excuse to get rid of guards will be utterly unacceptable for passengers and Council Tax Payers. And as Merseyrail is part owned by the Dutch state railway it is a case of Merseyside 0 Holland ₤14m. Merseyrail can easily afford to cough up and pay to keep our guards and if they don't then Liverpool's politicians should renegotiate Merseyrail's contract. If Merseyrail don't agree to new terms now, then the 30 year financing of the new trains easily allows enough scope for a new Merseyrail contract to ensure that revenues are retained to keep our guards. At the very least as we approach the elections in May Liverpool politicians should be calling for a review of the financing options."