A world of opportunity opens up for teenager Beth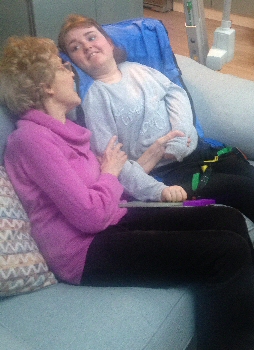 NEW opportunities are opening up for Formby teenager Beth Stevenson, thanks to provision of a portable hoist through a charity's innovative equipment service. Beth, aged 16, from Formby, has Rett Syndrome, a rare genetic disorder that almost exclusively affects girls and results in physical and mental disability. Combined with scoliosis, this has meant Beth has had to undergo hip reconstruction surgery and have steel rods inserted in her spine. She is now reliant on a wheelchair; and the use of a hoist to get her in and out of it.

Mum Valerie McGurk said:- "We have gone to great expense to have the ground floor of our house adapted for Beth, with ceiling track hoisting in part of it. Unfortunately this doesn't extend throughout so, for instance, she misses out on hugs with grandma on the settee and has to stay in her wheelchair when she is in the garden. It also means Beth hasn't been able to visit her auntie in London since 2012, when she had major surgery.So I researched portable hoists, but was horrified by the prices. That's when I thought about Newlife the Charity for Disabled Children, which helped us a few years ago with specialist seating for Beth. When Newlife said they could help us again I was elated. The news came the same week we had had two applications for social care and health funding refused. I thought 'thank goodness someone, somewhere really does care."

The hoist will increase opportunities for days out, when access to a toilet is essential, as well as overnight stays with family; and holidays. Valerie added:- "This has opened up a whole world of activities for Beth; it will transform her life."

Newlife is the UK's largest charity provider of specialist equipment for children with disabilities and terminal illness and has supported 614 children across Merseyside. It offers a range of services and is now championing a recycling initiative which takes equipment destined for landfill and refurbishes it to meet national standards.

Beds, wheelchairs, standing and walking frames, hoists, buggies, seating and bathroom aids; collected from statutory services and individuals; are available on a 1st come, 1st served basis online. Families who would be eligible for a Newlife Equipment Grant; like Beth's; can apply for free support through Newlifeable, should the item they need be advertised on the website. However, each item can also be purchased at a substantially reduced price which covers the cost of refurbishment. This not only enables Newlife to support more disabled children than ever before, it also helps statutory services by saving them storage costs for equipment they can't allocate locally and at the same time enabling them to meet their legal responsibilities by creating a trusted UK wide, 2nd hand market.

Newlife Head of Operations Stephen Morgan said:- "The number of disabled and terminally ill children in need around the UK is rising; government figures have put this at around 1 million; but the budgets set for provision through statutory services are declining at local levels. So new and innovative ways must be found to make provision. Newlifeable demonstrates the importance of getting this equipment back into circulation nationally."

To date, Newlife has recovered over ₤1.2million of equipment which it has refurbished at a cost of around ₤210,000.
To find out about the full range of Newlife services' website.

All aboard! Is your child the face of a new bus campaign?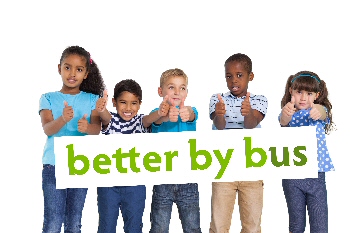 A brand new campaign which champions bus travel across Liverpool City Region is holding open auditions to find the young faces of its campaign.

Better By Bus, a collaboration between Merseytravel, Arriva and Stagecoach, is the 1st campaign of its kind in the UK and has been established to encourage people across the city region to use the bus more or to give it a go if they don't already use it, for all types of journeys.

The bus offering across Liverpool City Region is getting better all of the time; with new vehicles, improved services, travel apps and onboard WiFi as well as USB chargers coming on board.

The Better By Bus team is now on the lookout for the next generation of young talent to feature across the entire campaign and propel the message of Merseyside's wide bus travel to commuters and leisure passengers alike. It's a chance for the successful stars to gain experience on a real life video shoot and in a photo studio, have fun and be the identity of this City Region transport initiative.

Auditions will be led by Rare Studio, a Liverpool based performing arts school whose students work across the globe with some of the entertainment industry's most prestigious brands and artists; including:- MTV, The Brits and Robbie Williams. Previous experience isn't necessary, the only rule being that the future stars must be between the ages of 6 and 9 as of 31 March, 2017.

Julie Linforth, campaign conductor for Better By Bus, said:- "Better By Bus is a chance for us to create a unique campaign that really gets to the heart of why people should travel by bus and what better way to do this than include local kids; the future bus ambassadors. This is the 1st time Merseytravel, Arriva and Stagecoach have collaborated so we know Liverpool City Region's rising stars will be part of something truly special. We're looking for kids from across Halton, Liverpool, Wirral, St Helens, Knowsley and Sefton to come on board and help us create a fantastic campaign. The young people, aged between 6 and 9 years old, will play an integral part in the campaign and will shape the entire brand across advertisements, video and even social media; they really will be the face of the Better By Bus campaign. We're looking forward to working with Rare Studio on what we know is going to be a campaign to remember, and inspire the bus passengers of the future."

Lindsay Inglesby, director of Rare Studio, said:- "We're absolutely delighted to be working with the Better By Bus team to help find the faces for the campaign; we're looking for real characters! Being the first campaign of its kind we know that it's a real opportunity to not just trailblaze something completely different across the region, but give a new wave of talent an opportunity to shine. The auditions are all about identifying those who have the ability to take it to the next level and finding a variety of young people that are a true representation of the entire region. For us, it doesn't matter about experience or whether they're currently in training; it's all about the children being themselves and bringing real personality to the table. We're looking to find kids who are confident, humorous and bring bags of energy."

Auditions will be held on Sunday, 19 March 2017, between 11am to 4pm, at:- Rare Studio, 56 Wood Street, L1.

Successful applicants must be available during the week of 10 April for the filming of the:- 'Better By Bus' promotional video. Fees and expenses will be paid and licenses will be arranged from the applicable local authority.

If you would like to book your child a place at the auditions or find out more call:- 0151 707 0427 or send them an email. For further details about the campaign can be found online or find us on Twitter and Instagram @better_by_bus or Facebook at Better By Bus.