Wirral sets sights on billion pound transformation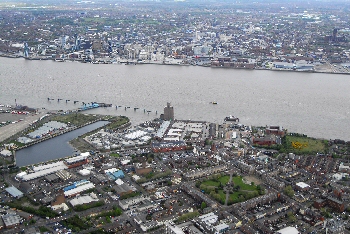 PHIL Davies, Wirral Council leader has revealed plans for the transformation of Wirral through a ₤1 billion development opportunity. The announcement, made at the international property conference MIPIM, will see work immediately commence to create Wirral Growth Company, charged with delivering growth including:-

► A world class residential, leisure and cultural destination, on the Woodside Waterfront, overlooking the Liverpool Skyline.
► A revitalised retail and commercial hub, underpinned by public sector support and a residential, retail and leisure development.
► Reinvigorating the historic Hamilton Square, as the centrepiece of a new mixed use heritage district.

Speaking at the global conference, at an event hosted by the UK Government, Cllr Davies told an audience of international investors and developers:- "Today is a landmark step forward in our ambitions for Wirral. The joint announcement of ₤1billion of development opportunities and the creation of Wirral Growth Company as our delivery vehicle reflects the growing interest and confidence in Wirral, Merseyside and the wider City Region. We will unlock the huge, untapped potential of Wirral and Birkenhead as an outstanding destination of choice for business and investment. The Wirral Growth Company will over the coming months identify a joint venture investment partner, triggering the creation of thousands of jobs and economic growth."

Initially focussed on 3 core areas in Birkenhead; Woodside Waterfront, Hamilton Square and the Town Centre; this development opportunity will result in residential, leisure, commercial and retail development. "Woodside waterfront is arguably 1 of the most outstanding residential and mixed used development opportunities not just in the Liverpool City Region, but anywhere in the UK. As Brooklyn's renaissance across the river from Manhattan has reconnected the New York City Boroughs, and as Paris, Melbourne and Budapest developments have connected Cities together across rivers, so it is now our turn. Over the coming weeks, Wirral is looking to the investor and developer community to come forward and be our partner on this project. For Wirral, this is a step change in how we encourage economic growth. We are putting around ₤100 million of land and other assets into the Wirral Growth Company and expect our partner to match that commitment. I am extremely proud of Wirral. We have a rich history of innovation, creation and entrepreneurship. I am incredibly excited to launch this new opportunity at the World's leading investment event; it is a huge step in creating a new, modern Wirral from which we can all benefit. Working with the Department for International Trade, Liverpool City Region, Invest Liverpool and numerous other partners, we have this week at MIPIM successfully put Wirral in the shop window for major investment and development. The reaction has been very positive and our team will, over the coming weeks, progress the creation of Wirral Growth Company and identify the investment partner or partners of choice." said Cllr Davies.

Wirral Council will soon be publishing a formal notice, which will start the process of identifying and securing a private sector partner to join the Wirral Growth Company. A new website, was launched this morning to coincide with the Leaders' announcement, and more information can be found there. There is also a supporting video on YouTube.

Join in the fun in Formby and Southport this Red Nose Day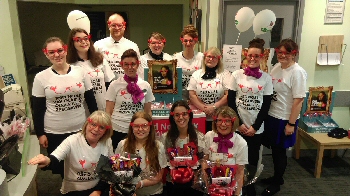 OPTICIANS in Formby and Southport are going all out to support Red Nose Day this year, and everyone is invited to join in the fun. Staff from the Specsavers stores in Formby and Southport will be offering a free raffle ticket for every pair of Official Comic Relief glasses purchased in store, giving customers the chance to win a jam packed hamper full of goodies.
In Southport, customers are being entered into a raffle to win a hamper complete with chocolates and wine, while children will get the chance to win a hamper full of sweet treats. Meanwhile the Formby team is offering children a chance to win a chocolate filled hamper by getting involved in a creative colouring competition in store. Both the raffle prizes and winning artwork will be announced in the respective stores on Red Nose Day, Friday 24 March 2017, where staff will also be holding a delicious cake sale for customers, with all proceeds going to the charity.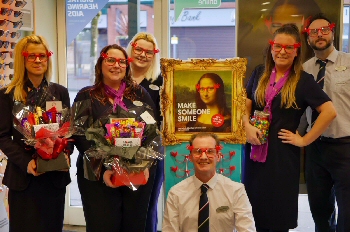 Customers are also invited to guess the number of sweets in the jar in return for a donation to the Red Nose Day appeal.

Victoria Dunn, store director at Specsavers in Formby and Southport, says:- "If you're looking for a fun way to help support Red Nose Day, look no further. Pop by the store on the 24 March and join in with the festivities, while helping us to raise as much money as possible for Comic Relief. We look forward to seeing you then."

Visitors to Specsavers in Formby and Southport can also get into the spirit of Red Nose Day and make their faces funny for money with Specsavers' official Red Nose Day glasses, in sizes large and small, for just ₤2, with all funds donated to Comic Relief.

Specsavers in Formby and Southport have joined other Specsavers stores nationwide to support Comic Relief by pledging to raise at least ₤250,000 this Red Nose Day to help change countless lives, both here in the UK and across Africa.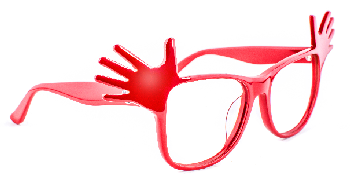 To contact Specsavers Formby call:- 01704 832311.

To contact Specsavers Southport call:- 01704 501944.
Specsavers has been a Red Nose Day partner since 2015.