Young refugees to receive support from new project in Liverpool
THE Children's Society, Liverpool Diocese, Mothers' Union and Home for Good have joined forces to support vulnerable young refugees and developed free training for professionals called Hat·tę·ḇāh, taking place at All Saints Worship Centre in Liverpool, on Friday, 24 March 2017.

Hat·tę·ḇāh is a Hebrew term which means sheltering people in their time of need and providing safety. As the global refugee crisis continues with hundreds of young refugees fleeing war, violence and persecution, some are making Merseyside their home. The vision of the initiative is to help local communities in Liverpool to be places of safety, or places of hat·tę·ḇāh, for refugee and migrant children. The project began with The Children's Society, a national charity supporting children and young people in need who experience poverty, abuse, neglect.

Mo Baldwin, the Director of Church Engagement talked about the initiative, saying:- "It started with people's outrage at the image of Alan Kurdi, the little Syrian boy washed up on the beach in Turkey, showing the tragic plight of refugees. It's an image that touched so many people's hearts and we wanted to harness this enthusiasm to make a difference. More children are fleeing their homes to escape violence, persecution or conflict than at any point since the Second World War. Many arrive traumatised, destitute and completely alone so we want to make sure they are supported as much as possible, given refuge and hope".

The awareness raising training is aimed at people who may come across refugees in their work or who might be influencers of others; this will include teachers, lawyers, medical professionals, family or youth workers and clergy. Participants will learn about the issues facing refugees in this country, improve understanding of rights and responsibilities, and find out how they can be more inclusive in their work. The training will be taking place, on Friday, 24 March 2017, All Saints Worship Centre, 55 Sheil Road, Liverpool. For more information please contact Angharad Lewis on:- 0207 841 4650.
Summer Hours? Apparently not...
IT'S not long now until the clocks change, on 26 March 2017, heralding the start of summer, blue skies, light evenings, and good times. But despite the extra daylight, it seems that the average Brit is not looking forward to it, or automatically planning how he or she is going to use those additional hours for fun. In fact, the majority of us actually end up working even more than we do in winter! Online lighting superstore, Scotlight Direct, surveyed 1,000 people to find out how we really feel when the clocks go forward. And it turns out that, far from knocking off early to take advantage of the sunshine, on average, Brits actually do an extra 2.04 hours of work. It seems that when it's lighter, later, we're more reluctant to make a dash for the exit than if it was dark (when perhaps it would be harder to see if we were sneaking out early...). In fact, less than a quarter of us say we work less during summer hours. And 36% of us are not actually in favour of Daylight Saving, for a whole host of reasons. The biggest bugbear we have is that the mornings are darker. 48% of us resent having to get up when it's practically pitch black, hoping to stay in our warm, snuggly bed and hibernate some more. Then the fact that the sky is still pretty blue by the time it's our usual bedtime means we don't actually feel tired, which then impacts on how much sleep we get; over a quarter us loathe not feeling sleepy when it's time to go to bed. And for those with kids, it's even worse! It's hard enough getting them off at the best of times; 15% of us dislike that they're awake for longer, causing even more mischief. And for the anti social amongst us, 6.5% resent feeling pressure to go out and do stuff in the evenings. But despite our strong feelings about it, not that many of us actually know the reasons why Daylight Saving was actually introduced in the first place. Half of us believe it was to do with farming (so farmers could do their work when it was light), but only 22% of us know that it was introduced in WW1 in order to save fuel. "It would seem that whilst many Brits love the start of BST, for obvious reasons, the time change isn't always a good thing! Clearly there is a link between the lighter evenings and the feeling of having to work longer because of it. Sometimes a cosy evening inside with the family is what you crave after a day at the office." says Andrew Fraser from Scotlight Direct.

Shotgun cartridges found in Bootle
MERSEYSIDE Police have confirmed that shotgun cartridges have been found in Bootle, on Wednesday, 22 March 2017. Officers discovered a bag containing live shotgun cartridges while searching an area of the old cemetery on Irlam Road and Church Green this morning. Officers from the Matrix Serious and Organised Crime Team found the ammunition, which has been recovered for forensic examination.

Chief Inspector Clare Jenkins said:- "We searched this area following information provided by the community. This recovery means there is less ammunition on our streets that could be used to cause fear, harm or even worse in our communities. The force is relentless in its pursuit of those involved in gun crime and will continue to carry out searches such as these to make our streets safer. Officers searched this area after receiving Information from the community, which again proves how vital the public can be in our fight against gun crime. This discovery has been brought about through continued work with the community as part of our on going pursuit to reduce firearms possession and discharges across Merseyside. The ammunition will be taken away and examined by crime scene investigators. I'd urge anyone who has any information about firearms in their community, to get in contact with officers from the Matrix Serious and Organised Crime gun crime hotline on:- 0800 230 0600 or Crimestoppers anonymously on:- 0800 555 111."
Motorbike stolen from the Birkdale area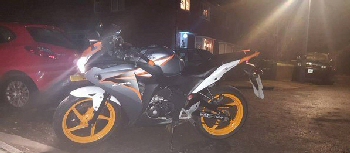 MERSEYSIDE Police is appealing for information after a motorbike was stolen from the Birkdale area. A black, silver and orange Honda CBR motorbike was reported to be taken on Liverpool Road, at around 9pm on Wednesday, 15 March 2017.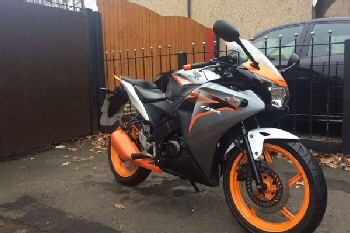 House to house and CCTV enquiries have been carried out in a bid to trace it. Police are also investigating a possible sighting of the bike on the car park of Hampton Road Clinic, at around 11.30pm, on 19 March 2017. Merseyside Police is also reminding owners of motorbikes and scooters to make sure their vehicles are safely secured when not in use and to use heavy duty chains, disc alarms and security markings to act as a deterrent to offenders and to make it easier for them to be located if their bike is stolen. Anyone with information in relation to either incident is asked to contact Merseyside Police on:- 101 or the confidential Crimestoppers line on:- 0800 555 111.