Professional Dog Trainer was in the Dog House this week!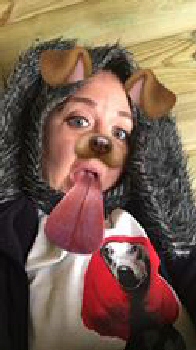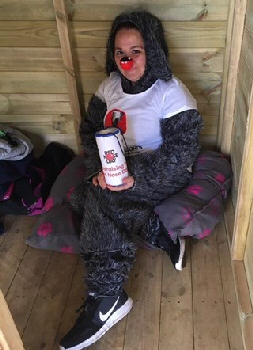 WELL Red Nose Day always brings in some fun ideas, but this for a member of the West Lancs Canine Centre, located at Mosside Farm, Formby, took their motto:- "We will train you to train your dog" that step further... Emma Fraser, who is a Pet Carer at K9 Comforts spent 13 hours, locked in a dog kennel, on Tuesday, 21 March 2017. The brave 37 year old, dog mad, single Mum, said that it was:- "I'm a single mum of 3 children and 2 dogs. I work for the company K9 Comforts that is linked with West Lancs Canine Centre, where we specialise in dog training, dog agility, Doggy day care and home boarding. To raise money for comic relief I have been in the Center's dog kennels for a total of 13 hours . It was a very cold and a very long day at that, but I hope it was worth it... I had hoped to make £500, but sadly I'm just off my target. All the sponsorship money I have raised will go to the Red Nose Day, Do Something Funny For Money appeal. So if anyone reading this who has not yet donated, please take a look at the photos I have of my time in the dog house via my Just Giving Page. I did this fundraising event as I know how important Comic Relief* is, raising money to change countless lives, both here, in the UK and across the World in Africa."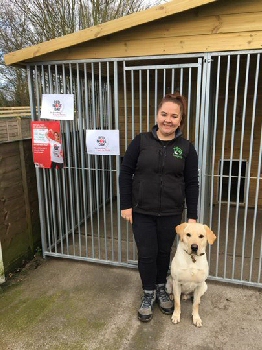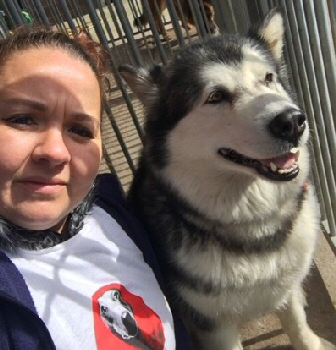 * Red Nose Day is an initiative of Comic Relief, registered charity 326568 (England/Wales) SC039730 (Scotland)

Iron Maiden Reissue Albums and Tour UK In May 2017!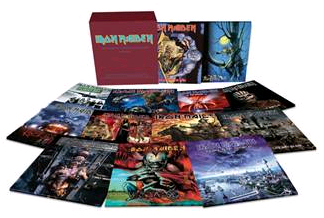 PARLOPHONE Records will follow 2014's reissue of the 1st 8 Iron Maiden albums, which spanned the 1980's, with 12 brand new pressings of albums from the period, from 1990 to 2015, in heavyweight 180g black vinyl.

Unlike the 1980's reissues which were cut from the original analogue master tapes, the audio on these releases has been cut from the high resolution re-masters of 2015 when the Maiden catalogue was digitally upgraded. They will be packaged in identical artwork to the initial vinyl releases.

The records will be released chronologically across a 3 month period:-

► 19 May 2017 - Collector's Box / No Prayer For The Dying / Fear Of The Dark / The X-Factor /Virtual XI - You can pre-order these now!

► 23 June 2017 - Brave New World / Rock In Rio (Live) / Dance Of Death / A Matter Of Life And Death

► 21 July 2017 - Death On The Road (Live ) /Flight 666 (Live) / The Final Frontier/ En Vivo! (Live)

As a bonus, the 1st 2 albums:- 'No Prayer For The Dying' and 'Fear Of The Dark' will also be made available in an exclusive Collector's Box sized to house all 12 albums with additional space for fans to insert the latest Maiden studio album:- 'The Book Of Souls', which was released on triple black vinyl in 2015. The Collector's Box will be a strictly limited edition and available while stocks last.

These high quality, black vinyls comprised of eight studio albums together with a specially selected choice of 4 live recordings from this period, completes the Iron Maiden album reissues series and offers Maiden fans the opportunity to own the band's entire studio album legacy on vinyl simultaneously for the very 1st time.

Iron Maiden's:- 'The Book Of Souls Tour' resumes with a series of arena shows opening in Sportpalais, Antwerp, Belgium, on 22 April 2017 and continuing into Germany, UK and Ireland, finishing with 2 shows that have already sold out, at London's 02 arena, on 27 May and 28 May 2017.

The band then flies to the U.S.A for an extensive series of arena and amphitheatre shows including dates in Canada, ending with 2 nights in Brooklyn, New York on 21 July and 22 July 2017. This is the final leg of:- 'The Book Of Souls Tour'. Most shows are already sold out. Go to:- IronMaiden.Com for show dates and ticket availability.

UK and Ireland dates are as follows:-

► 4 May 2017, UK, Nottingham Motorpoint Arena.
► 6 May 2017, Ireland, Dublin 3 Arena.
► 8 May 2017, UK, Manchester Arena.
► 10 May 2017, UK, Sheffield Arena.
► 11 May 2017, UK, Leeds 1st Direct Arena.
► 14 May 2017, UK, Newcastle Metro Radio Arena.
► 16 May 2017, UK, Glasgow SSE Hydro Arena.
► 17 May 2017, UK, Aberdeen AECC GE Oil and Gas Arena.
► 20 May 2017, UK, Liverpool ACC.
► 21 May 2017, UK, Birmingham Barclaycard Arena.
► 24 May 2017, UK, Cardiff Motorpoint Arena.
► 27 May 2017, UK, London 02 Arena.
► 28 May 2017, UK, London 02 Arena.
NHS staff in Liverpool deserve a better deal - says Women's Equality Party metro mayor candidate!
TABITHA Morton, who is campaigning to be mayor of the Liverpool City Region, reacted with anger to today's reports that senior NHS managers in the city have been awarded pay rises of up to 50%.

Morton, the Women's Equality Party candidate for Liverpool Metro Mayor, said:- "The Liverpool Clinical Commissioning Group's (CCG) decision to award grotesquely inflated pay rises to their senior team - their chairman Nadim Fazlani's salary rose by £50,000 to £155,000 in 2014 to 2015; is unjustified and grossly unfair. It is also gendered; women are hugely outnumbered in senior positions in the NHS and across working life."

Morton added that the Government has set a target of a 1% pay rise for NHS nurses, midwives and other healthcare workers this year.

Tabitha said:- "Women take up the majority of these roles, and are working long hours for less and less reward, while senior pay continues to rise across the NHS. As Mayor of the Liverpool City Region I will ensure equal numbers of men and women are represented at senior level across the public and private sector. And I will implement policies to enable women to contribute fully to our region's economic growth, addressing unequal pay and the lack of opportunities to progress their careers. Liverpool's metro mayor will have new powers to make big changes in this region. I want to use those powers to help the women here to thrive."
Voting for the new Mayor of the Liverpool City Region will take place on:- 4 Mar 2017. Areas able to vote in this election will be the Halton, Knowsley, Liverpool, St Helens, Sefton and Wirral. If you haven't done so, you can register to vote online at:- Gov.UK/Register-To-Vote.