Hospice seeks corporate sponsors for 55th Anniversary events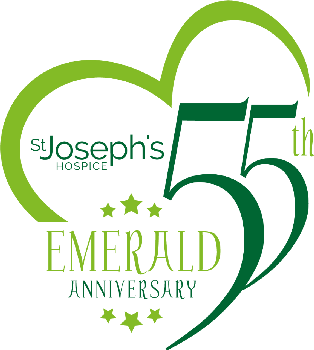 ST. JOSEPH'S Hospice is on the lookout for business across Sefton and Merseyside to support it during its special 55th Anniversary year.

The Hospice's fundraising team has created a variety of sponsorship packages which offer a fantastic platform for local businesses at some of its most high profile events in 2017.

The highlight of the year will be the Hospice's Emerald Ball, which will take place at the stunning Isla Gladstone Conservatory on Saturday, 9 September 2017, so it's on the lookout for a headline sponsor, as well as award, drinks and table sponsors, with packages ranging from £500 up to £10,000.

In return for their investment, the Hospice will provide businesses with a package of branding, advertising and PR, appropriate to the level of sponsorship, which will raise their profile among an audience of over 250 local people.

For the 1st time, the Hospice is also launching a number of sponsorship options for its Spring Ladies Day, at Formby Hall, on Sunday, 14 May 2017. This will be an audience of over 200 ladies from across the area who come together twice a year for an afternoon filled with pampering, shopping and partying.

Sponsorship packages for the Spring Ladies Day range from £100 to £6,000 for the principal event sponsor, which will be the most visible corporate brand at the event.

Penny Hamer, Director of Income Generation at the hospice, said:- "We're asking local businesses to show their support and commitment to the Hospice and to the people it cares for in our community. Our 55th Anniversary is the starting point for securing funding for the next 55 years so that we can offer more services and open our doors to more local people in the future. If your company would like to sponsor an event, but there isn't a particular package to suit your individual business needs, we will try to tailor make a package to suit you. Alternatively, if you decide not to purchase a sponsorship package, please consider making a donation, whether it is monetary or an item for our raffle, and we will gladly thank you in our event programme."

To become 1 of our event sponsors, or to find out more, please call Laura on:- 0151 932 6026 or send an email.
Voting opens to find Liverpool's young X factor artists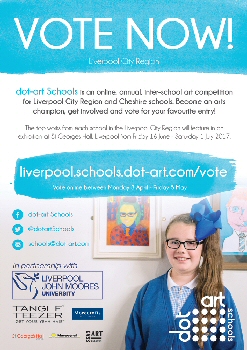 A public vote to find Merseyside's best young artists opens, on Monday, 3 April 2017. More than 800 pupils entered this year's dot-art Schools competition and are hoping for your votes to see their artwork on display in a free public exhibition at St George's Hall later this spring. The online inter school art contest, which is now in its fifth year, gives both Year 5 and Year 9 pupils across the Liverpool City Region the opportunity to showcase their artistic talents and have their work displayed in the exhibition. The judges have narrowed it down to their top 3 entries from each school ready for the public vote. The artwork with the most votes from each participating school will form part of the 2 week exhibition, which opens in June 2017. The short listing panel is made up of representatives from some of Merseyside's best-known arts and cultural institutions, including Polly Brannan Education Curator at Liverpool Biennial, Sandra Penketh Director of Art Galleries at National Museums Liverpool and Professor Caroline Wilkinson, Director of the School of Art and Design at Liverpool John Moores University. View the shortlist and vote online for the work you would like to see on show at St George's Hall, from 3 April 2017. Voting will close at midnight, on Friday, 5 May 2017.

Tech firm's revolutionary battery system impresses in University trials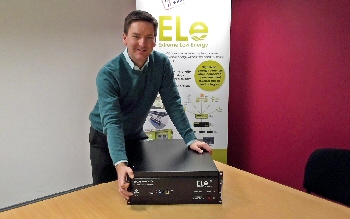 A technology firm in Formby has produced a new battery system which can power a suite of computers for almost 8 years. Tests conducted over a 5 month period by engineers at The University of Manchester showed that Extreme Low Energy (ELe)'s POD could power 30 computers for 7 hours a day over 2,830 consecutive days (7.75 years) before the battery capacity dropped to 80%. The pioneering low energy system; which can also act as a back up generator; is attracting interest from schools in developing African nations. The POD stores energy in high performance lithium ion batteries, charging overnight to make use of off peak energy tariffs before supplying power to ELe's suite of low energy PCs and monitors. When used in conjunction with a low energy computing suite, ELe claims its POD can help organisations save at least 70% in energy costs.

Dr Rebecca Todd, School of Electrical and Electronic Engineering at The University of Manchester, said:- "We applied our findings specifically to consider the use of the ELe POD in educational establishments, and concluded that an average school should be able to use the POD system for over 14 years before the battery reaches 80% capacity."

Mark Buchanan, founder of Extreme Low Energy, said:- "As a specialist in the manufacturing of energy storage technologies and alternative energy generation devices the POD is just 1 innovative product we offer to help customers operate partially or fully off grid. We were confident about the longevity of our POD before the testing, but the findings certainly impressed us. We're sure that the results of these independent tests will help prove the value of our DC power solutions and technologies to potential customers both in the UK and overseas."

For more information visit the website.
The Beast most popular in the North, South votes for Simba
NORTHERNERS have voted for The Beast, star of the 1991 film Beauty and the Beast, as their favourite male Disney character - whilst the rest of the country chose loveable Simba from Lion King, a survey of more than 15,300 has revealed. Respondents from the North West and also the Yorkshire and Humber regions, unanimously chose The Beast as their favourite male character, beating others including Simba, Woody from Toy Story, Peter Pan, and Frozen's Kristoff.

The survey was launched by holiday company Ocean Florida, specialists in travel to the Orlando region, in a bid to find out Britain's opinions on Disney's famous characters.

Head of Marketing Sabrina Hamilton, said:- "The Beast coming out as the favourite character for the North West and Yorkshire was 1 of the most startling results from the survey. Simba from the Lion King; a loveable yet cocky character who learns to take responsibility; swept the board across the rest of the UK. But for the north it was the gruff and lonesome Beast who won out. Perhaps the stereotypes are true and that northerners are made of strong stuff, even when it comes to choosing Disney characters!"

There were areas of national unity, for example Mickey stole the show with 41% of the national vote for the favourite classic character, followed by Minnie Mouse with 26% of the vote. Of course, the main characters are nothing without their trusty sidekicks. Ocean Florida found that the most popular for the majority of the UK is the wise cracking snowman Olaf, from Frozen. However respondents in London and Wales preferred the helpful and kind, yet jealous, Tinkerbell, best friend of Peter Pan.

When it comes to the bad guys, the villainous Maleficent from Sleeping Beauty gets the loudest 'Boooo' from all regions, apart from respondents in Northern Ireland who thought the dastardly sea witch Ursula from The Little Mermaid was the biggest baddie.

Things became less clear cut when it came to choosing favourite song from a Disney film. "Be Our Guest" from Beauty and The Beast, just pipped "Circle of Life" from Lion King to the top spot with 20% against 17%Hamilton added:- "In the 1st 2 months of 2017 we've seen sales of Disney holidays increase by more than 30%, proving Brits just can't resist adding a bit of Disney magic to their family breaks."