Railway Union, RMT to strike on Grand National day!
THE UK's Railway Union, RMT, on 21 March 2017, have confirmed that a new strike will take place on the day of The Grand National, on Saturday, 8 April 2017. The strike will last for just under 24 hours, between 00:01 hours and 23:59 hours. This has worried many businesses who rely on visitors to the world famous steeplechase, that first started in 1839, that this strike might have major knock on effect to visitor numbers. the RMT claim that:- "Merseyrail have wrecked talks over the crucial issue of the future of the safety critical role of the guard and they have no option, but to take further action." It is also being reported that Drivers will also be on strike over this issue, but we have not had that officially confirmed as of yet.

In addition, the RMT have told us that they will be stepping up the campaign, involving the general public and targeting politicians across the areas served by Merseyrail. The areas affected have very mixed reactions to this action and the RMT now aims at maximising political and public support for RMT's fight for a guaranteed guard on the company's services.

RMT General secretary Mick Cash said:- "It is disgraceful that Merseyrail wrecked a golden opportunity to engage in serious talks with the union yesterday. RMT reps set out key points for discussion that could have moved the dispute forwards, Merseyrail kicked that conciliatory approach back in our faces and made it crystal clear that all that they are interested in is the union signing a surrender document which gives them a free hand to rip apart the safety culture on the railway. It is that cynical and hostile stance from Merseyrail which has left us with no option, but to put on this additional strike action. RMT recognises the severe impact that the action will have on Grand National Day but we are dealing with an employer that refuses to listen or engage with the union on the critical issue of safe rail operation and we ask the public to understand that we have no option, but to take this high profile action, to force the company back to the negotiating table. There is ample time between now and 8 April 2017, for genuine talks to take place and for a safe and sustainable deal that protects the future safety across Merseyrail services to be put in place. The company should take up that offer of further talks as a matter of urgency. Merseyrail are completely ignoring the clear wishes of their own passengers, who overwhelmingly oppose the idea of Driver Only Operated trains on their network. That pig headed attitude has forced the union's hand and the idea that we would compromise on the fundamental issue of rail safety is absurd. The ball is now firmly in Merseyrail's court."
New Single 'Wiggle' Featuring Snoop Dogg out soon!
THE latest chapter in the continuing phenomenal success of Jason Derulo's 'Tattoos' album starts with the release of the single 'Wiggle' on Beluga Heights / Warner Bros. Records, on 30 June 2017. Initially featured on the new Deluxe Edition format 'Tattoos', the track features a very special guest appearance courtesy of the inimitable Snoop Dogg.

Produced by Wallpaper along with Axident:- 'Wiggle' is a cheeky, immediately memorable, heavily rhythmic groove in which Jason Derulo's famous vocal gift is complemented by a typically smooth rap by Snoop Dogg.

"It's 1 of the most fun records you've ever heard in your life. It's the most excited I've been about a song I wrote in my entire career." said Jason. The accompanying video will be launched soon, but a taster is already available with the official behind the scenes video which can be seen here.

'Wiggle' has already been praised in the States, notably by Perez Hilton who has commented:- "It's insanely addictive! The song is so sexy! A big hit!"

Jason Derulo's recent single 'Trumpets' passed 450,000 UK sales, which together with the phenomenal sales of 'Talk Dirty' (#1 with 530,000 sales to date) and 'The Other Side' (#2, 400,000 sales), means that the sales of tracks taken from his current album 'Tattoos' has now exceeded a million.

Jason Derulo has become a major chart sensation since he 1st burst onto the scene in 2009 with his debut track 'Whatcha Say'. After three chart topping singles:- 'In My Head', 'Don't Wanna Go Home' and 'Talk Dirty' and a further five Top 5 hits, he has now sold over 3.5 million singles in the UK alone. His continuing success on these shores is also demonstrated by his Top 10 airplay hits, three Top 10 albums, which are approaching sales of 500,000 and 1.4 million unique UK fans across Twitter and Facebook.

His superstar status is also soaring internationally too. His recent singles have hit the upper reaches of the charts across Europe, at home in the States, as well as Canada, Australia and New Zealand with worldwide sales now standing at 26 million singles and 1.2 million albums. His YouTube Channel has been viewed 880 million times, while his combined Facebook and Twitter following now exceeds an audience of 17 million people.

Jason Derulo will return to the UK and Ireland this summer for the following dates:-

► 20 June 2017 – Sheffield, O2 Academy (headline show)

► 22 June 2017 – Sunderland, Stadium of Light (North East Live 2014 with Jessie J)

► 23 June 2017 – Liverpool, Echo Arena (headline show)

► 25 June 2017 – Belfast, Odyssey Arena (headline show)

► 26 June 2017 – Cork, Live At The Marquee (headline show)

► 28 June 2017 – Ipswich, Chantry Park (East Coast Live with Jessie J)

► 29 June 2017 – Weston Super Mare beach (West Coast Live with Jessie J)

Blue Air launch their latest European base at Liverpool John Lennon Airport (LJLA)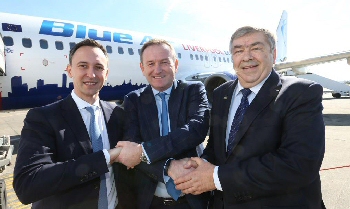 BLUE Air have officially launched their latest European base at Liverpool John Lennon Airport (LJLA) with a morning of celebrations, including a short familiarisation flight for over a hundred guests in attendance.
Liverpool is now Blue Air's 8th European base and 1 of the airline's 189 seat Boeing 737-800 aircraft was flown to Liverpool, on 24 March 2017, that will now to operate over Summer 2017 on the airline's 4 new routes to Rome, Milan, Hamburg and Alicante.
As part of their plans to become Liverpool's airline, in October 2016, Blue Air launched a competition for the public to design a new livery for this aircraft, with the winning design seen in Liverpool for the 1st time.
The unique livery recognises the City's strong musical links, its warm welcome and famous City Skyline, with both halves of the City's football support catered for through the use of both blue and red colours.
The basing of a Blue Air aircraft at Liverpool will be creating up to 35 new, direct, local jobs, with a number of new airline employees on hand to meet guests during today's celebrations.
Next week, Blue Air's Liverpool base will introduce daily departures to Rome Fiumicino, 4 times weekly services to Milan Bergamo and Hamburg, as well as a three times weekly service to Alicante.
These new services will complement Blue Air's existing flights from Liverpool to 3 destinations in Romania and are expected to be popular with both departing passengers from across the region and arriving international visitors too. Earlier this month, Blue Air announced what will become their 8th route to operate from Liverpool, with twice weekly flights to Larnaca in Cyprus commencing in June too.
In addition to the airline's unique Liverpool aircraft livery, Blue Air have further committed to the City Region by announcing today that they will be working with Liverpool John Lennon Airport and its #LJLALoves charity brand, by asking passengers on all their Liverpool flights to make a donation to the Airport's charity partner, Alder Hey Children's Charity.
It is hoped that with the Airport and Blue Air's help, thousands of pounds can be donated over the coming months, with funds raised going towards supporting Alder Hey's latest initiative to create a world class 'Digital Hospital.'
Blue Air 1st started operations from Liverpool in December 2014, with a three times weekly departure to Bucharest. Just 3 months later the airline added a twice weekly service to Bacau in March 2015, followed by a twice weekly service to Cluj Napoca, in June 2016.
Andrew Cornish CEO of Liverpool John Lennon Airport commented:- "Today has been a tremendous occasion with guests from across the City Region helping to give a great welcome to the team from Blue Air in recognition of their latest commitment to Liverpool. Blue Air is 1 of Europe's fastest growing airlines and continue to go from strength to strength. This new base is a significant financial investment and from installing a unique Liverpool livery on their aircraft, to helping raise funds for an amazing local charity, Blue Air's commitment to the City Region is clear for all to see."
Gheorghe Racaru, CEO of Blue Air commented:- "It is indeed a proud moment for us at Blue Air to further expand our European network with the addition of Liverpool as our 8th operational base. We are confident that our actions will make North West England more accessible, further boost tourism and foster economic development in the region. Today's achievement indicates our commitment to offer Liverpool City Region and their potential visitors, a seamless and convenient travel along with affordable fares. Our based 737-800 will connect Liverpool to the currently un-served Rome, Milan and Hamburg, while also offering an increased offer on the Alicante sector. We look forward to sustaining the local economy, and subsequently increasing our presence at the airport with even more routes in the coming future."
Lost medication warning issued in Bootle
MERSEYSIDE Police have issued an appeal to the public to be cautious after prescription medication was reported to have gone missing about 3pm, on Friday, 24 March 2017. We are told that Officers received a report at medication had been lost some time that day, after 11.15am, between Knowsley Road, Bootle and the ASDA store, near Switch Island.

The tablets, which were in a paper bag, are as follows:-

► 4 x 8mg Subutex.
► 4 x 2mg Subutex.

Merseyside Police Officers are reminding people that taking any medication which has not been prescribed for them can be dangerous and, in some circumstances, can prove fatal.
Anyone who finds any of the medication is asked to hand it into any Pharmacy or Police Station or alternatively call Officers on the:- 101 number.