Albert Gubay Charitable Foundation donates £20,000 per year for 3 years to Nugent

NUGENT Patron Phil Thompson helped launch the Gubay Crisis Fund this week, which has been made possible through the support of the Albert Gubay Charitable Foundation.

Nugent works at the heart of some of the hardest hit communities in the North West and as such we are keenly aware of the pressures disadvantaged families and individuals face. The Albert Gubay Charitable Foundation have donated £20,000 per year for the next 3 years to Nugent to help us provide desperately needed support.

The Gubay Crisis Fund will provide 1 off grants to support families and individuals living within the Archdiocese of Liverpool where a relatively small amount of funding can make a big difference.

Guest at the launch event, at Bishop Eton in Woolton, where treated to performance from Visualise, the St Francis of Assisi school choir, and heard some of the real stories of families we have helped so far.

A mother and her 5 children had to be rehoused, the children were sleeping on the floor, her family were helping out with food donations and she was using a neighbour's fridge and freezer to keep the food in. The school turned to Nugent for help. "Mum was in tears with gratitude and relief when we were able to get her a fridge freezer. It's made a life changing difference to one of our families." Lay Chaplain of a High School, Archdiocese of Liverpool

Phil Thompson said of the Gubay Crisis Fund:- "This a fantastic announcement, Nugent can now help people in crisis directly and quickly, and do what they do best, giving families and young people the support they need to help them to change their lives for the better."
Crime fighting partners sign up for closer relationship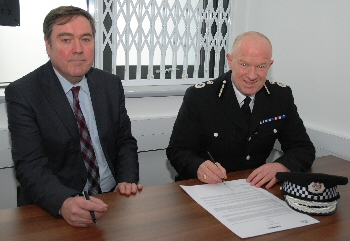 CLOSE co-operation between partners responsible for keeping Wirral communities safe is being cemented further with the opening of new Safer Wirral hubs based directly in local Police Stations. Community Patrol and the Anti Social Behaviour Team are the 1st Council services to relocate to police stations to work alongside Neighbourhood Police Officers and PCSOs, to tackle crime and disorder within the community. Though partnership working has been a feature of the fight against anti social behaviour for the last 15 to 20 years, this is the 1st time Wirral Council and Merseyside Police have signed a formal agreement to join forces.

The historic agreement was signed at the opening of the new Bebington Police Station, which is also one of the locations where a Safer Wirral hub is now based, by Merseyside Police Chief constable Andy Cooke and Wirral Council's Chief Executive Eric Robinson.

Cllr George Davies, who is Wirral Council's Cabinet lead for Community Safety, said:- "Success in building safer neighbourhoods is beyond the ability of the police or the Council alone and requires this stronger partnership approach within and across all partner agencies and communities. We know that there was already good joined up working across partners to improve community safety. This development will build on this further due to the integration of Council staff into Policing teams and a new way of directing their work; the Police will now have clear operational control for all community safety resources, so that they can respond more quickly and more appropriately to areas of need. We will continue to seek opportunities to collaborate even further, involving other potential partners such as those working in the Fire and Health Services, to ensure that we maximise the potential of all available resources towards our goal of making Wirral a safer place."

Dock bridges closure on 1 of the busiest routes in the Wirral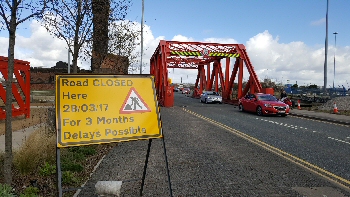 RESIDENTS are reminded that one of the busiest routes across the docks between Wallasey and Birkenhead closes next week as work on a multi-million pound investment in highways infrastructure gets underway.

The works involve 2 of the old '4 bridges' - the 'A' and 'C' bridges; along the A554 Tower Road being replaced completely and mean there will not be a through route along this road until the end of 2017.

As a result, the Council and its partners are urging those who use the route, either as drivers or on public transport, to familiarise themselves with the diversion routes or changes to scheduling which will be in place while the works take place.

Cllr Stuart Whittingham, Wirral Council Cabinet member for Highways and Infrastructure, said:- "This is an exciting project and a significant investment in Wirral's transport infrastructure which will bring long-lasting benefits to the local area, residents and the economy. Of course we know that replacing the bridges will mean more disruption to the travelling public between March and December as the works take place and there will be no through route along Tower Road, but I believe that residents will show the patience that they always do in these circumstances and see the bigger, long term picture. 1 of our most important 2020 pledges is to have a local transport infrastructure that is fit for the future and this project is a major element in us delivering on that promise."

Cllr Whittingham added:- "The benefits of these new structures and the improvements it will bring to the road network will help us to grow and develop the local economy, particularly around the Twelve Quays area and the Wirral Waters project. Moreover, their replacement at this time essential. They have been requiring frequent and costly maintenance over recent years causing significant disruption to drivers, with the route regularly having to be closed, often with very little notice, for emergency or essential maintenance. The current bridges have many outdated features and if the rate of deterioration had been allowed to continue the route would very soon have become unsuitable for HGVs."

The works will involve the 'A' Bridge; the 1 that is covered by the machine house; being replaced with a new innovative rolling bascule lifting bridge, powered by hydraulic cylindrical rams. The 'C' Bridge, which is the 1 closest to the new Wirral Met College and Contact Company buildings, is being replaced with a modern flat deck fixed concrete slab.

The works are being funding largely due to a successful bid of more than £6 million for Department for Transport (DfT) Local Highway Maintenance Challenge funding.

Well marked diversion routes, via Dock Road, Duke Street and Cleveland Street, will be in operation when the full road closures are in place and access to and from the Stena Line ferry terminal will be maintained at all times. Drivers should expect additional traffic and delays during this time and plan their journeys accordingly.

The 145, 811, 409 and 423 bus services will follow the diversions put in place and some timetables will be amended. Both bus users and motorists should expect additional traffic and delays and are therefore advised to check before they travel, plan their journeys and leave extra time for journeys.

A temporary footbridge will be provided next to the 'C' Bridge during its replacement, so that pedestrians and cyclists can continue to use Tower Road. A temporary shuttle bus will be provided during the closure of the 'A' Bridge from late June 2017 until the bridge re-opens to pedestrians. Details of the shuttle bus operation will be provided in due course.

Cllr Whittingham added:- "Much planning has gone into this project over a considerable period of time and we believe we have identified the shortest possible duration to carry out the work to enable both bridges to be replaced quickly and in a safe and efficient way. We have been liaising closely with Merseytravel and with bus operators to ensure appropriate and sufficient public transport provision is maintained."

Details of all Wirral roadworks can be found online. For help with journey planning on public transport, visit:- Merseytravel.Gov.UK or call:- 0151 236 7676.