Making sure you have a Healthy Home
LIVERPOOL residents struggling to pay their fuel bills are being encouraged to seek advice from the City Council's energy experts. The City's Healthy Homes programme has been expanded and is now open to any resident in the City; regardless of whether they own or rent a property; who has difficulty paying their gas or electricity bills, or struggles to heat up their home. Latest reports show 14.3% of households in the City are living in fuel poverty, which equates to around 30,000 homes; the worst rate in the country. It is estimated poor housing conditions cause up to 500 deaths and 5,000 illnesses requiring medical attention each year.

A team of qualified energy awareness officers are on hand to:-

► Give advice on understanding bills and using less energy.

► Recommend the installation of LED lighting.

► Draft-proof a property.

► Help with minor window casement repair.

► Organise repair or replacement of a boiler.

► Organise to replace radiators.

► Look at how residents can switch to a cheaper energy provider.

► Check to see residents are receiving all the benefits they are entitled to

The aim of the Healthy Homes team is to reduce health inequalities caused by poor quality housing conditions, and as a result minimise the burden on the NHS. Studies show 27% of people in Liverpool do not have central heating. Homeowner Mr Leach, contacted the team after struggling to heat his house when his boiler of 25 years broke down. The Dovecot resident was frequently in and out of Hospital, as his poor health condition was exacerbated by his cold home. As a result of getting in touch with the Health Homes team, he had a new boiler installed.

Mr Leach said:- "I'm delighted with the works carried out, which meant I was able to leave Hospital, which was previous delayed due to the house being so cold. Thank you so much!"

Within 12 months the team hopes to achieve the following:-

► Prevent up to 8 premature deaths when fully implemented.
► Reduce GP consultations and Hospital admissions by an estimated 100 cases.
► Take 200 households out of fuel poverty.
► Increase community awareness around necessary housing improvements.
► Increase awareness and access to existing health and wellbeing linked services.

The service is free and can be accessed by calling:- 0800 012 1754 or via sending an email. Any work carried out following advice from the team can potentially be covered by grants of up to £500 per property.

Cabinet Member for Housing, Councillor Frank Hont, said:- "We know there are huge numbers of people in this City who are on a low income and struggle to pay their fuel bills, and as a result can become poorly, and in worst case scenarios can lose their lives. We want to get the message out there that the fully trained Healthy Homes team is on hand to give free advice and support on what measures can be taken to stay warm and healthy. As we head towards the summer months, heating may become less of a priority, but we are urging residents to plan ahead and put the measures in place now to make sure by the time winter arrives, improvements have been made, illnesses can be avoided and money can be saved."

Illicit alcohol and tobacco worth £11,000 seized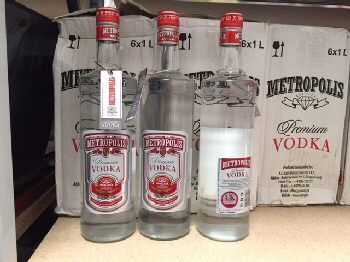 OFFICERS from Liverpool City Council's Alcohol and Tobacco Unit seized around 130 bottles of illicit vodka from an off licence as part of a joint operation with Merseyside Police. After visiting Discount Booze on Stanley Road in L5 on 28 March and seizing a quantity labelled Metropolis vodka worth £2,500, a study of the bottles showed the duty paid number on the bottles was not consistent with the manufacturer. Also seized was a quantity of counterfeit tobacco from Taz Newsagents on Rocky Lane in L6. A total of 84 packets of 50 grams of Golden Virginia and 580 cigarettes with a total street value of £7,500 were discovered hidden in the shop.

Councillor Christine Banks, Chair of the Licensing Committee, said:- "The Alcohol and Tobacco Unit could not determine where Metropolis Vodka came from or the company that made it, which means that it is impossible to guarantee its quality. These type of spirits are often topped up with toxic substances, such as methanol, which pose a serious risk to health, so it is vital that people do not drink it."

Both shops have received cautions, as have Quality Bargains on Rocky Lane where 1,300 counterfeit cigarettes worth £650 were found recently, and County Pound Plus on County Road in Walton where 1,100 illegal cigarettes with a street value of £500 were discovered.
British Dietetic Association supports findings of House of Lords Committee report
THE British Dietetic Association today welcomes the findings of the House of Lords Committee on the long term sustainability of the NHS. The committee makes a number of recommendations that it believes are necessary to ensure that the NHS is sustainable and free at the point of use. The British Dietetic Association, founded in 1936, is the professional association for dieticians in Great Britain and Northern Ireland. It is the nation's largest organisation of food and nutrition professionals with almost 9,000 members. The BDA is also an active trade union. The BDA, which submitted written evidence to the inquiry and featured within the report, supports the committee's call for GDP linked funding increases for both the NHS and social care services beyond 2020. The report also recognises the need to better support the current healthcare workforce and put in place stronger plans for the future workforce.

BDA Chief Executive Andy Burman said:- "The BDA is pleased to see that the report recognises the need for longer term thinking and planning in our health services. The NHS and Social Care need a solid and long term financial settlement. This includes better support for dietitians and other staff working within the NHS and social care, who have just received news of their 6th consecutive below inflation pay settlement. The report also recognises that a shift toward prevention is going to be vital. We know that dieticians have the skills and capability to help prevent or reduce the impact of a wide range of long term health conditions, and that 10.8% of all illness is caused by poor diet. Unfortunately we are instead seeing local government public health services being cut while the 'radical upgrade in prevention' promised by NHS England has failed to materialise. We hope this report will spur a change in direction."

The BDA also fully endorses the committee's call for the government to takes steps to reassure and retain overseas trained staff working in the NHS and adult social care following Brexit.