A Decade of Making Waves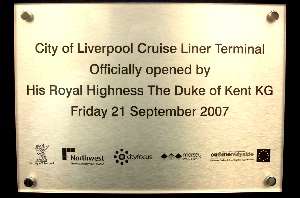 LIVERPOOL Cruise Terminal celebrates its 10th Birthday in 2017, and plans are in motion for a series of special celebrations across the cruise season.

To mark the milestone, the Cruise Liverpool team are planning a series of exciting events for spectators and passengers which include inaugural visits, hosting the largest turnaround vessel to ever sail in to the city, a double berth on the Mersey and a warm welcome to some special Disney characters making their return to the City.

A special showreel looking back at the 1st 10 years of the terminal has also been created and focuses on decade highlights including the visit of the Three Cunard Queens in 2015 and the royal christening of Atlantic Sea vessel. To see the film go to YouTube.

The terminal was officially opened, on 21 September 2007, by HRH The Duke of Kent, and since then has welcomed 355 cruise ships from around 30 cruise lines, carrying more than 700,000 passengers and crew and generating £50m to the local economy. The River Mersey has also experienced additional shipping traffic of 20 million gross tonnage.

Full details are still being finalised, but so far, the celebrations are:-

Tuesday, 6 June 2017, 8pm - The City will welcome Magellan; the largest turnaround vessel to sail in to Liverpool to date. To give it a departure to remember and in a nod to Liverpool's Sgt. Pepper 50th Anniversary celebrations, a quayside concert will take place from 8pm to 8.30pm featuring live music and a confetti show.

Wednesday, 14 June 2017, 6pm - Celebrity Eclipse is a brand new addition to the city's cruise calendar this year and to mark its departure, from the Mersey, expect live music and another colourful confetti show from 6pm to 6.30pm.

Saturday, 24 June 2017 - Liverpool is the official national host city of Armed Forces Day which gives the City the chance to show its support and say thank you to the armed forces community; from currently serving troops, to service families, veterans and cadets. The area around the Cruise Passenger Lounge will host the Display Arena which will include demonstrations, ranging from Royal Marines unarmed combat display and military marching bands right through to RAF dog handling exercises, an Army bridge building demo and a field gun race between a team from RAF Cosford and the aircraft carrier HMS Prince of Wales (the City's affiliated ship).

Saturday, 24 to Sunday 25 June 2017 - It's Mersey River Festival weekend which means there is a free extravaganza of family fun and entertainment along the waterfront. A Royal Navy ship will be berthed at the terminal and will be open to visitors across the weekend. Full details will be available at a later date.

Tuesday, 11 July 2017, 9.45pm - Cunard's Queen Elizabeth is returning to her spiritual home this summer and will get into the spirit of the celebrations by performing a rendition of Happy Birthday on the ship's horn. There will also be a mini, mid-river fireworks display prior to the ship's departure around 9.45pm.

Friday, 14 July 2017, 3.30pm to 7pm - She made a huge splash when it sailed in to the city last year for its inaugural visit, and Disney Magic is back for 2017. Once again, the Cruise Liverpool team, in partnership with Liverpool Waters, will sprinkle their own magic on Princes Parade with a free, after School family friendly event. Expect an outdoor cinema, street theatre and food and drink stalls. A sing along serenade will signal the ship's departure.

Sunday, 23 July 2017 - Visitors will be seeing double as Celebrity Silhouette and AzAmara Journey make the River Mersey their home; at the same time! In the City as part of 'The Open Championship' at Royal Birkdale. Celebrity Silhouette will berth alongside the cruise terminal and AzAmara Journey will anchor mid-river, using the Mersey Ferries to bring guests ashore. A dazzling fireworks display, starting at round 9.45pm, it will round off proceedings.

Saturday, 5 August 2017, 5pm to 5.30pm - A quayside concert will mark the departure of Zuiderdam which is making its inaugural visit to the City. The Holland America Line vessel will bring 3,200 passengers and crew to the City and is famed for its glass appearance. This 4* line is one of three Holland America ships to call to the city this year.

Saturday, 9 September, 2017 5.30pm to 6pm - The final inaugural visit of the year sails in to the city in September. Pacific Princess is small and perfectly formed, with a capacity of 670 passengers and is renowned for adding a touch of elegance to the waves. It was also named:- 'Best Small Cruise Ship' by Cruise Critic. A special sail away show which will mark the ship's departure.

Assistant Mayor, Councillor Wendy Simon, said:- "Liverpool Cruise Terminal has transformed the tourism appeal of Liverpool and given the Mersey a new lease of life. It is one of the city's great success stories and I'm delighted plans are in place to mark the 10th Anniversary of such an important landmark. As we move towards introducing a new permanent facility which could accommodate larger turnaround cruises, it's important we acknowledge all that has been achieved over the past ten years and I hope that residents and visitors show their support and take part in some of the milestone celebrations planned for this summer. The showreel is a great snapshot of what has been achieved since the terminal opened; it genuinely made the hair on the back of my neck stand on end and I'm sure it will engender pride in the City for everyone who sees it."

Angie Redhead, Liverpool's Cruise and Operations Manager, said:- "I have lived and breathed Liverpool's cruise development since 2005, and it has been an honour to see how it has grown over the past decade. Establishing a new City Centre Terminal, in the City was always going to be a challenge, but we knew that within the industry, and within the wider region, there was a huge appetite to have Liverpool as a cruise destination. 10 years on; we couldn't have wished to be in a better position. Year on year, our cruise season attracts more and more ships and cruise lines, and our reputation as an award winning must visit port, means we are a City in demand. But we never rest on our laurels. We will continue to grow our business; we want more ships, larger ships, to call here and experience Liverpool because we know, once they've been here once, it's not enough, and they call back time and time again."

For more information, visit the Liverpool's Cruise website.

The UK Choir Festival Brings Unique Singing Experience to The North West
FOLLOWING the success of the 2016 event in St Albans, 'The UK Choir Festival' has announced 2 exciting events this year, the first of which will take place in Manchester, from 8 July to 9 July 2017.

The UK Choir Festival was founded in 2016 and aims to support, train and bring choirs together, allowing them to learn, develop and thrive in a truly unique way. The festival is produced by highly experienced and passionate musical director Russell Scott, who started his musical career in the London Philharmonic Choir over 20 years ago. The UK Choir Festival is designed for choirs of all abilities, age and style, ranging from local community choirs to School or University choirs, barbershop and a cappella choirs.

This year, the entrants will have the pleasure of working with a number of musical professionals throughout the workshops including Joanna Tomlinson; conductor, singer and vocal trainer, Bazil Meade; founder of the World famous London Community Gospel Choir, and Ula Weber; conductor, teacher trainer and workshop leader.

The 2 day event (8 July to 9 July 2017) will see each choir take part in a range of coaching sessions with professional coaches, alongside several chances to perform in front of an audience and receive performance feedback. For platinum members, this will also involve 1 to 1 feedback and a Q&A session with the workshop leaders, giving the groups the best opportunity to progress and grow.

The UK Choir Festival promises to be a fun, informative and exciting event that involves, both practical and method teaching with mass choral singing, demonstrations and final performances. The festival is completely unique in the way that it is non-competitive, yet offers the chance to learn new techniques, develop performance and hear top tips to allow the choirs to be the very best they can.

Speaking ahead of the event in Manchester, Russell said:- "I am so thrilled that we are expanding The UK Choir festival and bringing it Manchester this summer. In 2016, we had a vast range of choirs enter from all walks of life from across the country and many even said it helped them with struggles that they were having elsewhere in their lives, which is possibly the most rewarding part. The choirs will be coached by some of the best workshop leaders in the UK and we can't wait to see the development and improvement in the choirs as a result of attending this event!"

Location:- Manchester High School for Girls, Grangethorpe Road, Manchester, M14 6HS.

Dates:- 8 July to 9 July 2017.

Price:- Places for entries are slightly limited and tickets must be purchased for the entire choir, with a minimum of 4. Prices start at £29 for the Silver package and £39 for the Platinum package per day.

For further information on the event, please visit:- UKChoirFestival.Com
British Dietetic Association supports findings of House of Lords Committee report
THE British Dietetic Association today welcomes the findings of the House of Lords Committee on the long term sustainability of the NHS. The committee makes a number of recommendations that it believes are necessary to ensure that the NHS is sustainable and free at the point of use. The British Dietetic Association, founded in 1936, is the professional association for dieticians in Great Britain and Northern Ireland. It is the nation's largest organisation of food and nutrition professionals with almost 9,000 members. The BDA is also an active trade union.

The BDA, which submitted written evidence to the inquiry and featured within the report, supports the committee's call for GDP linked funding increases for both the NHS and social care services beyond 2020. The report also recognises the need to better support the current healthcare workforce and put in place stronger plans for the future workforce.

BDA Chief Executive Andy Burman said:- "The BDA is pleased to see that the report recognises the need for longer term thinking and planning in our health services. The NHS and Social Care need a solid and long term financial settlement. This includes better support for dietitians and other staff working within the NHS and social care, who have just received news of their sixth consecutive below inflation pay settlement. The report also recognises that a shift toward prevention is going to be vital. We know that dieticians have the skills and capability to help prevent or reduce the impact of a wide range of long term health conditions, and that 10.8% of all illness is caused by poor diet(1). Unfortunately we are instead seeing local government public health services being cut while the 'radical upgrade in prevention' promised by NHS England has failed to materialise. We hope this report will spur a change in direction."

The BDA also fully endorses the committee's call for the government to takes steps to reassure and retain overseas trained staff working in the NHS and adult social care following Brexit.
Car damaged by suspected firearms discharge
MERSEYSIDE Police are continuing to appeal for information following reports of gunshots being heard at the Junction of Condron Road North and Robinson Road, Litherland, on Sunday, 2 April 2017, at around 9.55pm. Following a search of the area, Police Officers located a Toyota car that had damage consistent with a firearms discharge. Nobody was in the car at the time of the incident and initial enquiries have not identified anyone that was injured as a result of this incident. An investigation is currently underway and house to house and CCTV enquiries are ongoing in the local area. Detective Inspector Jimmy Belmar said:- "We are in the process of establishing exactly what happened and I would like to assure local residents that we will be in the community carrying out positive action during the coming days. It was reported a man described as white, aged around 25 years, with dark hair and dark clothing stepped out of a silver/grey hatchback car on Robinson Road and shot in the direction of the Toyota car which was parked on Condron Road North. The man then got back into the car and drove from Robinson Road onto Kirkstone Road North in the direction of Church Road. If anyone saw a man matching this description acting suspiciously in the area shortly before or after 10pm last night, we would ask that they contact police. Also, if anyone saw a silver hatchback in the area, we are keen to hear from them. Any information, however small it may seem, could prove vital to our enquiries. Tackling the issue of gun crime is a top priority for the whole of the force and there is extensive work going on daily, targeting those people we suspect of bringing guns onto the streets. But we need our communities to stand alongside us and give information about where guns are being stored and who is involved in gun crime. You can call our dedicated hotline or the independent charity Crimestoppers anonymously. Information from our communities is vital in identifying those responsible and bringing them to justice, enabling us to take people these people and their weapons off the streets." Anyone with any information that could help the Police investigation is asked to call the 'Gun Crime Hotline' on:- 0800 230 0600 or the Crimestoppers line anonymously on:- 0800 555 111.