Rick Astley has performed to a packed out Empire Theatre
Review by Graham Finney. Photos Jo Forrest.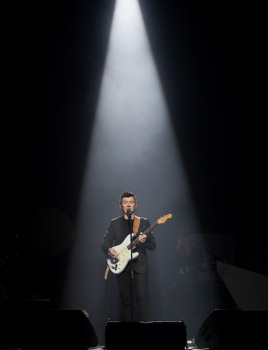 ON 1 April 2017, we joined a packed Liverpool Empire as Rick Astley brings his "50" tour to Town. Roll the clock back 8 hours and a few miles down the road Anfield was rocking to the voices of over 50,000 football fans as fierce rivals Liverpool and Everton met for the most eagerly anticipated match of the Premier League diary. However, the volume made by a stadium full of football fans on derby day was nothing compared to the sound made by over 3000+ die hard Rick Astley fans as the local(ish) pop legend made his return to Liverpool with his surprising comeback showing no signs of slowing down.

Support for the tour was female singer Earl who did her best to warm up a crowd who were there for one reason only; the headliner. Airing tracks from her:- 2Tongue Tied2 album, the Alaskan singer who cites the likes of Amy Winehouse and Whitney Houston amongst her influences, has surely done her profile no harm on this tour as she kept this Liverpool crowd entertained while they waited for the headliner.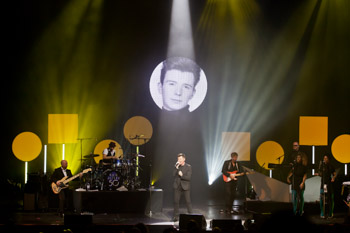 Playing 21 sold out dates across the UK in support of his hit return album "50", Rick Astley treats this hardcore audience to a set peppered with new tracks alongside a handful of old chart hits and, by throwing in "Together Forever" early on in the set, the singer had the crowd up on their feet and rocking in the aisles with little effort. With plenty of banter and crowd interaction throughout the night, the singer jokes:- "I thought Manchester was rowdy, but you've taken it to another level" as the volume of the crowd threatens to raise the roof of the Liverpool Empire.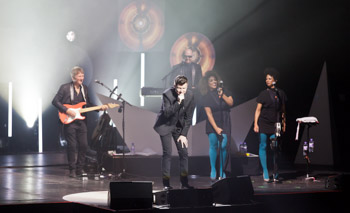 Clearly enjoying his revival and his time on stage, Rick visits his "50" album for tracks like:- "Keep Singing" and "This Old House" while "Hold Me In Your Arms" was dedicated to all the men in the audience who'd been dragged here under duress and, looking around the packed theatre, there were a few. Back in the 80's Astley was one of many pop acts peddling their wares under the "Stock, Aitken, Waterman" umbrella; the 80's equivalent of today's manufactured pop but, when he pulled on a guitar midway through the set for a few slower tracks, Astley showed he is much more than a manufactured pop product.

The inevitable airing of hit single:- "Never Gonna Give You Up" took these fans back to the 90's for a four minute slice of pop nostalgia with not 1 fan in the venue staying seated while even those brought here tonight against their will could be seen nodding along as Rick Astley signed off the evening in glorious fashion."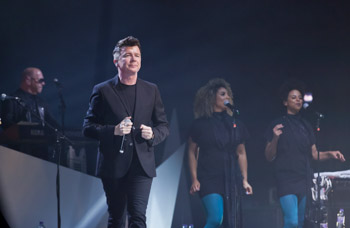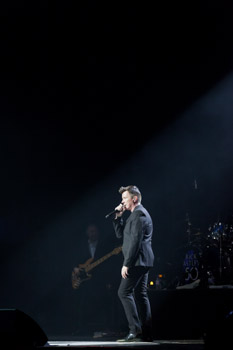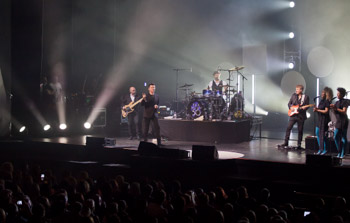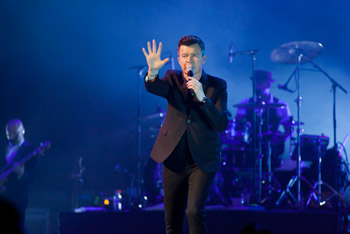 Remember you can order photographic prints from us. Help us keep this site online. Please don't brake our copyright by copying any of the text or images in this website, even if its only for 'personal use.'

Mel C plays to home audience
Photographs by Jo Forrest.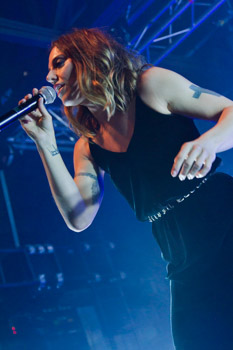 THE Liverpool born singer, Melanie Chisholm hit the public eye as 1 of the girl power super group Spice Girl, going by the stage name Mel C. Since going solo back in 1999, Melanie C has enjoyed 2 number 1 singles, 6 Top 10 singles and over 3 million album sales. Over the past few years she has gone on the road with The Spice Girls for their acclaimed Reunion Tour, given birth to daughter Scarlet and made her theatrical debut, playing the part of Mrs Johnstone in West End hit:- 'Blood Brothers', for which she received an Olivier nomination for:- 'Best Actress in a Musical' and was shortlisted in the London Evening Standard Theatre awards in Milton Shulman's 'Outstanding Newcomer' category. Mel C is still pulling in the crowds with her musical talents as well and on 5 Apr 2017, she preformed to a home crowed at the O2 Academy Liverpool. This was 1 of many gigs she is doing as part of her 'Version Of Me' tour, taking its name from her 7th Album.

A few of her tour dates still to take place are as follows:-

► Saturday, 8 April 2017, at O2 Shepherd's Bush Empire, London, UK.

► Sunday, 9 April 2017, O2 Institute Birmingham, Digbeth, UK.

► Wednesday, 12 April 2017, Mandela Hall, Belfast, UK.

► Thursday, 13 April 2017, Vicar Street, Dublin, Ireland.

► Monday, 1 May 2017, Columbia Theater, Berlin, Germany.

► Wednesday, 3 May 2017, Gloria Theater, Cologne, Germany.

► Friday, 5 May 2017, Volkshaus, Zürich, Switzerland.

► Sunday, 7 May 2017, Mojo Club, Hamburg, Germany.

► Monday, 8 May 2017, Capitol Offenbach, Offenbach, Germany.

► Tuesday, 9 May 2017, Im Wizemann, Stuttgart, Germany.

► Thursday, 8 June 2017 – Sunday, 11 June 2017, at the Isle of Wight Festival 2017 - Seaclose Park, Newport (Isle of Wight), UK.

► Saturday, 08 July 2017 - 1 LIVE 2017 - Stoke Park, Guildford, UK.

Check out her website for all the latest news, performance dates and also ticket booking information.