Local Cricket Club's want you to cast their vote for them in "Bowled Over"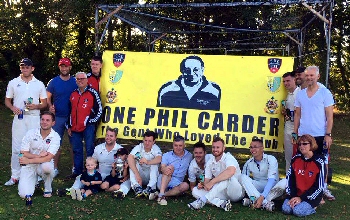 CRICKET enthusiasts from Southport and Merseyside are being invited to cast their vote for "Bowled Over," an exciting new award which showcases what makes amateur cricket great.

Churchtown Cricket Club from Southport, Merseyside, is among a shortlist of 10 clubs and was nominated for its continued strives for greatness on the field, in memory of Phil Carder, former chairman of the club. Launched by sporting insurance provider, BusinessInsuranceFor.com, "Bowled Over" is showcasing cricketers, enthusiasts and cricket club employees' passion for the sport and what makes them proud of their local club.

Cricket lovers can now support their local club Churchtown Cricket Club by voting online, before 5pm, on Tuesday, 18 April 2017, choosing from the following top 10 clubs:-

1. Oakmere Cricket Club - Northwich, Cheshire.

2. Eastbourne Cricket Club - Eastbourne, East Sussex.

3. Churchtown Cricket Club - Southport, Merseyside.

4. Hailsham Cricket Club - Hailsham, East Sussex.

5. Whitburn Cricket Club - Whitburn, Sunderland, Tyne and Wear.

6. Great Preston Cricket Club - Preston, Lancashire.

7. Mountain Ash Cricket Club - Mountain Ash, Cynon Valley, South Wales.

8. Mayfield Cricket Club - East Sussex.

9. Norcross Cricket Club - Thornton-Cleveley, Blackpool.

10. Bledlow Cricket Club - Buckinghamshire.

The winning entry will be based on the highest number of public votes, coupled with the decision of an expert independent judging panel:- Guy Evans Tipping, Chief Executive of The Cricketer magazine, Wayne Greve, Founder of LastManStands.com and Colin Graves, Chairman of the ECB (England and Wales Cricket Board).

As well as gaining the prestigious title of the "Bowled Over" champion, the winning club will also receive a commemorative plaque, while its nominee will win £300 to spend on top sporting equipment site Morrant.com.

Jeremy Goodacre from BusinessInsuranceFor.com, commented:- "We wanted to host "Bowled Over" to celebrate the best amateur cricket clubs across Britain and highlight the great scenery, unique pavilions, inspiring members and real impact on local communities that these clubs have. Now it's down to the public and our independent judging panel to choose the winner, so we urge everyone in Southport and Merseyside to get voting online and support their local club."

The full terms and conditions for "Bowled Over" are available here:- BusinessInsuranceFor.Com/Bowled-Over.
Suspected arson attack on young family
MERSEYSIDE Police are appealing for witnesses following a fire at a property, on Thornton Road, Seaforth, on Wednesday, 5 April 2017. We are told that Officers were called to the address shortly after 10.30pm, as firefighters from Merseyside Fire and Rescue Service were putting out the fire, at the address. It is believed that the fire was deliberately started by 2 men, seen outside the property, who escaped in a car. The family who lived at the address, a 26 year old man and a 25 year old woman and a 6 year old girl, managed to get out of the property unharmed prior to the arrival of Merseyside Fire and Rescue Service. The investigation is in its early stages, although It is believed that this property was mistakenly targeted and that the offenders were potentially targeting another house nearby. Detective Inspector Graeme Robson, said:- "We are extremely fortunate that no one was injured during this incident and an investigation is ongoing to find those responsible. Crime Scene Investigators will be working alongside specialist investigators from Merseyside Fire and Rescue Service and detectives will be viewing CCTV from the area in a bid to find those responsible. As a result of the actions of these offenders a family have now been forced out of their home, I would appeal to anyone who knows who is responsible for this despicable act to come forward so that we can find them and put them before the Courts."
Anyone with information is asked to contact Sefton CID on:- 0151 777 3059 or Crimestoppers on:- 0800 555 111.

146th Open Hospitality teams up with Liverpool FC legend Kenny Dalglish
THE Open Hospitality is teaming up with Liverpool FC legend Kenny Dalglish to offer a very special experience at The 146th Open at Royal Birkdale, from 20 July to 23 July 2017.

Those lucky enough to secure places within The Hillside Club will not only benefit from over 10 hours of fully inclusive hospitality at one of the world's greatest sporting events, but will also enjoy Kenny's company when he hosts all four days at this exclusive facility. Kenny's involvement will see The Open donate a share of the revenue to the Marina Dalglish Appeal, a charity established by the Dalglish family aimed at supporting the lives of cancer sufferers.

When guests purchase a place at The Hillside Club for The 146th Open, they will be supporting Merseyside charity, The Marina Dalglish Appeal. The partnership will make a valuable contribution to their most recent project, Larks, a breast cancer support centre where cancer patients are offered emotional support and holistic therapies proven to ameliorate their overall wellbeing.

Former Liverpool Manager and avid golfer Dalglish said:- "Marina and I are delighted that The Open Hospitality has shown such an interest in the work of the Marina Dalglish Appeal and that we will receive the support of The Open when it returns to Royal Birkdale this summer. Hillside Golf Club is a great venue and I look forward to welcoming guests to The Hillside Club, in July 2017. On behalf of Marina and our family, thanks for your support."

Johnnie Cole-Hamilton, Executive Director of Championships at The R&A, organisers of The Open, said:- "The work of Marina, Kenny and their family over the years has been exceptional and we are delighted to work with them through The Open Hospitality to help raise funds for the Marina Dalglish Appeal. The Hillside Club is a new hospitality offering at The 146th Open and we are pleased that this partnership will help support for cancer patients in the local community at Larks. Having Kenny on board as host enhances the offering to make the experience that bit more special for golf fans."

Book your place at The Hillside Club at:- TheOpen.com/Hospitality and help raise funds for the Appeal while enjoying a wonderful day out at The Open.
Proper guidance needed for families affected by new welfare cuts for 3rd and subsequent children
THE Government must give better and fuller guidance to Tax Credit and other benefit claimants about the circumstances in which they may still claim the child element of Child Tax Credit or Universal Credit for 3rd or subsequent child born on or after 6 April 2017, says the Low Incomes Tax Reform Group (LITRG).

Previously announced changes to Tax Credit s, Universal Credit and some other benefits which limit payment of the child element to no more than two children come into effect on 6 April 2017. For Child Tax Credit , the limit only applies to children born on or after 6 April 2017 which means a child element will be included for all children born before the 6 April 2017. The disability element of Child Tax Credit, the childcare element of working Tax Credit and Child Benefit are unaffected by the limit.

There are a number of exceptions to the main rule allowing child element to be included for 3rd or subsequent children born on or after 6 April 2017. Exceptions exist for children born in multiple births, adopted children, non parental care arrangements and what the Government call:- 'non consensual conception', more commonly referred to as the rape exception.

HMRC has not fully amended its claim form or notes to allow people to claim the exceptions or to explain the conditions relating to each exception, instead directing people to GOV.UK website to search out information about the exceptions and steps needed to claim them. In cases involving non consensual conception, it seems claimants will be required to approach approved 3rd parties to provide supporting evidence before they can receive their payments, unless the case has been to court and for those cases involving care arrangements, although not legislated for, a similar 3rd party evidence model is emerging.

Anthony Thomas, Chairman of LITRG, said:- "The Government's argument is that families should think carefully about whether they are financially prepared to support a new child without relying on Tax Credits or Universal Credit support. The policy in itself polarises opinion, popular in principle with some and a very bad idea to others. What really concerns us at the present is how the new rules are being implemented and how claimants can properly access the support they are entitled to. We are not convinced that families will be aware of the various exceptions or what to do if an exception does apply. The policy itself is complicated and HMRC has not left enough time to implement it properly. At the very least, such a big change should be supported by fully updated forms, notices and guidance. The introduction of this policy has also complicated the roll out of Universal Credit by diverting most claimants who are responsible for three or more children back to Tax Credits; and at the same time the policy has been introduced into Universal Credit under interim rules, with full rules expected to be in force from November 2018. This has created unnecessary complexity and is likely to lead to a great deal of confusion for claimants not only in respect of support for their children, but also around which benefit that support will come from."
In our Office at Southport Reporter we have also been asked if the new rule will affect those who have lost a child and had a 3rd child since. This has not been addressed as far as we can see and we are asking for clarification as to what would happen under those circumstances. We are keen to hear from anyone who has been affected by these changes and also anyone who has benefited. Please email your thoughts and views us to:- News24@SouthportReporter.Com.