Learn more about living with pain at our free event
PEOPLE living with persistent pain are being invited to learn more about how they might live with it better. The Community Pain Service, which works with patients and carers in the Southport and Formby areas, is holding a free information event, on Tuesday, 25 April 2017.

"Chronic pain affects up to 40% of our local population and can cause severe disability and distress. Our evening meetings are about developing understanding of how pain works and how best it can be managed. It's freely open to anyone with pain or who pain impacts on, such as partners, family members, carers and healthcare professionals. We'd love to meet you and it's our hope we can better understand what's really needed locally." said Dr Chris Barker, clinical lead for the service, which is based at Ainsdale Centre for Health and Wellbeing.

The event will be held between 6.30pm and 8.30pm, at St John Stone's RC Parish, 7, Sandbrook Way, Woodvale, Southport, PR8 3RN.

Please register your interest ahead of the event by texting:- "Pain Matters" and your name to:- 07841 920783.Alternatively, you can send an email:- Soh-TR.PainManagement@NHS.Net.
RMT confirms another 24 hour strike on Arriva Rail North
RMT confirmed on 13 April 2017 that they will be holding a new 24 hour strike, on Friday, 28 April 2017, on Arriva Rail North, in connection to the on going dispute.
The Union says that talks with Arriva Rail North have failed to offer any progress with the Union's 'Guards and Drivers Safety Dispute.'

The Union says that:- "As well as digging their heels in on the crucial issue of the guarantee of a 2nd safety critical member of staff on their trains the company have also reiterated that they fully intend to introduce a minimum of 50% driver controlled operation across the franchise upon the introduction of the new rolling stock. This is a move that they know is wholly unacceptable to the union. As a result of this wholesale failure by the company to make any progress in the talks."

As a result of the lack of progress, the RMT's executive has taken the decision to instruct its members not to book on for any turn of duty between the hours of 1 minuet past midnight (00:01) to 1 minuet to midnight (23:59), on Friday, 28 April 2017.

RMT General Secretary Mick Cash said:- "The public, who support RMT's campaign for a guarantee of a guard on their trains, will be appalled that Arriva Rail North have failed to offer any kind of progress whatsoever in the talks and have instead opted to try and bulldoze through their plans regardless. It is that flagrant disregard for the safety issues at the heart of the dispute which leaves us with no option but to put on this further day of strike action. RMT commends our Arriva Rail North Members on their rock solid display of strength, resolve and unity during the action so far in opposition to the introduction of driver controlled operation and defence of the guards to guarantee a safer, securer and more accessible railway for all. The Union continues to remain available for meaningful discussions with the company in order to seek a satisfactory resolution to the on going dispute."

Does this action affect you? Please let us know what you think about this action, via emailing us to:- News24@SouthportReporter.com.

Tickets are on sale now for Ben-my-Chree's 'Round The Island Cruise'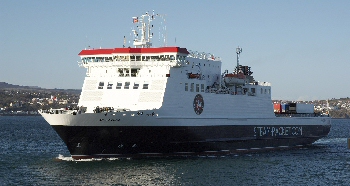 TICKETS are on sale now for Ben-my-Chree's 'Round The Island Cruise' which is scheduled to sail on Saturday, 24 June 2017.
Musical entertainment will be provided by Onchan Silver Band during the cruise, the Isle of Man Steam Packet Company has announced. The concert is part of the band's 80th Anniversary celebrations and will see 25 players perform 7 pieces of music specially commissioned for the Anniversary, 1 for each of the kingdoms seen from the Isle of Man.

The vessel will depart Douglas at 7pm for a cruise lasting around 4 hours, giving passengers the opportunity to enjoy spectacular views of the Manx coast.

The cruise fare is just ₤28 for adults and ₤15 for children aged between 5 and 16. Children aged four and under are free.

Passengers will be able to choose from a selection of three hot dishes, including a vegetarian option, and enjoy an ice cream and a non alcoholic drink. Special dietary requirements, such as gluten free or vegan, can be accommodated, but the Steam Packet Company must be informed at the time of booking.

The bar will not be open, as the vessel is not licensed to sell alcohol while it is in Manx waters, but passengers are welcome to bring their own alcoholic beverages to drink with their food.

Isle of Man Steam Packet Company Chief Executive Mark Woodward said:- "Round The Island Cruises are always extremely popular, and the performance by Onchan Silver Band will certainly add to the experience. We're delighted to be part of the band's 80th Anniversary celebrations. The cruises provide an excellent opportunity to see the beautiful coastline, which will be enhanced by the band's specially commissioned music, and we expect tickets for this sailing to be in demand."

To make a booking, please call in at the Ferry Travel Shop, Sea Terminal, Douglas or call the Reservations Team on:- 01624 661661.
Next of kin appeal for Margaret Betty Clarke from Southport
THE Liverpool Coroner's Office have issued an appeal for the public's help tracing the next of kin of Margaret Betty Clarke, who recently died at her home, in Southport, Merseyside. We are told that she was aged 83 when she passed away on Wednesday, 22 February 2017, at her home address, on Sefton Street. We are also told that her maiden name was Woolcock. There are no suspicious circumstances surrounding Margaret's death. Enquiries by the Coroner's Office have established that Margaret may have relatives in the SW19 (Wimbledon district) and SW7 (South Kensington and Knightsbridge) areas of London. Any family members or persons with information are asked to contact Coroners Officer Alby Howard Murphy on:- 0151 7773481 or send them an email.