1st Ever Sign Language Musical Visits Unity Theatre!

THIS spring, the acclaimed Krazy Kat Theatre Company presents the world premiere of the 1st ever sign language musical for families. Oliver In the Overworld, a family show for 3 to 7 year olds, visits Unity Theatre, on Saturday, 20 May 2017. Created by multi award winning Artistic Director Kinny Gardner and featuring hand crafted puppets, captivating song and dance and fully integrated sign language, Oliver In The Overworld tells the surreal, picaresque tale of Freddie, a little deaf boy who travels to The Overworld, The Land of Machinery. His quest is to seek the mechanical parts to mend the memory of his best friend Oliver the Grandfather Clock. Encountering a rich array of heroes and villains along the way, Freddie is on a mission and no 1 will stop him.

Freddie's madcap musical adventure tackles the acceptance of old age, its associated loss of mental facilities and children's abilities to assist in the resolution of conflict. It is also a colourful celebration of difference in both ability and social background.
The Krazy Kat Theatre Company was established in 1982 by Kinny Gardner and Alastair S Macmillan, as a fully professional touring company, creating innovative and imaginative visual theatre. The company specialises in introducing young people and their grown ups to the delights of live visual theatre, combining mime, dance, song, Commedia dell Arte, puppets and sign language. With an emphasis on the highly visual, the work engages with many audiences whose first language is not English. This has led to invitations to festivals in:- Spain, Holland, France and Italy in addition to touring nationally throughout the UK. Past productions include:- A Victorian Mikado, The Singing Ringing Tree, A Tempest with Nottingham Playhouse and Edmund the Learned Pig with The Royal Exchange Theatre Manchester.

Kinny Gardner was a member of 'The Scottish Mime Theatre' for many years and is seen by both the Deaf and Hearing communities as a major innovator within visual theatre using Sign Language Arts. He has a wealth of experience from classical dance to mime, Kabuki to Comedia dell' Arte and has performed in many shows including:- Godspell, The Rocky Horror Show and The Mousetrap in the West End and regionally in:- The Pirates of Penzance, Chicago, Marat / Sade, The Threepenny Opera, Assassins, and Cabaret. Kinny is a principal guest artist with The Lindsay Kemp Company, with whom he continues to tour the world's opera houses. His directing work has taken him all over the world and includes over 42 productions for Krazy Kat. He is currently a Development Adviser to BBC Cbeebies, working on new mainstream Sign Language television projects for children. His many awards include:- The British Empire Medal for services to the Arts and Disability.

Tickets for Oliver in the Overworld are now available via Unity Theatre's website and by calling the Box Office on:- 0151 709 4988.

Paterson's has raised over ₤75k for Macmillan Cancer Support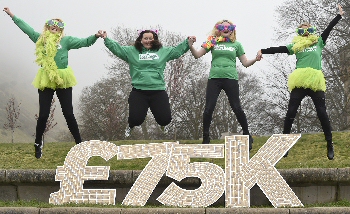 BRITAIN'S leading shortbread brand, Paterson's has raised over ₤75,000 to date in a fundraising drive for Macmillan Cancer Support. in 2016 it made a commitment to raise vital funds for the charity and is calling on public support to smash their ₤100,000 target by July. The impressive amount will help Macmillan provide vital emotional, practical, medical and financial support to the growing number of people living with cancer in the UK.

When the partnership began, Paterson's committed to fundraising this significant 6 figure sum for Macmillan within 1 year. For every promotional pack of Paterson's shortbread sold across the country, the brand has pledged to donate a percentage of the proceeds to the charity.

The funds raised by Paterson's will help Macmillan deliver crucial services for people living with cancer such as the more than 160 Macmillan information and support centres across the UK. These are places where people can talk through any concerns from coping with treatment to advice on managing finances. To celebrate raising ₤75,000 so far, Paterson's will be delivering boxes of its delicious shortbread to staff at a number of centres including the Macmillan Cancer Information & Support Service at Bolton One and Tameside Macmillan Unit this week.

The tasty Scottish biscuit will act as a sweet reminder of the additional value to be gained by sharing a box of shortbread with friends. To boost the final fundraising drive, shortbread lovers are encouraged to help the company smash its ₤100k target by picking up a pack of Paterson's from supermarkets across the City.

Allan Miller, Sales and Marketing Director at Paterson Arran, said:- "We'd like to say a huge thank you to our customers in Manchester for their contributions so far, it has certainly helped us on our way to reaching our ₤100,000 goal, which could power 2,000 hours of support at Macmillan centres across the country. Over the next few months, we'd love people to help us exceed our target by buying promotional packs so that together with Macmillan, we can support even more people living with cancer."

Aggie Sheppard, Area Fundraising Manager for Macmillan Cancer Support in Manchester says:- "We know that by 2020, almost half of the population will get cancer at some point in their lives. That's why support like this from Paterson's is absolutely vital for us to continue helping people living with cancer in the UK. Thank you to everyone who has supported us so far!"